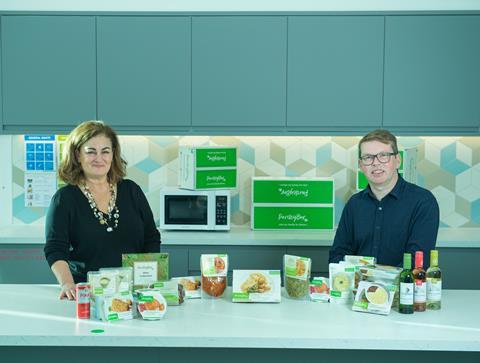 Top story
Revenues at DTC meal delivery firm Parsley Box have soared following its IPO earlier this year as the Covid pandemic continued to drive the number of customers using the service to record levels. However, growth slowed as lockdown restrictions eased further, the group said in a first-hald trading update.
Shares in the business plunged 20% to 135p as markets opened this morning as investors fretted about the long-term sustainability of the DTC model as life begins to return to normal.
It puts the stock a long way off its 200p a share flotation price when Parsley Box launched its IPO back in March.
The board expected the slowdown in growth to be temporary and remained confident the accelerated shift in consumer behvaiour towards the DTC model was permanent.
Active customers at the end of the six months to 30 June totalled more than 177,000, an increase of 76% on same period a year ago – and up from just 28,176 before the pandemic began.
Orders from repeat customers increased 38% in the half to 256,089 and average order value rose 7.6% to £43.30.
Sales at the group, which targets the Baby Boomer generation with a range of ambient ready meals, jumped 26% to more than £14m in the period, and was up 411% on pre-pandemic levels, Parsley Box said in the trading update.
It added that revenues in the second half were expected to be "substantially" ahead of the first six months, driven by product innovation and continuing progress in repeat average order value.
CEO Kevin Dorren said: "The continued growth delivered in the first half of the financial year driven by strong growth in repeat orders has continued our positive momentum and is very encouraging.
"This, together with our key food development hires of Cassandra Suddes and Serena Philipson, gives us every confidence in the growth prospects for our business. We look forward to delivering the first phase of our product innovation pipeline in H2 2021."
Morning update
Grocery tech firm Eagle Eye has enjoyed a strong end to the year as the lifting of Covid restrictions helped customers such as Pret a Manger increase transactions.
Group revenues rose 12% to £22.8m in the year ended 30 June, with adjusted EBITDA up 28% to £4.2m, the business said in a pre-close trading update.
Sales growth accelerated 27% in the final quarter of the year as the majority of locdown restrictions eased.
During the year, Eagle Eye helped Pret launch its coffee subscription service, won a five-year contract with Australia's Woolworths Group and secured its second US customer in the form of stationery group Staples.
Chief executive Tim Mason said: "I am proud of the performance of our team this year; securing fantastic new retailers around the world and delivering innovative solutions that add value for our customers, while dealing with the challenges of the pandemic. This has driven a good financial performance, and importantly, we have exited the year with strong momentum.
"With the AIR platform sitting at the heart of the digital marketing programmes at a growing number of the world's largest retailers, we have demonstrated our credentials in an accelerating market, providing us with confidence in our ability to continue to deliver future growth."
Shares in the group rose 2.6% to 554p this morning.
The FTSE 100 has plunged back below the 7,000-points mark for the first time since April despite the UK celebrating 'freedom day', with all remaining coronavirus restrictions being lifted.
London's blue-chip index fell 1.4% to 6.910.15pts as markets continued to worry about the threat from the pandemic coupled with rising inflation.
Big fallers this morning in fmcg include SSP Group, down 4.1% to 229.1p, Marstons, down 3.6% to 78.6p, M&S, down 3.1% to 134p, Greggs, down 3.1% to 2,532.8p, Associated British Foods, down 2.2% to 2,003p, and Compass Group, down 3.4% to 1,403p.
The few risers included Glanbia, up 2.5% to €14.66, McBride, up 1.3% to 87.3p, and Hotel Chocolat Group, up 0.5% to 381.9p.
This week in the City
It is looking like a quiet start to the week, but things pick up on Wednesday with first-half results from Vimto maker Nichols and Bakkavor, with quarterly results in the US from Coca-Cola.
Thursday brings the second quarter (and first half) numbers from Unilever, as well as a trading update from Britvic.
Friday sees Premier Foods issue a trading statement and also brings the latest monthly GfK consumer confidence index and the ONS retail sales figures for June.