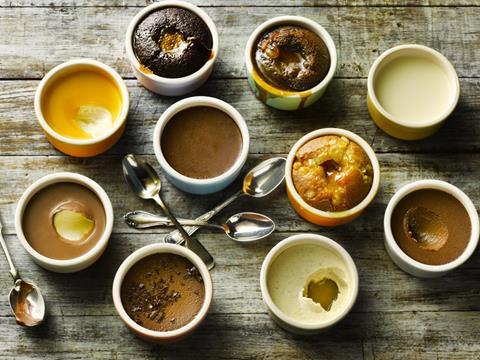 Top story
Posh pudding brand Pots & Co is eyeing a scale-up of its US operations and expansion of its savoury ranges after receiving multimillion-pound backing from the venture capital arm of food giant General Mills.
The investment arm of General Mills, 301 Inc, has led an investment of an initial £5m into Pots & Co to help fund its US and range expansion, with the sum potentially rising to a maximum of £15m ($20.5m).
The owner of Häagen-Dazs, Old El Paso and Nature Valley will take an active role in the development of the brand, installing two board members and helping scale up distribution and market penetration.
Pots & Co already has a retail presence in the US with revenues of about £8m and 40% year-on-year growth in the country, but the deal will underpin a "major expansion" in retail distribution.
"With this investment we're looking to really make some noise in the US," said Pots & Co founder Julian Dyer.
"This isn't an arm's-length investment. General Mills have got huge capability in manufacturing and distribution and that's what you need when you go to the US."
The investment has already helped the brand sign a deal to supply its range of potted puddings to a number of stores on the west coast and in the Rocky Mountain region. In the longer term, it will also supply these stores with its new savoury, mezze-style dips range, launched in the UK in Selfridges in 2020.
The brand also has plans to expand more heavily into savoury categories after its initial push into the area was slowed by the pandemic and retailers prioritising core ranges.
Pots & Co currently produces 16 million handmade puddings a year from its UK manufacturing base, using ceramic pots spun in Valencia, Spain, and has annual sales of approximately £15m.
Check out thegrocer.co.uk/finance for the full story later today.
Morning update
In wider retail online fashion group Boohoo has confirmed this morning it is in exclusive discussions with the administrators of Arcadia over the acquisition of the Dorothy Perkins, Wallis and Burton (excluding HIIT) brands.
It said these discussions may or may not result in agreement of a transaction. A further announcement will be made when appropriate.
Boohoo has already agreed to purchase Debenhams from the collapsed retail giant and will shut all the chain's stores to transform it into an online online operation.
Reckitt Benckiser's venture division has led a £4m funding round in Indian-based Bombay Shaving Company.
RB said the investment demonstrates its "commitment to innovative, purpose-driven brands" and is in line with its strategy to "play in new spaces and places".
Launched in 2016, BSC has a portfolio of over 100 products across shaving, bath and body, skin, and beard care. RB's investment will support the company's plans to scale its operations and provide BSC with access to RB's global scale, expertise and mentorship, helping to grow the start-up as the leaders in men's wellness.
Arjun Purkayastha, RB's senior VP, ecommerce, digital and ventures will join the BSC board.
Commenting on the investment, Purkayastha, said: "We are thrilled to partner with team at Bombay Shaving Company. Our investment represents a commitment to bring the best of two worlds together – BSC's expertise in digital-first brands with strong eCommerce capabilities, and RB's expertise in branding, manufacturing and global scale. Together, this combination of complementary skills sets us up for huge success."
"RB has an excellent record in building health and wellness brands over its 200-years heritage. Working in partnership, we are ambitious for what we can achieve to scale BSC's operations with an omnichannel presence", said Shantanu Deshpande, founder and CEO of Visage Lines, the owner of BSC.
The men's grooming market in India was valued at £1.4bn in 2018, but is expected to reach £3.2bn by 2024.
In this week's edition of The Grocer, read about what the appointment of Lord Stuart Rose means for EG Group, how PepsiCo and Beyond Meat's tie-up is a win/win, whether Diageo has shrugged off COVID headwinds and more.
Check out thegrocer.co.uk/finance later this morning for details.
On the markets this morning, the FTSE 100 has opened down another 0.8% at 6,473.4pts.
Risers include Science in Sport, up 2.4% to 43p, Coca-Cola European Partners, up 2.1% to €38.90, Nichols, up 2% to 1,285p and Hotel Chocolat, up 1.7% to 356p.
Fallers so far this morning include FeverTree, down 3.2% to 2,416p, Stock Spirits, down 2.2% to 267p and Imperial Brands, down 2% to 1,488.5p.
Yesterday in the City
The FTSE 100 slumped a further 1.7% back to 6,414.5pts yesterday amid COVID worries and market chaos in the US driven by retail investors driving up the stock prices of Game Stop and other consumer names.
Despite the wider market drop, a number of companies reporting figures yesterday were rewarded by the City.
Fever-Tree Drinks was up 8.3% to 2,497p as it posted a 3% drop in first half revenues having mitigated a slump in UK on-trade sales with a spike in off-trade sales and significant international growth.
Diageo was up 3.2% to 2,943p as it posted a 1% rise in organic sales despite the closure of pubs, bars and restaurants and a slump in travel revenues, while Tate & Lyle was up 4.1% to 688p after posting its own better than expected third quarter figures.
Other risers included PZ Cussons, which posted encouraging results earlier this week, up 3.5% to 248.5p and B&M European Value Retail, up 2.8% to 548.2p.
FTSE 100 fallers yesterday were led by Imperial Brands, down 3.7% to 1,519, while Ocado dropped 3.5% to 2,782p, Compass Group fell 2.1% to 1,341.5p and Reckitt Benckiser was down 2.1% to 6,300.
Other fallers included Science in Sport, down 4.6% to 42p, Devro, down 3.7% to 172.2p, Hotel Chocolat, down 3.6% to 350p, Nichols, down 3.3% to 1,260p, Greencore, down 2.6% to 118.2p, Naked Wines, down 2.4% to 733p and PayPoint, down 2.3% to 635p.