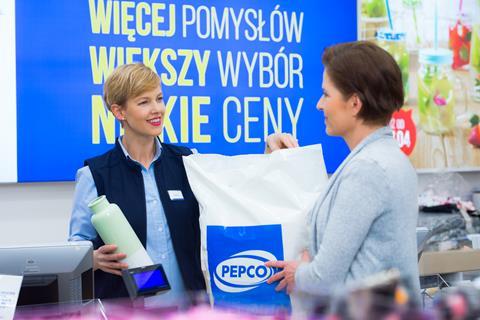 Top story
Poundland owner Pepco has this morning confirmed its intention to float on the Warsaw Stock Exchange in Poland.
The IPO announcement follows months of speculation around the discount retail operator.
The group, which operates under the Pepco, Poundland and Dealz fascias, said the flotation was "a natural step" at this point in its growth and maturity, giving it access to a wider range of capital-raising options as it seeks to roll out more stores across Europe.
An IPO will also further Pepco's separation from its South African owner, the Steinhoff group, which will sell at least 15% of its shareholding in the float.
Pepco owns 3,246 stores located across 16 countries, including a strong presence in Poland.
CEO Andy Bond said this morning's announcement marked "an important milestone" for the group.
"We are strongly positioned to deliver significant long-term growth, given our market-leading customer proposition in the most attractive sector of retail, the scale of opportunity ahead of us as we expand across the entirety of Europe and the investment in strengthening the infrastructure of the business over recent years," he added.
"We have a track record of delivering consistent, market-leading sales and profit growth over the past three years, the foundation for which is a relentless focus on how we provide our customers with the lowest prices on their regular shopping needs across apparel, homewares-led general merchandise and fast-moving consumer goods week in week out."
Bond said each of the brands had a clear strategy for continued growth, with Pepco to target the whole of Europe following launches in Italy and Serbia, and a scheduled opening in Spain; and Poundland and Dealz also in "roll-out mode", with 100 stores to be opened each year, starting with a focus on Poland and Spain.
Pepco will expand its executive team in a bid to improve its governance ahead of the float, with five new non-executive directors appointed, including Richard Burrows as chairman.
The group said it planned to treble the size of the store portfolio as part of a financial ambition to deliver EBITDA of more than €1bn within five to seven years.
Bond said the group was "even stronger" than it was a year ago.
"Today is a proud moment for all of our colleagues across the business and I thank them for their passion for our brands, hard work and dedication," he added. "Our proposed listing in Warsaw – home to our PEPCO brand since 2004 and the largest operating territory in the Group, is a natural step and I look forward to delivering further on our successful growth strategy."
In a brief trading update, Pepco revealed overall revenue growth of 4.4% in the six months to 31 March 2021, thanks to 225 net new stores, which included the addition of Fulton Foods, acquired in October 2020.
However, the impact of the Covid pandemic led to a 2.1% decline in like-for-like revenues. Although, like-for-like trading in stores that remained open totalled 5% across the half.
Morning update
Former Post Office head Paula Vennells has resigned from the board of Morrisons following the ruling by the Court of Appeal to clear 39 subpostmasters of theft and wrongful accountsing last week.
Vennells was in charge of the Post Office between 2012 and 2019 when it pushed for prosecutions against hundreds of subpostmasters despite known faults in the Horizon accounting IT system.
MPs called for Post Office bosses to be prosecuted for what they called "the biggest miscarriage of justice in British legal history".
Vennells has also stepped down from the board of retail chain Dunelm this morning.
Morrisons chairman Andrew Higginson said: "Paula has been an insightful, effective and hardworking non-executive director, and, on behalf of the board, I want to thank her for her significant contribution over the last five years."
Tate & Lyle has confirmed this morning it is in the process of exploring breaking up the group by selling a controlling stake in its 'primary products' business to "a new long-term financial partner".
Discussions with potential new partners in the primary products business were at an early stage and there could no certainty of a sale, Tate said.
"A further announcement will be made as and when appropriate," the group added.
The statement on the London Stock Exchange was issues following a story in The Telegraph over the weekend that Tate had kicked off a £1.2bn auction for the division.
The primary products business makes artificial sweeteners, industrial starches and other commodities, mostly for the North American market. It generated revenies of more than £1.8bn last year.
"Tate & Lyle continues to successfully execute its strategy and remains confident in the future growth prospects of the company," the business said this morning. "However, the board believes that if a transaction of this nature was completed it would enable Tate & Lyle and the new business to focus their respective strategies and capital allocation priorities and create the opportunity for enhanced shareholder value."
Shares in the group shot up 6.4% to 805.7p on the back of the news.
Recipe box provider Gousto has made a full-year profit for the first time ever after sales soared to record levels during the Covid pandemic.
Revenues in 2020 exploded 129% to £189m, resulting in underlyinig EBITDA of £18.2m, compared to a £9.1m loss in 2019.
It is the first time the business, which is valued at £1bn, has turned a profits since it launched in 2012.
Gousto said it had also won market share from the UK supermarkets.
Founder and CEO Timo Boldt added: "2020 was a transformational year, but we're only scratching the surface of the huge opportunity ahead. 500 million evening meals are eaten each week in the UK and 76% of people cook from scratch.
"Gousto is working to unbundle the evening meal from the traditional grocery supply chain. We use software to upgrade both the supply chain and the customer experience of cooking from scratch, while riding the permanent structural shift from offline to online.
"This is just the beginning and I'm incredibly excited about the journey our amazing team is embarking on, which will see our customers benefit as we fulfil our vision to become the most loved way to eat at home."
Nestlé has today announced it is in discussions to acquire all or part of The Bountiful Company.
The Swiss food giant issued a single-sentence release after The Wall Street Journal reported on Friday that Nestlé was in talks to buy the company for a price tag in the mid-single-digit billions from private equity firm KKR.
The Bountiful Company is the largest 'pure play nutrition company' in North America, and top three in the world, with revenues of $2.1bn in 2020.
Bountiful owns Nature's Bounty vitamins, protein bar maker Pure Protein, Osteo Bi-Flex joint-care supplements and Puritan's Pride vitamins and supplements.
The FTSE 100 has started the week up 0.2% to 6,951.40pts.
Early risers in fmcg include Tate & Lyle, Bakkavor, Steinhoff International Holdings, Hellofresh and AG Barr.
SSP Group, McBride, Ocado and Naked Wines are among the fallers.
This week in the City
It is looking like a busy week ahead as earnings season is in full flow.
Tomorrow kicks off with the latest monthly update of grocery sales from Kantar. And in the US, Cadbury owner Mondelez and Starbucks issue Q1 numbers.
Wednesday brings annual results from Sainsbury's and a trading update from Reckitt Benckiser, as well as first-quarter figures from Carlsberg. British American Tobacco and Vimto owner Nichols also both hold AGMs.
WH Smith reports its half-year figures on Thursday, with an updates from Unilever and packaging firm DS Smith, while Amazon, Kraft-Heinz and McDonald's over in the US update markets on performance.