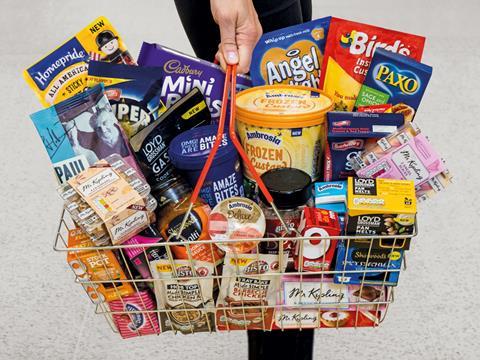 Top story
Premier Foods' first quarter sales have declined 13.2% year-on-year after the surge in stockpiling in the corresponding period in 2020, but its two-year growth rate of 6.3% remains at the "top end of expectations".
Total sales in Q1 over a two year basis grew 6.3%, at the top end of the group's 5-6% expected range, Premier said.
Branded sales increased by 9.3% over a two year period, despite falling 13.9% year-on-year.
Premier said its two-year branded performance "demonstrates further evidence that the Group's brand building model is delivering consistent growth".
Year-on-year sales were lower across all categories as the group lapped strong comparatives when UK households consumed the majority of their meals at home.
Online sales were similar to the high levels seen last year and nearly double that of two years ago.
In grocery, Ambrosia, Bisto, Oxo, Sharwood's and Paxo which have all grown in double digit percentage terms compared to two years ago, all benefitting from investment into the brands.
Non-branded sales in Grocery were 10.1% lower compared to two years ago, reflecting a slow recovery in the Group's out of home businesses in the quarter, partly offset by higher sales in retailer channels.
Sweet Treats branded sales increased by 3.2% versus a year ago as Mr Kipling continued to grow strongly with sales up 7.5% in the quarter. Cadbury cake sales were impacted by the earlier timing of Easter in prior years while lower margin non-branded sales declined due to prior year contract exits.
Premier's international business saw sales up 2% (and 17% on a two year basis) as it continued to benefit from its revised strategy and building on its successful year last year when sales grew by 23%.
Premier said its brand building strategy in Ireland is gathering pace; new products such as Bisto Southern Style gravy, Oxo meat free stock cubes and Mr Kipling Signature cakes have delivered market share gains.
In North America, the trial of Mr Kipling cakes in Canada has delivered "encouraging" results with the planned rollout to full national distribution in the second half of the year.
Premier said that its strong sales performance coupled with a material reduction in interest costs from the fixed rate bonds issued during the quarter, means adjusted profit before tax for the full year is now expected to be at the top end of its expectations.
CEO Alex Whitehouse commented: "We have made a very encouraging start to the year, with Quarter 1 sales at the top end of our expectations, as our brands again benefited from the introduction of new products and continued marketing investment. When compared to two years ago, our branded sales increased by over 9% with grocery brands up 12%, continuing the strong momentum of recent years. As expected, overall sales were down compared to the same quarter a year ago when we saw exceptionally high grocery volumes during the first national lockdown."
"Sales online through our retailers e-commerce platforms remained at elevated levels and nearly twice that of two years ago, retaining most of the gains from last year. Branded Sweet Treats grew year on year, with Mr Kipling up 7.5%, benefiting from our range of low sugar options and the ongoing success of the premium Signature range. I'm very pleased by the progress of our healthier options ranges, such as Sharwood's low fat cooking sauces, which have grown at over twice the rate of our branded portfolio, as consumers continue with their recently adopted good healthier eating habits. International also performed particularly well, building on the very strong gains from last year, growing by +17% on a two year basis, as we continue to build sustainable, profitable overseas businesses."
"With our continued strong trading momentum and the substantially lower coupon of the new fixed rate notes at 3.5%, we now expect to deliver adjusted Profit Before Tax at the top end of our expectations for FY21/22."
Premier shares are up 2.9% on the news to 108p
Morning update
Retail sales volumes rose 0.5% between May and June 2021, driven by a strong rebound in grocery sales as the football European Championships boosted at home consumption.
Overall retail sales were up 9.5% when compared with their pre-coronavirus pandemic February 2020 levels, according to the Office of National Statistics this morning.
The largest contribution to the monthly increase in June 2021 came from food stores where sales volumes rose by 4.2%, with the ONS suggesting these increased sales may be linked with the start of the Euro 2020 football championship.
This marks a strong rebound from the food store decline of 5.5% in the previous month, when consumers had switched some food spending to hospitality as some restrictions in that sector were relaxed.
Non-food stores reported a fall of 1.7% in sales volumes in June 2021 when compared with May 2021, driven by falls in household goods stores, such as furniture stores and clothing stores.
Automotive fuel sales increased by 2.3% over the month, as people continued to increase their amount of travel; however, they remain 2.1% below their pre-coronavirus pandemic February 2020 levels.
The volume of sales for the three months to June 2021 was 12.2% higher than in the previous three months, driven in large part by particularly strong sales in April when non-essential retailing re-opened; strong three-month growth was seen in non-food retailers and automotive fuel sales of 35.8% and 23.6% respectively.
The proportion of retail sales conducted online remains substantially higher than before the pandemic, but in June most retail sectors reported a fall in their proportions of online sales as consumers returned to physical stores; the total proportion of sales online decreased to 26.7% in June 2021, down from 28.4% in May 2021.
Meanwhile, Hotel Chocolat has raised £40m from investors via a placing of new shares.
The chocolatier said it saw "strong demand" from existing shareholders and other high-quality institutional investors for the new shares.
A total of 11,112,913 new ordinary shares were placed at a price of 355p per share via an accelerated bookbuilding process. In addition, retail investors in the UK have subscribed via the offer for a total of 154,692 new ordinary shares.
Together the ordinary shares have raised gross proceeds of around £40m.
The net proceeds will be used to fund capital investment to increase long-term sales capacity and capitalise on anticipated future growth.
CEO Angus Thirlwell commented: "The £40m growth capital raised today will be invested in our fast-growing business, furthering our aim of becoming a global digital-led chocolate brand. I'm delighted that our issue was oversubscribed, demonstrating the support Hotel Chocolat enjoys with its investors."
Elsewhere, meal delivery group Parsley Box Group has announced the launch a premium range of chilled ready meals.
The company, known for its cupboard stored ambient ready meals, is expanding its range to further appeal to the broad tastes of its "Baby Boomer plus" customer base.
The new chilled range, branded the Chef's Table by Parsley Box, consists of eight meals, including beef lasagne and luxury fish pie.
These new larger (350g) additions to its menu have a longer shelf life (up to 10 days from delivery) compared with other chilled ready meals (typically 5 days)) and can be kept in the freezer for up to a month.
Cassandra Suddes, who has worked with the company as a consultant since the start of the year, will imminently be taking on the role of head of product. She has previously held roles at Greencore, M&S and Tanfield Food Company. She is joined by Serena Philipson who has been appointed as the NPD manager.
Commenting on the new range, Suddes said: "Made in the UK to the highest possible standards and using premium ingredients, this new selection is designed to be indulgent and rich in flavour.
"Creating products specifically to appeal to the underserved Baby Boomer + market has huge potential as it's largely untapped with supermarkets focused on attracting young families. The chilled launch is just the first step on an exciting journey of discovery as we continue to research dishes that will appeal to an older palate."
CEO Kevin Dorren added: "Cassandra and Serena, are developing an extensive range of new products to be launched over a further two phases, breaking new ground to champion and empower the over 60's with meals to delight their tastebuds.
"Just think about the other end of the age spectrum for a moment and consider how many new and innovative products are developed for families with young children. We want to invest in developing meals that surprise and excite our customers with the same care and attention to detail."
On the markets this morning, the FTSE 100 is back up 0.6% to 7,011.5pts.
Early risers include Glanbia, up 3.7% to €14.75, Devro, up 3.1% to 108.2p and Marks & Spencer, up 2% to 140.9p.
Fallers include McBride, down 2.4% to 85.9p, Total Produce, down 1.5% to 216.7p and Kerry Group, down 1.3% to €123.80.
Yesterday in the City
The FTSE 100 edged back 0.4% to 6,968.3p yesterday after the strong rebound on Wednesday.
Unilever fell 5.9% to 4,040.5 despite announcing second quarter underlying growth ahead of City expectations as it posted lower margins in the quarter and warned rising costs would mean its full year margins will remain flat.
Other fallers yesterday included Total Produce, down 2.4% to 220p, Associated British Foods, down 1.9% to 2,405p, Hotel Chocolat, down 1.4% to 360p, Tate & Lyle, down 1.2% to 732p, PayPoint, down 1.2% to 585p, McBride, down 1.1% to 88p and Compass Group, down 1.1% to 1,476p.
Despite the wider market fall there were a number of strong consumer goods risers.
Gainers yesterday included Kerry Group, up 5.6% to €125.45, Fever-Tree, up 5.6% to 2,370 after the week's earlier falls, THG, up 4.2% to 590p, Naked Wines, up 4.2% to 836p, Just eat Takeaway.com, up 3.7% to 5,948p, Ocado, up 3.5% to 1,849.5p, Pets at Home, up 2.9% to 473.2p, AG Barr, up 2.5% to 568p and C&C Group, up 2.3% to 224p.