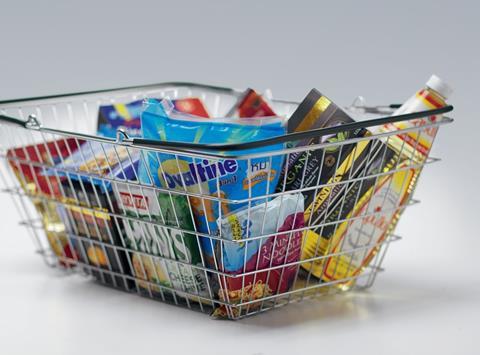 Top story
Associated British Foods said its grocery, sugar and agriculture businesses will be "materially ahead of expectations" for its first half, but Primark's coronavirus-drive weakness will reduce overall sales and profits.
ABF said the UK and European government lockdowns have cost Primark an estimate £1,1bn in lost sales in the six months to 27 February.
As a consequence of the restrictions placed on Primark it expects sales, adjusted operating profit and adjusted earnings per share for the group to be lower than last year..
Conversely, its grocery business is expected to post first half revenue growth of 7%, with adjusted operating profit expected to be ahead driven by strong performances by Twinings Ovaltine and its UK Grocery businesses more than offsetting lower margins in the Don meat business in Australia and the Mazola vegetable oil business in the US.
ABF said the performance of Twinings Ovaltine reflected the changes in consumption patterns as a result of COVID-19. Retail and online sales increased but on-the-go and foodservice volumes continued to be adversely affected in this period. Twinings revenue will be ahead of last year, driven by growth in herbal and fruit infusions with a very strong performance in France, delivering a significant improvement in market share.
Silver Spoon, Jordans, Dorset Cereals, Ryvita, Patak's and Blue Dragon all delivered growth as they benefited from significant increases in consumer demand through the retail channel.
Revenue in Allied Bakeries will be in line with last year and a cost reduction programme will be implemented this year to mitigate the contribution loss following our decision last year to exit the Co-op contract.
AB Sugar revenue is expected to be marginally ahead of last year in the first half primarily due to higher average sugar prices for British Sugar and higher prices in Illovo.
Operating profits are expected to be significantly ahead for the half year driven by a strong recovery in Illovo and further improvement in British Sugar. Along with the benefit of these higher prices, Illovo has also benefited from increased domestic and regional sales and all businesses continued to deliver savings from the performance improvement programme.
Meanwhile, revenue and profit at AB Agri are expected to be ahead of last year in the first half and its ingredients division is expected to be ahead of last year on constant currency revenues.
Looking forwards, ABF expects its retail performance to improve in its first half as when stores were previously open demand was strong and trading was "encouraging, given the circumstances".
It expects Primark sales in the first half to be some £2.2bn and the adjusted operating profit to be marginally above break-even.
As of today, it has likely reopening dates for 233 stores in addition to the 77 stores already open, so that 83% of its retail selling space should be trading by 26 April. "We expect the period after reopening to be highly cash generative," it stated.
Morning update
Listed waste industry player Biffa has announced the acquisition of for profit surplus food redistributor Company Shop Ltd for an enterprise value of £82.5m.
CSG prevents waste by identifying surplus produce and then collecting, processing and redistributing it for sale through its unique network of membership-based outlets, with surplus produce including production overruns, trial products, or produce that has been incorrectly labelled or packaged.
CSG is the only commercial redistributor of scale in the UK, with "unrivalled operational capabilities and infrastructure which underpin its strong growth plans".
The deal will leverage Biffa's position as the UK's leading sustainable waste management company, further improving its capability to support its customers' waste reduction and recycling targets.
It also offers "compelling growth opportunities" with increasing regulatory, social and environmental tailwinds underpinning a significant addressable market opportunity
The deal will be funded from existing committed debt facilities and will be immediately earnings enhancing on completion.
Biff CEO Michael Topham commented: "The acquisition of Company Shop Group strengthens Biffa's leadership position in the UK circular economy. Its redistribution services complement Biffa's established waste and recycling services, and supply of closed loop recycled raw materials.
"As the only commercial redistributor of scale in the UK, Company Shop Group is the market-leader in a growing sector, with a strong, credible growth plan which we will deliver together. Biffa and Company Shop Group share a common set of goals, including the continued development of profitable, sustainable waste management solutions while making a meaningful contribution to society."
Steph McGinty, group MD Company Shop Group, added: "We are proud to be the UK's leading redistributor of surplus food and household products. We are a passionate business working for our industry, our colleagues, our members and our communities; we call it Corporate Surplus Responsibility.
"Hallmarked by long-standing and powerful partnerships, at the heart of our business is the understanding that big challenges need big solutions, and these are always better delivered in partnership. Together, as part of Biffa plc and aligned in vision and purpose, we will continue to innovate and grow, enabling us to provide even more sustainable solutions for all our stakeholders. I am delighted to lead Company Shop Group in this exciting new chapter of its journey."
John Marren, founder of Company Shop Group, commented: "Biffa is another vanguard, changing the way that people think about waste. Our aligned values and shared ambition will enable both the delivery of a truly unique circular economy proposition to industry alongside continued growth in the important role that sustainable redistribution plays.
"I am proud that this decision will enable Company Shop Group to step confidently into the future, as part of the global movement to reduce waste in our industry and our society. Today, more than ever, we are called to address the climate emergency, build our economy and support our communities."
Elsewhere, the world's biggest brewer AB InBev has posted fourth quarter revenue growth of 4.5% despite "extremely challenging" circumstance.
Revenue its fourth quarter grew by 4.5%, driven by a continued volume recovery and revenue per hl growth of 2.7%.
However, over the course of the full year revenue declined by 3.7% with revenue per hl growth of 2.1%.
Total sales volumes grew by 1.6% in the fourth quarter, with own beer volumes up by 1.8% and non-beer volumes up by 1.7%.
During the full year total volumes declined by 5.7%, with own beer volumes down by 5.8% and non-beer volumes down by 3.8%, all declines primarily driven by impact of the COVID-19 pandemic.
Its global brands recovered somewhat in the fourth quarter, with combined revenues across these brands up by 1.5% globally and by 1.3% outside their respective home markets.
However, combined revenues of global beer brands Budweiser, Stella Artois and Corona fell 5% globally and 5.3% outside their home markets in 2020.
Cost of sales over the year increased by 3.1% and increased by 9.8% on a per hl basis, driven primarily by operational deleveraging resulting from the impact of COVID-19 on volumes and by supply chain adjustments implemented to meet evolving demand.
This meant full year EBITDA declined by 12.9% to US$17.bn and EBITDA margin contracted by 382 bps to 36.9%.
CEO Carlos Brito commented: "In an extremely challenging year, our teams rose to the occasion. We finished the year with momentum in our key markets by leveraging our fundamental strengths as a company and capturing the benefits of investments we have been making for several years in our portfolio and rapidly growing platforms, such as BEES and Zé Delivery.
"We are now more closely connected than ever to the 6 million+ customers and 2 billion+ consumers we serve worldwide through our clear commercial strategy, revamped innovation process, digital platforms and ongoing operational excellence."
Virgin Wines has announced further details of its forthcoming IPO in a offer that will value the online wine delivery group at £110m
It will place 6,615,413 new ordinary shares and 17,731,286 existing ordinary shares both at a price of 197 pence per share with institutional and other investors.
The offering will raise gross proceeds of £34.9m for the selling shareholders and £13m for the company.
In total the company will have 55,837,560 shares in issue, representing a free float of 43.6% of the group.
Based on the placing price, the market capitalisation of the company will be approximately £110m on admission.
Virgin Wines said the placing "attracted strong support from high quality institutional investors and was significantly over-subscribed".
After the listing existing investor Mobeus Equity Partners will own approximately 36.1% and senior management will own approximately 20.3%.
The Company intends to use the net proceeds of the Placing together with some of its existing cash resources to repay preference shares and existing loan notes.
Admission and commencement of dealings on AIM are expected to take place at 8.00 am on 2 March 2021 under the ticker VINO.
CEO Jay Wright said: "We are delighted by the strong support we have received from blue-chip institutional investors and that the Placing was significantly over-subscribed. Our Admission to AIM will provide us with the platform to execute our ambitious growth plans, as we leverage our key strengths to continue to take market share and drive shareholder value.
"We welcome our new shareholders to the Company and are looking forward to our future as a public company and the opportunities it will bring for everyone involved with Virgin Wines."
Bakkavor has announced that Jill Caseberry will join the board on 1 March 2021 as an independent non-executive director and a member of the remuneration committee.
She has previously worked across a number of blue-chip companies including Mars, PepsiCo and Premier Foods and is currently a non-executive director of Bellway, C&C Group, St Austell Brewery and Halfords Group.
On the markets this morning, the FTSE 100 is up another 0.4% to 6,682.6pts.
Early risers include DS Smith, up 9.7% to 421.3p, Marston's, up 2.6% to 97.2p and FeverTree Drinks, up 2.2% to 2,373.8p.
Fallers so far today include Diageo, down 1.4% to 2,903p, Nichols, down 1.3% to 1,120p and Tate & Lyle, down 1.2% to 721.4p.
Yesterday in the City
The FTSE 100 ended the day up 0.5% to 6,659pts yesterday to continue its good run so far this week.
Finsbury Food Group regained 6.6% after posting its first half revenues on Monday.
Other risers included Total Produce, up 5.9% to 180p, Pets at Home, up 4.4% to 396.6p, Greggs, up 4.1% to 2,252p, Greencore, up 3.9% to 153.8p, DS Smith, up 3.3% to 384p, Coca-Cola European Partners, up 3.3% to €44.17, WH Smith, up 2.9% to 1,970p and Premier Foods, up 2.5% to 92p.
The day's fallers included some out of home specialists that had gained earlier in the week. SSP Group was down 6.9% to 343.2p, C&C Group dropped 4.2% to 260.5p, FeverTree fell 3.8% to 2,323p and Nichols fell 2.8% to 1,135p.
Other fallers included McBride, down 2.6% to 1,135p, Naked Wines, down 2.5% to 750p, Unilever, down 2.1% to 3,839p and Ocado, down 2.1% to 2,287p.
Reckitt Benckiser ended the day down 1.5% to 5,882p despite its largest ever annual sales increase after COVID boosted demand for its cleaning products.