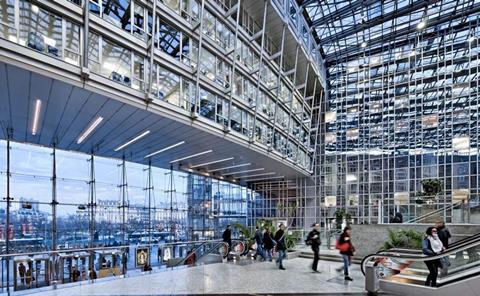 Top story
The UK's biggest shopping centre owner Hammerson has posted a £1.7bn annual loss as the coronavirus pandemic has slashed the value of its portfolio and rental income plummeted.
The Bullring and Brent Cross owner's headline loss rose to £1.7bn in the year to 31 December 2020 compared to a £781m loss in 2019, primarily due to a significant fall in its property value.
Its portfolio fell in value by almost £2bn to £6.3bn from £8.3bn, while group capital returns were down 20.9%, with UK flagships down 35.8%, France flagships down 15.3%, Ireland flagships down 17.5%, retail parks down 23.3% and Value Retail down by 6.2%.
Net rental income of £158m was down 41% on a like-for-like basis (excluding premium outlets) as it was impacted by Covid-19 closures, tenant restructuring and higher provisions for bad debt and tenant incentives.
A total of 76% of 2020 rent was collected for the group. During two main national lockdowns in 2020, average rental waiver was 1.4 months and deferral was 0.3 months.
However, total net debt reduced by £609m to £2.2bn due principally to proceeds from its £532m rights issue and disposal of substantially all of VIA Outlets, with net proceeds from disposals totalling £328m.
It said footfall to its properties was severely impacted by Covid-19 closures and city centre locations of flagships, albeit it delivered a measured recovery during periods of reopening
CEO Rita-Rose Gagné commented: "By any measure, 2020 was an unprecedented year with every business and household affected by Covid-19.
"As our results show, Hammerson was hit hard. The retail sector, already in the grip of major structural change, has been significantly impacted by the restrictions imposed to tackle the pandemic, and we've also seen an increasing number of retail failures. Combined, this has resulted in the largest fall in net rental income and UK asset values in the group's history.
"However, if this pandemic has highlighted anything, it is how much we all crave human contact as inherently social beings. As a business, Hammerson provides the places and social infrastructure where people want and need to be, and I am confident it will have a vital role in shaping neighbourhoods and communities in the future.
"Our immediate focus in 2021 is leading Hammerson through Covid-19 to safety. This means further disposals to strengthen the balance sheet, managing refinancing, and sharpening our operations to maximise income. We will then focus on realising the quality of our destinations to drive the business forward. We are currently working on a thorough strategic and organisational review that will map out a route to future growth to transform the business in the context of what will remain a tough economic and structural backdrop."
Hammerson is currently undergoing a number of board changes with Robert Noel joined as chair of the board in September and Rita-Rose Gagné as CEO in November
CFO James Lenton announced in January 2021 he will step down as CFO and the search for his successor is ongoing.
This morning it announced Pierre Bouchut, non-executive director and chair of the audit committee has informed the board that he will not stand for re-election at the 2021 annual general meeting. The board has asked Mike Butterworth to succeed him as chair of the audit committee once Bouchut stands down at the end of the meeting.
Hammerson shares are up 3% to 33.6p this morning.
Morning update
UK gross domestic product is estimated to have fallen by 2.9% in January 2021, as government restrictions continue to reduce economic activity.
Falls in consumer-facing services industries and education drove a contraction of 3.5% in the services sector in January 2021. The services sector was 10.2% below the level of February 2020 compared with 4.9% below the level seen in October 2020.
Output in the production sector fell by 1.5% in January 2021, after manufacturing contracted for the first time (by 2.3%) since the initial pandemic-driven fall in output in April 2020.
The construction sector grew by 0.9% in January 2021, driven by growth in new work.
January's GDP was 9.0% below the levels seen in February 2020, compared with 4.0% below October 2020, which represented the peak of the initial recovery before current lockdowns.
On the markets this morning, the FTSE 100 has edged back 0.2% to 6,724.9pts.
Fallers include Hotel Chocolat, down 2.8% to 410p, THG, down 1.6% to 663p and AG Barr, down 1.5% to 502.3p.
Risers include Science in Sport, up 6.4% to 48.9p, McColl's Retail Group, up 2.9% to 31.5p and Morrisons, up 1.1% to 177.2p.
Yesterday in the City
The FTSE 100 ended Thursday up 0.2% to 6,736pts, continuing the stability of recent days.
Morrisons ended the day down 1% to 175.3p after posting its annual results yesterday morning, where strong sales growth was negated by COVID costs as profitability was slashed.
Tesco also ended the day down 1% to 220p.
Other fallers included Coca-Cola European Partners, down 1.8% to €44.85, C&C Group, down 1.3% to 297p, PZ Cussons, down 1.3% to 261.5p, Reckitt Benckiser, down 1.2% to 6,128p, Hilton Food Group, down 1.2% to 1,032p and Finsbury Food Group, dwn 1.1% to 81.5p.
The day's risers include Glanbia, up 6.4% to €11.32, Hotel Chocolat, up 4.2% to 422p, WH Smith, up 2.7% to 2,016p, Just Eat Takeaway.com, up 2.5% to 7,446p, DS Smith, up 2.4% to 403.2p, Compass Group, up 2.3% to 1,577.5p and McColl's Retail Group, up 2% to 30.6p.