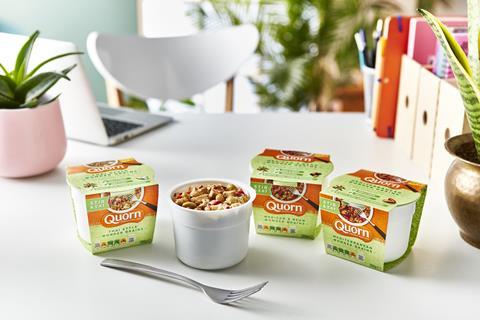 Top story
Global noodle giant and Quorn owner Monde Nissin has completed the Philippines largest initial public offering in history after listing its shares today in a £720m float.
The group's common shares began trading on the Philippine Stock Exchange on Tuesday after placing 3.6bn shares at Php13.50 per share to raise Php48.6bn (US$1bn).
Monde Nissin said the offer was "multiple times oversubscribed" amongst international and domestic investors.
It will use the proceeds to fund NPD, including research and development into alternative protein products.
CEO Henry Soesanto commented: "Today is a milestone moment in our history as we accelerate our mission to improve the well-being of people and the planet, and create sustainable solutions for food security"
"We begin life as a public company with significant momentum – our Quorn and Asia-Pacific Branded Food and Beverage businesses are performing well and are poised to capture the tremendous market opportunities that lie ahead."
"As a recognized leader in the meat alternatives industry, Quorn is at the forefront of the global shift towards sustainably produced food for health- and environmentally-conscious consumers. We also benefit from our market leading positions across the core segments of our Asia-Pacific Branded Food and Beverage business.
"Our proven ability to advance our products by leveraging innovation and investments in technology to provide healthier and more delicious food allows us to stay ahead of evolving consumer demands and strengthens our ability to expand into new markets."
Earlier this morning, Soesanto rang the PSE bell that signalled the start of the day's trading, alongside PSE President and CEO Ramon S. Monzon.
Monde Nissin's brands include Lucky Me! noodles, SkyFlakes crackers, Fita crackers, Monde baked goods and Quorn meat alternative products.
The shares have edged down 0.15% on debut to Php13.48.
Morning update
On a quiet morning after the Bank Holiday weekend, Domino's Pizza Group has confirmed the deal to sell its entire shareholding in Pizza Pizza ehf (Domino's Iceland) has completed yesterday.
It announced the £14m deal on 29 March to a group of investors including Eyja Fjarfestingafelag, Kristinn ehf, Sjavarsyn ehf and Lysi hf.
The deal follows the earlier sale of its Swedish business as it focuses on its core UK market.
On the markets this morning, the FTSE 100 has opened up 0.9% to 7,085.3pts.
Early risers include SSP Group, up 3.5% to 304.3p, AG Barr, up 2.4% to 534.7p and Greggs, up 2.1% to 2,544p.
Fallers so far today include Hotel Chocolat, down 3.4% to 375p, Finsbury Food Group, down 1.6% to 92.5p and McBride, down 1.6% to 88.6p.
This week in the City
A low key week after the Bank Holiday is highlighted by the monthly Nielsen grocery sales figures tomorrow morning.
Annual results from B&M European Value Retail will be released on Thursday and full year earnings from Remy Cointreau in France.