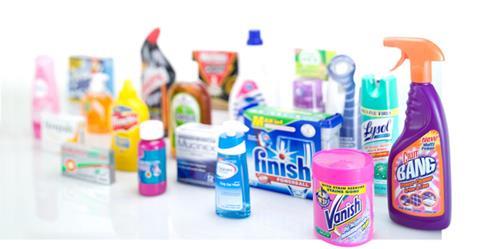 Top story
Reckitt Benckiser has raised its full year revenue forecast after a stronger third quarter than expected as sales volumes and pricing both increased in the period.
Group net revenue grew by 3.3% on a like for like basis in the three months to the end of September, with volume growth of 1.6% and price/mix improvements of 1.7%.
In particular it drove pricing increases through in its nutrition division and developing market, though this was offset to a degee by more normal levels of trade investment in its disinfection brands.
Revenue growth builds on 15.3% LFL growth in the comparative period resulting in two-year 'stacked' growth of 18.6%.
As a result of this stronger than expected performance, Reckitt now expects like for like net revenue growth for FY 2021 in the range of 1-3% despite a slowdown in the forth quarter as demand for Covid-related Lysol sales is expected to fall.
Its hygiene division posted like for like growth of 2.9%, driven by continued growth in Finish and Air Wick, offset by a slight decline in Lysol against a very strong comparative period.
Organic health sales were up 3.6% due to sharp improvement in cold and flu sales trends and lower declines in Dettol, while it also saw continued positive momentum in 'intimate wellness' and Biofreeze saw double-digit growth in Q3.
Nutrition like for like growth was 3.8%, with growth in each of the three IFCN regions.
However, reported net revenue in the division declined 20.6%, reflecting the lower revenue from IFCN China.
That meant group-wide reported net revenue declined by 6.8% in the period as organic growth was offset by a negative net M&A impact of 5.0%, primarily related to IFCN China, and adverse FX of 5.1%.
CEO Laxman Narasimhan commented: "In September, we reiterated the building blocks which will see Reckitt return to mid-single digit revenue growth and mid 20's margins. There is more to be done, but today's results are testament to our progress. We've delivered growth in each of our three GBUs and in each of our three geographic regions, with a balance of volume and price/mix across the portfolio. Nine of our ten largest brands are up double-digits on a two-year basis.
"Reflecting this strength, we now expect like-for-like net revenue growth for FY 2021 in the range of 1-3%. Despite significant cost pressures, the benefits of our pricing actions, mix and productivity programme, mean our margin guidance is unchanged, and we remain confident in our medium-term outlook."
Despite the guidance uplift, Reckitt warned inflation continues to be "challenging", particularly in areas such as surfactants, paper, tinplate and ocean freight, and is currently running at around 10%.
"The trading backdrop is set to remain dynamic over the coming months," it stated. "In addition to cost pressures, COVID continues to influence demand and buying patterns for our disinfection, and cold and flu relief products. However, 70% of our portfolio is less sensitive to COVID dynamics and growing at mid-single digits and we have pricing actions and productivity plans firmly in place."
However, its 2021 Group adjusted operating profit margin guidance, excluding IFCN China for the entirety of the year, remains unchanged at 22.7-23.2%.
As previously guided, total group margins will be lower due to the dilution related to IFCN China.
Reckitt shares are up 4.6% to 5,721p on this morning's news.
Morning update
The Hut Group has posted a 38% rise in third quarter revenues and beefed up its board to reassure the City after its share price has plunge in recent weeks.
During the third quarter, group revenues increased by 38.0% on a constant currency basis to £507.8m, bringing year to date revenue growth to 42.3%.
Reported revenue growth was 131% year-on-year to £507.8m, with a record number of clients acquired in the quarter (up 50% quarter on quarter). The 44 new clients won in Q3 cover a broad range of consumer sectors, including Kao Group, the Japanese beauty and household products conglomerate, with a 5 year multi-brand (including Molton Brown), multi territory roll out (UK & international).
Its soon to be spun off Beaty division showed the fastest growth, with year-on-year growth of 57.2% to £247.6m.
THG Nutrition growth slowed to 9.5% in the quarter from growth of 20.9% year-to-date. THG said the solid performance this quarter is against the highest growth quarter in 2020 for THG Nutrition and with over 80% of revenues coming from repeat customers our category conviction remains high.
Ingenuity grew by 44.1% to £51.1m for the quarter, while Ingenuity commerce revenues were up 131% to £11.7m.
59% of Q3 revenue was recurring in nature, providing strong visibility on 2022 and it said its confidence is further supported by a strong pipeline of new client wins expected to complete during the fourth quarter of 2021, and a substantial order book of over 280 new websites for existing clients, which will see the total number of live websites increase from 163 to 400 by the end of 2022.
THG said that whilst logistics, labour and product inflation have persisted in Q3, the Group's vertically integrated business model, focus on cost control and increased automation have largely mitigated these pressures.
Early phasing of buying and production means product availability is good ahead of peak trading.
CEO Matthew Moulding commented: "We have delivered a strong trading performance in Q3 and enter our peak trading period with confidence. The recent successful migration of Cult Beauty onto the Ingenuity platform is testament to the resilience of the infrastructure and the expertise of our digital talent. In under 10 weeks we have seamlessly migrated Cult Beauty, whilst delivering significant website and customer user-experience improvements at the same time.
"I would like to thank all of our employees given how much they have achieved in the 12 months since IPO. Our talented workforce has grown considerably and as well as significantly outperforming the trading guidance provided at IPO, they have been tirelessly expanding the business model across all divisions. The appointment of two independent non-executive directors and four special advisors since IPO has been hugely beneficial to the Board, and we have real optimism for 2022 with the step-up to a Premium listing on the Main Market of the London Stock Exchange following the appointment of an independent Chair."
Meanwhile, the group has appointed Andreas Hansson, a representative of key investor SoftBank, to the board as a non-executive Director with immediate effect.
Hansson serves as a Managing Director at SB Management, having first joined SoftBank Group in 2017. Until August 2020 he was a Partner at SoftBank Investment Advisers. Hansson serves on the Board of a number of SoftBank investments, including AutoStore, the automated storage and retrieval system provider and as chairman of the board of Kahoot!, an EdTech platform.
THG shares are down 4% to 294.4p on the update.
On the markets this morning, the FTSE 100 is up 0.4% to 7,254.3pts.
Risers along with Reckitt, include McBride, up 2.4% to 67.8p, B&M European Value Retail, up 2.2% to 631.2p and SSP Group, up 2.1% to 254.8p.
Fallers include Coca-Cola Europacific Partners, down 10.6% to €44.10, Glanbia, down 2.2% to €13.91 and McColl's, down 1.8% to 20.1p.
Yesterday in the City
The FTSE 100 started the week on the front foot to head back towards post-Covid market highs after closing 0.3% up to 7,222.8pts.
Grocery risers yesterday included Coca-Cola Europacific Partners, up 9.1% to €49.30, Glanbia, up 8% to €14.22, Bakkavor, up 4.1% to 127p, Hotel Chocolat, up 4% to 500p, Parsley Box, up 3.6% to 57p, Marks & Spencer, up 2.4% to 182.2p and Premier Foods, up 1.6% to 113p.
The day's fallers included THG, falling 2.8% to 306.8p ahead of this morning's third quarter update, PayPoint, up 2.8% to 701p, Just Eat Takeaway.com, up 2.1% to 5,619p, FeverTree, up 1.8% to 2,382p and Imperial Brands, up 1.2% to 1,563.5p.