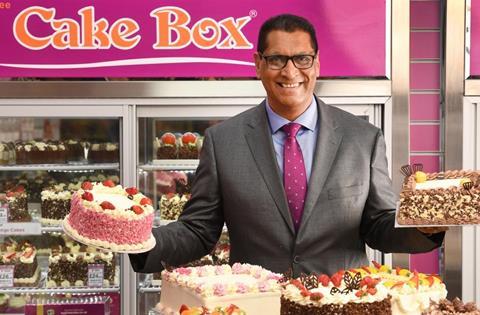 Top story
Cake retailer Cake Box is set to report a record year despite the challenges of ongoing lockdowns throughout 2020 and 2021.
The group said there was a sustained recovery in trading as shops began to reopen last summer following the first nationwide lockdown.
In the 40 weeks from 1 June 2020 to 7 March 2021, like-for-like sales in the franchise stores grew by 14.7%.
The fresh cream cakes retailer added in the trading update that it expected to report record revenues for the year ended 31 March, with sales up around 16% and pre-tax profits in line with market expectations.
The addition of 17 new stores in the second half of the year helped fuel growth at the company as it ploughed ahead with its opening programme, ending the year with 157 sites in the Cake Box estate.
The group is also trialling five Cake Box kiosks with a supermarket change and said results had been "very encouraging" so far.
A shift to online also helped the business, with the launch of its own-brand delivery platform complementing existing click & collect and third-party offerings. Online sales soared 84% in the year.
CEO and co-founder Sukh Chamdal said he was "very pleased" with the strong trading momentum in the second half of the financial year.
"Customer appetite for our products has continued to grow, with good traction across our expanded online and delivery services," he added.
"Our tested recipe of backing our franchisees has helped us deliver another year of growth, and it is thanks to the dedication of them and everyone in the Cake Box family that we have been able to emerge stronger from a year marked by the global pandemic.
"Our franchisees are job creators with the genuine entrepreneurial spirit that will be needed to accelerate our economic recovery as a nation out of lockdown. We welcomed 15 new franchisees into the Cake Box family as part of the 24 new stores opened during the year.
"Despite continued uncertainty in the operating environment, our unique proposition for customers and new and existing franchisees remains highly attractive and we are confident of making continued progress in the years ahead."
Shares in the retailer jumped 4.7% to 266p as markets opened this morning.
Morning update
Drinks ingredients group Treatt has boosted revenues in its first half despite the difficulties faced by soft drinks suppliers during the Covid pandemic.
The comnpany, which makes natural extracts and ingredients for the beverage, flavour and fragrance industries, reported a strong performance across all categories in the six months to 31 March 2021, with revenues expected to grow by 14% to around £61m.
Growth is being driven by increased demand from consumers for more natural, clean-label and 'better-for-you' drinks, with tea, health & wellness and fruit & vegetables all being higher margin categories for Treatt.
The group also won significant new business, including from drinks groups looking to expand in the fast-growing alcoholic seltzer market.
Treatt said performance in the second half of the year should be bolstered by increased demand across its range as out-of-home drinks consumption rises with the lifting of lockdown restrictions.
CEO Daemmon Reeve added the performance across the group continued to be "very strong" despite the ongoing Covid-related disruption.
"These measures continue to impact our customers in global hospitality industries and whilst the outlook is promising, we are taking a conservative approach and will assess how our order book progresses in the coming weeks and months. The success we have had in diversifying the group's flavour and fragrance expertise across a wide range of categories has helped our resilience over the period.
"Our strategy is driven by an obsession with offering solutions that are of clear relevance to our customer base, providing differentiated ingredients that align with consumer trends in growing markets. Our effectiveness in developing these relationships continues to shine through and the execution is testament to the skill and endeavour of our colleagues together with the culture across the group."
Treatt shares increased 2.7% to 983.5p this morning on the back of the positive trading update.
Russian supermarket chain X5 Retail Group has struck a deal to acquire a dark kitchen operator.
It said the decision was in line with its strategy to meet the fullest possible range of customers' food-related needs, in particular by expanding the product offering in the fast-growing ready-to-eat segment.
Mnogo Lososya is a food tech project started by Yakov Mendeleev and Alexander Mutovin that operates a chain of dark kitchens and a number of online eating-out brands.
Currently, it runs 25 kitchens, four brands (Mnogo Lososya, Ten Ideal Pizzas, Rolls No. 1, and YAJI), a mobile app and a software suite that supports its key business processes, including food cooking and delivery.
Mnogo Lososya now delivers over 60,000 orders per month through its partners, Delivery Club and Yandex.Eats, as well as its own courier service.
X5 CEO Igor Shekhterman said: "We have been consistently building a vertical integration of production and sales channels in our ready food business. Our Kitchen Factory in the Moscow metropolitan area now includes a dark kitchen. While this segment currently accounts for just 5% of the ready-to-eat meals delivery market, its growth rates are outpacing other online HoReCa segments and dark kitchens are expected to gain traction going forward.
"Leveraging synergies with Mnogo Lososya, Х5 will be well positioned to meet our customers' needs for rapid delivery of freshly cooked meals and to offer the unique combination of groceries and ready-to-eat meals through X5's delivery services. We intend to continue actively developing this business area and are open to new proposals that could help strengthen our positions in the food market."
Alexander Mutovin, co-founder of Mnogo Lososya, added: "Capitalising on X5's investments, infrastructure and expertise, we are one step closer to our dream, which is to offer fast delivery of high-quality and diverse food to as many people as possible, thus maximising the time they can spend on socialising and pastimes. To this end, we plan to build more kitchens, launch new brands and strive for higher speed and quality of our product offering."
The FTSE 100 has opened 0.6% lower at 6,876.29pts despite market optimism as lockdown restrictions being to lift today.
Early fallers in fmcg include Vimto maker Nichols, down 3.9% to 1,340p, SSP Group, down 2.8% to 312.3p, and McColl's Retail Group, down 2.5% to 30.4p.
Deliveroo made a strong start to the week as its shares rose 3% to 262.1p, which is still way off its listing price.
Glanbia rose 2.1% to €13.08 after it announced it had completed its €50m share buyback programme announced in November 2020.
Other early risers included Stock Spirits Group, up 1.6% to 290.2p, Parsley Box, up 1.5% to 203p, and PayPoint, up 1.5% to 619p.
This week in the City
The big news this week comes on Wednesday as Tesco reports its first full-year results under new CEO Ken Murphy.
Elsewhere, tomorrow brings the latest retail sales update from the BRC and KPMG, while Just Eat updates the market on Wednesday.
The Hut Group reveals its preliminary results on Thursday, while Deliveroo will update the markets for the first time since its float with guidance for its first quarter. Naked Wines also reports full-year figures on Thursday.