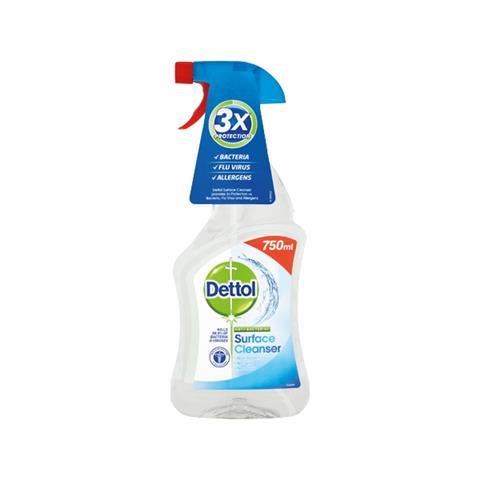 Top story
A strong end to the year has helped Reckitt Benckiser register double-digit growth in 2020 as consumers turned to Dettol, Lysol and other hygiene brands to keep coronavirus at bay.
Revenues for the year finished 11.8% higher on a like-for-like basis to £14bn, with the hygiene division up 19.5% and health rising 12.1%. It is the best growth recorded in the company's history.
The shift to online also benefitted the multinational as its ecommerce channel registered a record performance, with online sales soaring 56% to account for about 12% of total group business.
Reckitt flagged very strong growth for its heritage brands, particularly Lysol, Finish and Dettol, with a good performance from Gaviscon and improved momentum for Durex once the first lockdown was lifted.
Shoppers stuck to well-known brands throughout the year as fear of germs fuelled buying habits, with Reckitt recording like-for-like growth of 25.7% for its hygiene range in the final quarter of 2020. Although, the health arm recorded more most growth of 2.8% as increases were offset by a big drop-off in demand for over-the-counter medicine as cold and flue spread less easily.
The group doesn't expect the stellar growth to continue in 2021 as the world slowly returns to normal, with like-for-like performance expected to be up 2% or even flat.
CEO Laxman Narasimhan said Reckitt "successfully navigated unchartered waters" as it delivered strong revenues in 2020.
"2020 was a turning point for RB," he added. "Our performance is strong, we are building capability, actively managing our portfolio and transforming our culture. We expect 2021 to be a year of further strategic progress and we remain confident that we will meet our medium-term targets."
Reckitt announced separately this morning that it was selling footcare brand Scholl to Yellow Wood Partners as it tried to bring focus to its portfolio, as well as buying US pain relief brand Biofreeze from Performance Health.
The group has also revealed it is putting its Chinese infant formula business under review, which it acquired four years ago with the acquisition of Mead Johnson Nutrition.
Reckitt reported operating profits in 2020 of £2.2m, compared with a loss for 2019. The group also invested £745m in growth-related initiatives in 2020.
Shares in the group shot up 2.5% to 6,062p on the back of the record performance.
Morning update
EG Group has added another external executive to its board as it continues its attempts to assure markets about the strength of corporate governance at the forecourt giant.
Dame Alison Carnwath joins as a non-executive director and as chairman of the audit committee, with effect from 1 March 2021.
Carnwath has served as a director at BP, Friends Provident, Gallaher, Barclays and Man Group among others. She is currently chairman of the audit committee at Zurich Insurance and BASF and a non-executive at Paccar, a Fortune 500 company listed on NASDAQ.
The move follows the recent appointments of Lord Stuart Rose as chairman of the group, and John Carey as a non-executive director of EG Group.
The board has also agreed to establish remuneration and nomination sub-committees, with appointments expected in the coming months.
EG has fallen under the media spotlight since owners Zuber and Mohsin Issa and PE firm TDR Capital bought Asda for £6.8bn in October.
Stuart Rose said: "I am delighted to welcome Dame Alison to EG Group's board. Alison is one of the most admired people in British business with an exceptional track record as a non-executive director of some of the UK's leading companies.
"Her experience and expertise makes her an excellent addition to the board, and superbly well-placed to lead the group's audit committee. I joined EG in January because the shareholders asked me to develop appropriate governance for a business of this scale and Alison's appointment further underscores the group's commitment to establish a best-inclass governance model."
Zuber and Mohsin Issa added: "We are delighted to have attracted a non-executive of the caliber and experience of Alison to the group board. Alongside Lord Stuart Rose and John Carey, the appointment of Alison clearly demonstrates a commitment by the shareholders to put in place a board that is consistent with those of a public company of equivalent scale."
Underlying profits have slumped by more than 20% at Irish group Glanbia as the lockdown restrictions in 2020 hampered the sale of its nutrition division's protein products.
Sales at the performance nutrition business fell 13.3% last year, with particularly difficult second quarter as the first national coronavirus lockdown began.
Group revenues fell 1.4% to €3.9bn as growth in the Glanbia Nutritionals business offset some of the decline. EBITA fell 22.6% to €209.6m, before exceptional items.
Glanbia called the performance "resilient" given the circumstances.
MD Siobhán Talbot said she was "exceptionally proud" of how staff responded to the many challenges of Covid.
"Throughout the pandemic, we lived our purpose and our values, delivering essential, nutritious food during the most challenging of circumstances and proving the resilience of our business," she added.
" Our business portfolio delivered a robust operating performance supported by our swift and decisive actions which resulted in improving trends across the group in the second half of the year."
She said the group expected the disruptive impact of Covid would lessen throughout 2021.
"We anticipate that 2021 will see consumers continue to focus on health and wellbeing: prioritising functional nutrition including immunity enhancing products; maintaining a healthy weight; and supplementing protein-rich foods to support performance and healthy lifestyle goals. This positions Glanbia very well for the future given our core focus on nutrition, health and wellbeing."
Shares in the group slumped 5.2% to €9.84 this morning.
Elsewhere, the FTSE 100 opened down 0.6% to 6,584.29 as investors worried about inflation.
It has been a good morning for Greencore, with shares rising 4.9% to 155.2p, while Greggs is up 2.9% to 2,226p, Pets at Home is 2.4% higher at 389.2p and Tesco is up 1.9% to 228.8p.
Aside from Glanbia, it also wasn't a good start for McBride, which fell off 2.2% to 81.8p after a good day yesterday, while Compass and Associated British Foods also gave up gains, falling 2.1% to 1,476.8p and 1.7% to 2,413p respectively. Naked Wines also continued yesterday's declines to open down 2% to 753.7p.
Yesterday in the City
The FTSE 100 kept its head above water yesterday as markets weighed up the effect of the government's reopening plan. The index finished the day 0.1% higher to 6,619.81pts.
Household consumer group McBride jumped 2.2% to 83.6p after it reported a boost for half-year figures as demand for cleaning products remained high.
Finsbury Food Group bounced back from Monday's fall driven by another set of difficult results to increase by 6.3% to 76p.
Other stocks badly affected by the shutting down of society roared back as well yesterday. Investors raced to buy travel food outlet owner SSP Group as Britons started plotting getaways once lockdown ends. The Upper Crust owner's share price soared 16.8% to 367.8p
WH Smith was also up 7.9% to 1,926p, cider maker C&C Group registered a rise of 7.6% to 268p and Irn-Bru owner AG Barr was up 4.2% to 495p.
Primark owner Associated British Foods increased 2.2% to 2,460, Brtivic rose 3.2% to 844.5p, and catering group Compass increased 1.9% to 1,514p.
Naked Wine, which has been a big lockdown winner, suffered a sell off, with shares down 5.4% to 765p, while Just Eat Takeaway.com fell 2.2% to 7,006p, Ocado was down 2.3% to 2,346p and B&M European Value Retail fell 0.8% to 557p.