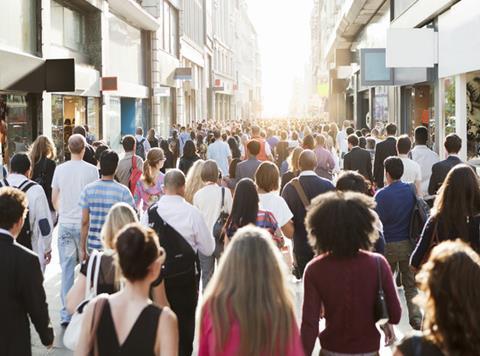 Top story
Shoppers are proving slow to return to the high street and shopping centres, according to the latest footfall data from BRC-Sensormatic IQ.
Total UK footfall decreased by 28.0% in July compared with the same month in 2019, which was also a 0.4% drop on June's figures.
This July data points to a slowing recovery in physical retail as it is also below the three-month average decline of 27.7%.
Footfall on High Streets declined by 34.6% in July compared to 2019 and 1.2 percentage points below last month's rate.
Shopping centre footfall declined by 38.4% on a two year basis, 2.6 percentage points below last month's rate but above the 3-month average decline of 39.1%.
Retail Parks saw footfall decrease by 15.0% compared to July 2019, which was 6.9 percentage points below last month's rate.
BRC CEO Helen Dickinson commented: "After improvements in footfall in the early part of 2021, the situation has plateaued with little change in footfall levels for a third month in a row. The turbulent weather, with initial heatwaves giving over to torrential rain, appears to have dampened the mood for shopping in July, with a particularly pronounced fall in footfall at retail parks.
"However, the last week of July offered a glimmer of hope for retailers as the easing of restrictions lead to the best weekly performance of 2021. Retailers hope this trend will continue as the rise of vaccinations and falling coronavirus case numbers boosts consumer confidence.
"Government and businesses must take the opportunity to build back a better future for our local destinations. With the number of empty shopfronts still rising in many parts of the country, it is vital we rebuild our local communities to integrate leisure, retail, services, and homes.
"For this to be successful, Government must fulfil their commitment to alleviate the unsustainable cost burden placed on retailers by the broken rates system in their upcoming business rates review. This will allow retailers to continue invest in their physical and digital offerings and provide communities with vibrant spaces to visit, work and shop."
Andy Sumpter, retail consultant EMEA for Sensormatic Solutions, added: "With July's wet weather dampening shoppers' spirits, High Street footfall stayed subdued as consumers remained cautious. Even the hotly debated 'Freedom Day' failed to significantly shift the dial on shopper counts, perhaps losing some of its 'shine' to the EURO's which brought forward shopping and socialising trips to earlier in the month.
"And in a tale of two halves, Freedom Day may have split consumer confidence, with those revelling in newfound freedoms increasing the frequency of their shopping trips, while those concerned about the relaxation of restrictions on social distancing and mask-wearing becoming more inclined to stay away.
"However, while footfall performance was flat compared to June, the trajectory in the second half of July gave cause for more cautious optimism; weekend shopper counts improved by 7 percentage points week-on-week following Freedom Day. Retailers will now be hoping caution will give way to growing consumer confidence so that they can capitalise on summer trading."
Morning update
On the markets this morning, the FTSE 100 has dipped 0.1% to 7,111.7pts.
Risers include Nichols, up 1.4% to 1,455p, Delieveroo, up 1.3% to 329.1p, and Hotel Chocolat, up 1.1% to 364p.
Fallers so far this morning include Glanbia, down 3.7% to €14.32, SSP Group, down 2.1% to 247.7p and Marston's, down 2.1% to 82.5p.
Yesterday in the City
The FTSE 100 ended the day a fraction down, falling 0.5% to 7,120.4pts.
The day's risers included Science in Sport, up 5.3% to 79p, Greggs, up 5.3% to 2,864p, Just Eat Takeaway.com, up 3.4% to 6,451p, C&C Group, up 3.2% to 233.6p, WH Smith, up 2.8% to 1,681p, SSP Group, up 1.9% to 253.1p and Greencore, up 1.7% to 133.2p.
Fallers again include Total Produce, down 13.2% to 165p due it the listing of its newly merged venture with Dole in the US.
Other fallers include Bakkavor, down 4.5% to 120p, Nichols, down 2.7% to 1,435p, Hotel Chocolat, down 2.7% to 360p and Domino's Pizza Group, down 1.5% to 422.4p.