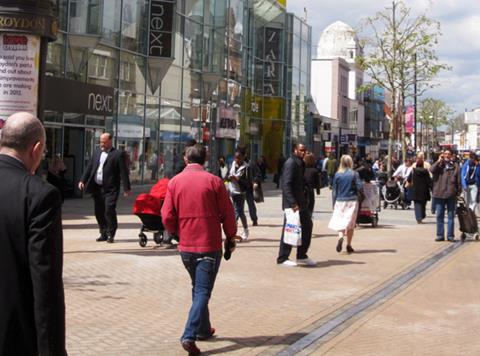 Top story
Retail sales volumes continued to recover in March ahead of the reopening of non-essential shops, according to date from the Office of National Statistics.
Overall retail sales rose 5.4% in March compared with the previous month, reflecting the effect of the easing of coronavirus restrictions on consumer spending.
Sales were 1.6% higher than February 2020 before the impact of the coronavirus pandemic.
Non-food stores provided the largest positive contribution to the monthly growth in March 2021 sales volumes, driven by a 17.5% spike in clothing store sales and a 13.4% rise in sales at other non-food stores.
Food stores reported monthly growth of 2.5%, with strong growth in specialist food stores (butchers and bakers) as they continued to be boosted by the closure of the hospitality sector during the Easter period.
Automotive fuel retailers also reported strong monthly growth of 11.1% as travel restrictions were eased towards the end of the reporting period.
However, despite strong March figures, retail sales for the quarter have been subdued overall.
In the three months to March 2021, retail sales volume fell by 5.8% when compared with the previous three months, with strong declines in both clothing stores and other non-food stores as a result of the tighter lockdown restrictions in place.
The ONS also notes that whilst the 17.5% monthly growth in the clothing sector is a significant increase in sales volumes, they remain 41.5% below the level in February 2020 before the pandemic began. Feedback from retailers suggested that the impending relaxation of lockdown restrictions (meeting in private gardens and outdoor hospitality) had prompted the increase in March.
The proportion spent online decreased to 34.7% in March 2021, down from 36.2% in February 2021 but still above the 23.1% reported in March 2020; the value of online spending did increase in March, but spending in-store increased at a faster rate.
Morning update
UK consumer confidence has risen back to its highest level since the start of the coronavirus pandemic, according to new data from GfK.
The GfK Consumer Confidence Index increased to -15 in April from -16 in March, which is its highest level since March 2020.
The index had fallen to an 11-year low of -36 during last year's lockdown period in June last year.
Joe Staton, client strategy director at GfK, said: "The pandemic has hit household finances hard and, on the road ahead, we will still see concerns over new variants, rising inflation and the debt overhang."
On the markets this morning, the FTSE 100 has edged back 0.2% to 6,926.9pts.
Early risers include Total Produce, up 5.9% to 180p, Nichols, up 3.3% to 1,400.2p and SSP Group, up 3% to 338.4p.
Fallers so far today include McColl's, down 4.5% to 31.1p, WH Smith, down 2.2% to 1,840p and McBride, down 1.7% to 93p.
Yesterday in the City
The FTSE 100 recovered another 0.6% to bounce back to 6,938.2pts after Tuesday's falls.
The day's risers included SSP Group, up 5.5% to 328.6p, WH Smith, up 4.5% to 1,881.5p, PayPoint, up 3.5% to 628p, McBride, up 3.3% to 94.6p, Diageo, up 2.7% to 3,316.5p, Marks & Spencer, up 2.3% to 158.1p, THG up 2.2% to 642p, and FeverTree, up 2.2% to 2441p.
Nestle was up 2.9% to CHF110.02 after posting surging first quarter revenues, with organic growth of 7.7% more than double analysts' expectations.
Pernod Ricard was up 1.3% to 175.30 after posting a strong rebound in third quarter sales.
Fallers included Domini's Pizza Group, dropping 1.1% to 363p despite posting a strong start to 2021.
Other fallers included Nichols, down 4.6% to 1,355p, Kerry Group, down 1.7% to €108.60, Deliveroo, down 1.2% to 230.3p and Imperial Brands, down 0.7% to 1,487p.