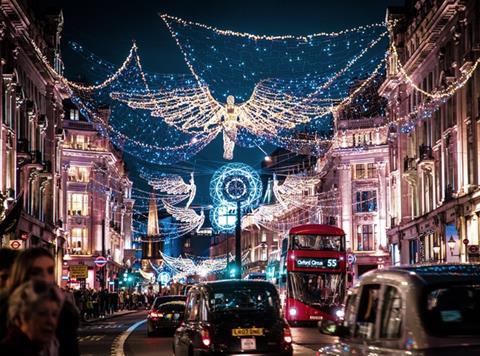 Top story
The UK retail sector has suffered its worst year on record after a Christmas sales rise of 0.4% failed to meet expectations, according to the Office of National Statistics.
In December 2020, retail sales volumes increased by 0.3% when compared with November 2020, resulting in an increase of 2.7% when compared with February's pre-lockdown level.
On a value basis sales were up 0.4% month-on-month.
Clothing stores reported strong monthly growth of 21.5%, rebounding from a large fall in November 2020 when stores were closed because of coronavirus restrictions.
Food stores reported a monthly fall of 3.4% in December, which can be partly be attributed to a fall back from the 2.8% growth in November
The year-on-year growth rate in the volume of retail sales increased by 2.9% when compared with December 2019; non-store retailers reported the largest year-on-year growth at 43.5% while food stores also saw strong annual growth of 4.4%.
The uptick in retail sales followed a period in November when there were more widespread and extensive restrictions to non-essential retail.
"During December, there was initially a period of eased restrictions early in the month, however, there followed a number of tighter restrictions to non-essential retail in England, Scotland and Wales later in the month," the ONS stated.
"Feedback from retailers suggested that these enforced closures later in the month affected turnover, though not to the same extent as witnessed in November, however, Christmas purchases through click and collect and online sales helped to lessen the impact."
However, in 2020 as a whole, estimates of the quantity bought decreased by 1.9% when compared with 2019, which represents the largest year-on-year fall on record.
Clothing stores (negative 25.1%), fuel stores (negative 22.2%), "other stores" (negative 11.6%) and department stores (negative 5.2%) all recorded record annual declines in sales volumes in 2020 when compared with 2019, non-store retailing, however, saw a record annual increase of 32.0% for 2020.
Total online retailing values increased by 46.1% in 2020 when compared with 2019, the highest annual growth reported since 2008.
Food stores (79.3%), "other stores" (73.9%), household goods stores (73.4%) and department stores (65.9%) all recorded record annual increases in values of internet sales in 2020 when compared with 2019.
Morning update
In this week's edition of The Grocer, Exponent buys majority stake in Proper to build healthy snacking empire, Yo! Sushi hit by supermarket sales drop to exacerbate restaurant woes and more.
Check out all thegrocer.co.uk/finance today for full details.
Elsewhere this morning, The John Lewis Partnership has announced the early repayment of the £300m government loan as a result of better than expected Christmas trading.
The group said it will has repaid its HM Treasury and Bank of England Covid Corporate Financing Facility in full, which was due for repayment on 15 March 2021.
Despite the head winds of the last year when John Lewis stores were closed for several months, and future trading volatility, the Partnership said it believes it has sufficient liquidity going forward.
Trading during peak, which includes Black Friday and the Christmas period, "held up better than anticipated".
As a result, it expects our full-year profits to be ahead of the profit guidance provided at its half-year results last September, where it said the most likely outcome would be a small loss or a small profit for 2020/21.
Full year results will be published on 11 March.
As reported in our FY20 results announcement on 24 November 2020, the Group had a strong start to the new financial year, and this has continued with the trading performance in the year to date being significantly better than expected.
Food and drink ingredients supplier Treatt has posted a trading update on performance since the start of its financial year ending 30 September.
The group said it is performing particularly well in its citrus, health & wellness, fruit & vegetables and tea categories. Some material new business wins have been achieved including in the global alcoholic seltzer category which is continuing to grow strongly.
Treatt said it is also well positioned as a supplier of natural extracts including its sugar reduction solutions; as its technical expertise enables it to add significant value to customers across a growing range of applications resulting in margin expansion as well as revenue growth.
Whilst some parts of our product portfolio continue to be impacted from subdued on-trade demand due to the closure of venues in many parts of the world, this has been more than offset by increased demand from off-trade channels.
"The board considers that the strong trading momentum shown in these first few months of the current financial year will continue into H2 but is mindful that the Group faces the same uncertainties as our customers regarding the ongoing COVID-19 global pandemic, potential further lockdowns in our key markets and the volatile geopolitical landscape, with potential impacts on demand, FX rates and commodity prices," it stated.
Nevertheless, the better than expected performance for the first four months of the year and the level of the order book leads the board to be "cautiously optimistic" about continued growth in revenues, margins and profits for the rest of its 2021 financial year, with profit before tax and exceptional items for the year expected to materially exceed current consensus of £15.1m.
CEO Daemmon Reeve commented: "We're encouraged by our strong trading momentum continuing into the current financial year. Performance has been positive across a number of our key categories, with particular growth in our solutions for the expanding alcoholic seltzer market, utilising our expertise in natural extracts.
"Whilst mindful of the global backdrop, we are confident that we can make further progress this year, to grow organic revenue across an increasingly global and diversified customer base who benefit from our technical expertise and value-add approach."
On the markets this morning, the FTSE 100 has fallen another 0.6% to 6,678.4pts so far this morning.
Early fallers include Nichols, down 4.6% to 1,290p, WH Smith, down 4.5% to 1,702p and Premier Foods, down 3.5% to 95.8p.
Risers so far include Science in Sport, up 3.2% to 48p, Bakkavor, up 2.3% to 87.5p and B&M European Value Retail, up 1% to 519.2p.
Yesterday in the City
The FTSE 100 closed the day down 0.4% to 6,715.4pts yesterday.
Fallers included food to go specialists SSP Group, down 3.3% to 342.2p, Greencore, down 2.4% to 114.7p, bakery group Finsbury Food Group, down 1.9% to 79p and Bakkavor, down 1.7% to 85.5p.
Also down were Hotel Chocolat, down 1.1% to 370p and Hilton Food Group, down 1% to 1,034p.
Despite the wider market drop there were some notable FTSE 100 risers, including Just Eat Takeaway.com, up 4.9% to 8,400p and Ocado, up 4% to 2,675p.
Other risers included Science in Sport, up 4.5% to 46.5p, WH Smith, up 3.8% to 1,783p, Marks & Spencer, up 3.7% to 142.8p, Greggs, up 2.9% to 2,054p and B&M European Value Retail, up 2.7% to 514.2p.