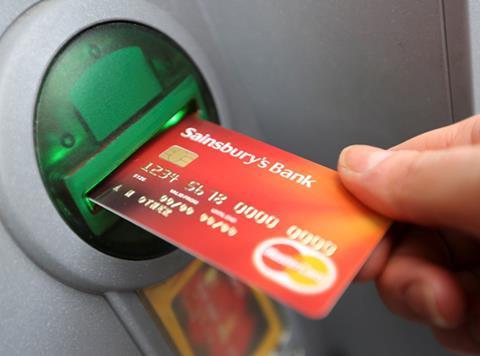 Top story
Sainsbury's has announced it has halted talks around a possible £200m sale of its financial services arm.
Sainsbury's announced in November 2020 it had received "some expressions of interest" in a possible acquisition of Sainsbury's Bank and later appointed investment bank UBS to handle a formal sales process.
The supermarket said this morning that, while it was in the best interests of shareholders to explore these expressions of interest, it has concluded that these "do not offer better value for shareholders than will be realised through retaining Sainsbury's Bank".
Accordingly, all such discussions have now ended.
"We continue to make progress strengthening and simplifying our Financial Services business in line with our strategy and we remain comfortable with consensus profit forecasts for the division," it stated.
Sainsbury's Bank is expected to contribute £26m to underlying operating profits in its 2021/22 financial year, £43m in 22/23 and £49m in 23/24.
In August Sky News suggested Sainsbury's was in "advanced discussions" to sell off its banking arm to US private equity firm Centerbridge for around £200m.
NatWest Group also reportedly looked at acquiring Sainsbury's Bank last year, while Sainsbury's had also explored the sale of its £1.9bn mortgage book to Nationwide Building Society before the outbreak of Covid derailed any deal.
Sainsbury's was mulling a sale of its banking arm amid low interest rates constraining its profitability.
The grocer, which took complete ownership of the bank in 2013, stopped selling mortgages in 2019 amid intense competition and has stated it will not inject further capital into the business.
Morning update
UK retail sales fell again in September despite the relaxation of Covid restrictions as non-food store sales continue to slump, according to The Office of National Statistics.
Retail volumes fell by 0.2% in September 2021, following an upwardly-revised 0.6% fall in August
Non-food stores reported a fall of 1.4% in sales volumes because of falls in household goods stores (negative 9.3%), such as furniture and lighting stores, and other non-food stores (negative 1.7%) such as sports equipment stores.
Automotive fuel sales volumes rose by 2.9% in September 2021 as demand towards the end of September increased sales.
Food store sales volumes rose by 0.6% in September 2021 and were 3.9% above pre-coronavirus pandemic levels in February 2020.
Despite relaxation of COVID-19 restrictions in summer 2021, in-store retail sales remain subdued. The proportion of retail sales online rose to 28.1% in September 2021 from 27.9% in August, substantially higher than the 19.7% in February 2020 before the pandemic.
Despite the overall fall in September sales, volumes were 4.2% higher than their pre-coronavirus pandemic February 2020 levels.
Elsewhere, French spirits group Rémy Cointreau has posted sales growth of 52% to €645.3 million in the first half of its fiscal year as cognac sales recovered.
Strong second-quarter growth, with sales up 23.7% on an organic basis, were ahead of the Group's expectations, reflects a continued very strong trend in China and the United States as well as solid momentum in Europe.
After a strong start to the year, boosted by the effects of restocking in the United States, the Cognac division continued to enjoy particularly buoyant demand in the second quarter (up 26.9%), with the division's sales up 55.2% across the first half.
Sales at the Liqueurs & Spirits division also grew strongly on an organic basis, up 46.9% in the first half (of which an increase of 16.5% in the second quarter).
All regions contributed to first half growth, led by sales in the Americas region which rose 60.2% due to resilient at-home consumption and a strong recovery in the on-trade channel in the United States.
The APAC region posted growth of 49.3%, reflecting very strong momentum during the mid-autumn Festival in China.
Growth in the EMEA region came in at 33.5% thanks to the reopening of the on-trade channel and strong sales over the summer.
For the full financial year, Rémy Cointreau reiterated its confidence in its ability to outperform the "exceptional" spirits market and anticipates "strong growth in sales", mainly driven by performance in the first half.
Given the favourable environment, the group plans to meaningfully increase its marketing spend this year, particularly in the second half, to support its brands through the recovery and boost their medium-term growth potential.
Consequently, Rémy Cointreau is targeting strong full-year growth in current operating profit, tempered by adverse currency effects (of between €10m-€14m) and scope effects (around €2m).
Current operating profit will mostly benefit from the expected exceptional growth in the first half.
On the markets this morning, the FTSE 100 is back up 0.4% to 7,218.9pts so far this morning.
Risers include McColl's, up 3.5% to 20.9p, THG, up 3.1% to 326.8p and WH Smith, up 2.5% to 1,580.5p.
Fallers include McBride, down 3% to 64p, Deliveroo, down 2.3% to 282.7p and Just Eat Takeaway, down 1.8% to 5,839p.
Yesterday in the City
The FTSE 100 closed down yesterday 0.5% to fall back to 7,190.3pts.
Unilever ended the day up 1.2% to 3,863.5p after posting underling sales growth of 2.5% in the three months to the end of September despite a 1.5% drop in sales volumes in the quarter as prices rose by 4.1%.
The day's fallers included online specialists Naked Wines, down 4.2% to 656p, Deliveroo, down 4.1% to 289.3p, THG, down 3.9% to 317p, and Just Eat Takeaway, down 1.8% to 5,946p.
Also falling were drinks group FeverTree, down 3% to 2,471p, Britvic, down 2.1% to 877.5p and Coca-Cola HBC, down 1.9% to 2,452p.
Risers included McBride, up 4.4% to 66p after falls this week, SSP Group, up 1.5% to 245.7p and Ocado, up 1.2% to 1,838.5p.