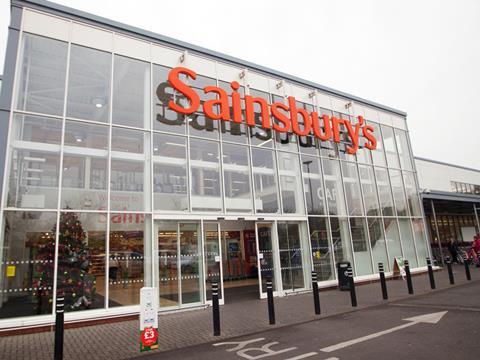 Top story
Shares in Sainsbury's have ballooned more than 9% to a three-year high after speculation emerged in the weekend papers that the supermarket group was the next target of US private equity groups.
A story in The Sunday Times suggested investment giant Apollo Global Management was exploring whether to make a bid on Sainsbury's.
The group missed out on the race to buy Asda to TDR Capital and the Issa Brothers last year and have been holding talks to potentially join forces with the consortium led by Fortress Investment Group in the Morrisons takeover saga.
As a result of the story over the weekend, Sainsbury's shares soared 9.5% to 322.7p as markets in London opened this morning to heights not seen since the summer of 2018.
It gives the supermarket a market cap of about £7.5bn.
Despite the rumours reported in The Sunday Times, Sainsbury's has not issued any statements on the stock exchange this morning.
Shore Capital analyst Clive Black released a stinging note accusing the newspaper of publishing a "sensationalist" and "shallow" story.
"From an initial statement that 'private equity giants are circling Sainsbury's with a view to possibly launching bids of more than £7bn', it turns out that the paper is merely surmising that someone has said that Apollo is 'running the rule over Britain's second-largest supermarket chain'," Black said. "No other serious interest is mentioned so 'bidders' appears an erroneous statement."
It comes after US private equity giant Clayton, Dubilier & Rice moved into pole position in the bidding war for Morrisons on Friday, having agreed a new £7bn deal for the supermarket.
Morning update
The FTSE 100 benefitted from the surge at Sainsbury's, opening 0.4% higher at 7,112.88pts.
Elsewhere, it was a quiet morning on the markets.
Ultimate Products has continued to outperform market expectations despite disruptions to supply chains caused by the Covid pandemic.
Revenues at the group increased 18% to £136.4m in the year ended 31 July 2021, according to a pre-close trading update released this morning.
Growth came across each of the Oldham-headquartered business' four strategic areas of international, supermarkets, online channels and discount retailers despite what it said was "a challenging commercial environment with significant operational and shipping disruption as a result of Covid-19".
Unaudited underlying EBITDA increased by 28.3% to £13.3m underlying pre-tax profits were ahead of market consensus with a 37% jump to £11.2m.
Current trading remained in line with expectations, with growth expected in FY22 both from the core business and through the acquisition of Salter, which the group completed in July.
However, Ultimate Products added that shipping availability continued to present challenges with forward orders from the group's retail customers being prioritised ahead of stock purchases.
Management expected global shipping would remain disrupted until after Chinese New Year in February 2022.
CEO Simon Showman said: "Against the challenging backdrop that Covid-19 continues to present, we are very pleased to have delivered a performance in FY21 that is ahead of the market's expectations.
"As ever, I am hugely proud of the hard work, dedication and professionalism of the Ultimate Products team. As a result of their efforts, our business is emerging from the pandemic with closer customer relationships, a stronger portfolio of products, and in excellent financial and operational shape.
"In addition, the acquisition of Salter, the UK's oldest housewares brand, has delivered a step change in the depth and quality of the group's brand portfolio, providing further opportunities for future growth both domestically and internationally. As a result, the board remains confident in the long-term prospects for the group."
Ultimate Products sells brands such as Beldray, Kleeneze and Salter to more than 300 retailers around the world.
Shares in the company leapt 6.4% to 224.9p this morning.
This week in the City
As we enter the dog days of August there is little in the way of company news scheduled this week.