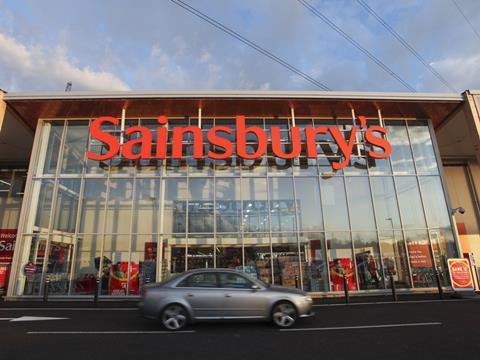 Top story
Sainsbury's has plunged into the red after £485m of Covid-related costs and more than £600m of restructuring charges for its Argos transformation programme more than offset a surge in revenues over the past year.
Underlying pre-tax profits at the group slumped 39% to £356m in the year ended 6 March 2021, despite a 7.3% jump in retail sales to £28.8bn. Total group revenues were 0.3% down on the prior year at £32.3bn as fuel sales tanked by 39%, with customers filling up less during lockdown.
Like its rivals in the sector, Sainsbury's has ploughed huge sums into making its stores safe for customers during the coronavirus pandemic, as well as recruiting thousands more staff, paying out thank-you payments to employees and investing in scaling its online offering. It also followed Tesco in paying back hundreds of millions of pounds in business rates relief.
However, the pandemic has resulted in a sustained uptick in turnover, with grocery sales for the year up 7.8%, Argos sales 10.9% higher and digital sales overall more than doubling to £12.1bn.
Sainsbury's also said it had profitably grown its online grocery business, with sales up 120%, and gained more market share than key rivals. Online shopping now accounts for 17% of grocery sales, compared with 8% in the previous year, and is able to fulfill more than 850,000 orders a week.
Argos digital sales also increased 68%, while improving profitability.
Despite the growth, Sainsbury's posted a £261m pre-tax loss for the year as a result of more than £600m of exceptional costs related to its transformation plan to integrate Argos more closely with the supermarket business.
The closure of about 420 Argos stores, as well as simplifying the logistics network led to restructuring costs of £423m, while a combination of Covid and the accelerated integration programme resulted in impairment charges of £220m.
Sainsbury's said changes it had made through the pandemic were creating good momentum as it moved into the new financial year.
Profits are expected to come back strongly in the current financial year, with a forecast for underlying pre-tax profits of about £620m, comfortably exceeding the £586m logged in 2019/20.
CEO Simon Roberts said the financial results this year had been heavily influenced by the pandemic.
" Food and Argos sales are significantly higher, but the cost of keeping colleagues and customers safe during the pandemic has been high."
He added: "We have a bold three-year plan to put food back at the heart of Sainsbury's and drive improved performance. We are transforming the way we work and I am encouraged by how all of our teams have responded and the early momentum and performance towards our plan.
"We have accelerated our digital transformation this year as we focus on serving customers however they want to shop with us. We have more than doubled our online grocery sales and have done this while improving profitability. Argos digital sales grew almost 70% and our Argos transformation plan is on track to improve customer availability while reducing our costs.
"Like our customers, we are all looking forward to things feeling more normal over the coming months and getting excited about a summer of celebration, but we are also cautious about the economic outlook. While there is much that we cannot predict in the year ahead, we are absolutely focused on delivering for our customers and shareholders."
Shares in Sainsbury's fell 2.2% to 236.9p as markets opened this morning.
Morning update
A continued focus on hygiene during the Covid pandemic has boosted revenues at Dettol owner Reckitt Benckiser once again.
Group like-for-like sales increased 4.1% in the first quarter of 2021 driven by 29% growth in its hygiene division, with "very strong demand" for Lysol and double-digit jumps for Finish and Air Wick.
The health arm declined by 13% as a result of lower demand for cold and flu relief products, as well as consumers stocking up a year ago when the outbreak started. Within the division, Durex sales roared back, delivering double-digit growth thanks to strong demand in China, which benefitted from easing of restrictions on social distancing compared with a year ago.
Reckitt continued to invest in its online business, with sales up another 24% and now accounting for 13% of group net revenues.
Chief executive Laxman Narasimhan said 2021 had started well and in line with expectations, with two-year growth at more than 17% as it began to lap the stockpiling that took place a year ago.
"Demand for Lysol and Dettol continues to be strong as consumers remain vigilant to the spread of the virus and see use of our products, and improved hygiene habits, as a way of protecting their health and regaining normality in their lives. "As is to be expected, the underlying drivers of near-term demand for disinfectant products are dynamic, with countries around the world at different stages of the pandemic, and we are therefore closely tracking shifts in consumer behaviour to understand supply and demand trends."
He added: "We see continued strong demand for our brands, better execution, and the benefits of our recent investments feeding through in the form of more focused innovation, increased capacity, and better customer service. There is still much to do, and the actions we are taking make Reckitt a stronger, more competitive, business with each day. We have the right team in place, and our portfolio is increasingly well-positioned to benefit from attractive market fundamentals. We continue to be confident in the outlook for both 2021 and the medium-term."
Shares in the group tumbled 2.4% to 6,430p on the back of the update.
Danish brewing giant Carlsberg has lifted its earnings expectation for the year as sales roared back to life around the world thanks to the easing of lockdown restrictions.
The group said in a Q1 update this morning that it sold 12.8% more beer than a year ago, with 30% organic volume growth in Asia and 9% in Central and Eastern Europe offsetting a 5.8% decline in Western Europe, where many hospitality venues remained closed.
Organic revenues increased 3.8% to DKK 12.9bn (£1.5bn) as a result, but Western Europe (down 15% to DKK 5.6bn) dragged on soaring growth in Asia (up 30% to DKK 4.1bn).
Tuborg volumes grew 26% in the quarter, with 1664 Blanc up 33% and Somersby up 31%, while the Carlsberg brand fell 4% and Grimbergen was down 17%.
Craft and specialty volumes jumped 13% and alchohol-free brews soared 24%.
Carlsberg said, although uncertainty in the market remained high, it was raising the bottom end of the range for its profit expectations as a result of the good start to the year.
It now forecast organic growth in operating profits within the range of 5-10%, raised from 3-10% previously.
CEO Cees 't Hart said: "The group had a strong start to the year in Asia and Central & Eastern Europe, while Western Europe was significantly impacted by the extensive lockdowns and restrictions across the region. With Covid-19 continuing to be a challenge in many of our markets, our geographical exposure showed its strength, as strong volume growth in several markets across all three regions more than offset challenging circumstances in other markets.
"Although the uncertainty as to how the pandemic will evolve in the coming quarters remains high, we're pleased that we can raise the bottom end of our earnings guidance and that we're today launching the second quarterly share buy-back programme."
Carlsberg shares rose 0.9% to DKK 1,069 on the back of the good start to the year.
Strong growth achieved by the Vimto brand in the UK and a solid start to the year for the international business have largely offset significant declines in the UK out-of-home markets at soft drinks supplier Nichols.
As a result, total group revenue in the the first quarter of 2021 decreased by 5.9% to £30.7m, the business said in a trading update ahead of today's AGM.
The Vimto brand has continued to outperform the wider UK soft drinks market, achieving growth of 4.9% in value terms to the end of March, versus 3.2% value growth for the category.
Trading since the year end had remained "very challenging" in out-of-home markets as lockdowns dragged on, with revenues 91.9% lower in the period than the same period of 2020.
"The board is confident that the group, underpinned by the strength of the Vimto brand and the group's diversified business model, remains well placed to deliver its long-term strategic ambitions," Nichols said.
"Should the UK government's planned roadmap out of lockdown continue, and assuming the absence of further lockdowns later in the year, the board expects full-year adjusted profit before tax to be broadly in line with current market expectations."
Nichols shares were lifted 0.9% higher to 1,422.4p as markets opened.
Deliveroo has appointed Dominique Reiniche and Karen Jones to its board as non-executive directors.
Reiniche, who has extensive experience in consumer marketing and innovation in the European food and drink industry, including as CEO of Coca-Cola Europe, will also become a member of the audit, remuneration and nomination committees.
Jones will join Deliveroo's board of directors as the chairman of the remuneration committee and as a member of the audit committee. She brings experience in the restaurant, food and hospitality sectors, previously as the founder of Cafe Rouge and CEO of Spirit Group, and currently as the chairman of Hawksmoor and Mowgli, and executive chairman of Prezzo. Jones has also previously chaired the remuneration committees of ASOS and Booker.
Reiniche will start in the role on 1 May, while Jones joins on 1 June.
Deliveroo chairman Claudia Arney said: "We are delighted to have brought on board Karen and Dominique who bring substantial expertise in the restaurant and food and drink sectors, as well as deep knowledge of consumer marketing and real insight into our European markets. They join at an important time for Deliveroo as we build on the opportunities ahead of us as a public company. They will provide a valuable and fresh perspective to support the company's continued growth."
Food prices have fallen for the first time in more than four years as supermarkets continued to slug it out in a bid to win shoppers.
Promotions were also higher than a year ago when the retailers dialled back offers during the height of panic buying in the early stages of the coronavirus pandemic, according to the latest shop prices index by the British Retail Consortium and NielsenIQ.
Food prices fell by 0.6% in April, down from a rise of 0.3% in the previous month. It is the first time prices have been deflationary since January 2017.
Fresh food prices fell for the fifth consecutive month, accelerating to 1.5%, compared to a decline of 0.8% in March.
Ambient food inflation slowed to 0.6% in April, down from 1.7% in March, the lowest rate of inflation since March 2018.
BRC chief executive Helen Dickinson said the decline in food prices was the result of fewer promotions in the comparison period a year ago as retailers tried to deter shoppers from stockpiling during the first lockdown.
Shop prices overall fell by 1.3% in April, a slower decline than the 2.4% decrease seen in March, with non-food deflation slowing significantly to 1.7%, compared to a decline of 4% the previous month.
The FTSE 100 had a solid start this morning as recovery hopes continue to keep investors optimistic, with the index up 0.4% to 6,973.84pts.
Early risers in food and drink include Total Produce, Parsley Box and AG Barr, while fallers include Naked and Glanbia.
Yesterday in the City
The FTSE 100 slipped back slightly yesterday, dipping 0.5% to 6,931.09pts.
Deliveroo shareholders received a welcome boost as shares jumped 6.1% to 242p after the delivery app announced a significant expansion of its Waitrose partnership. The stock is still way down from the 390p IPO price, with shares on a downward trajectory since the London debut last month.
News that grocery sales continued to grow despite relaxation of Covid restrictions did nothing for supermarkert stocks, despite Kantar reporting take-home figures for the industry rose by 5.7% in the 12 weeks to 18 April.
Tesco slipped 0.4% to 221.6p, Morrisons was down 1.5% to 176.1p and Sainsbury's fell 0.7% to 241.5p ahead of this morning's results.
PZ Cussons declined 0.7% to 266.5p despite reporting another strong set of results fuelled by the ongoing demand created by the pandemic. The beauty and personal care group posted a 4.7% jump in Q3 revenues to £145.3m.
Tate & Lyle gave up some profits as investors cashed in on the rise following news of a potential break up at the group, with shares down 2% to 785.8p.
Other losers yesterday included Real Good Food, which fell back 6.9% to 2.7p following recent gains on the back of the sale of Brighter Foods to The Hut Group.
SSP Group was also down 4.1% to 322.3p, with Naked Wines down 4.1% to 814p, Total Produce down 2.9% to 165p, and Hotel Chocolate Group down 2.4% to 405p.
Risers yesterday included Nichols, up 0.9% to 1,414.5p, Virgin Wines, up 0.5% to 230p, and Bakkavor, up 1.3% to 138.2p.