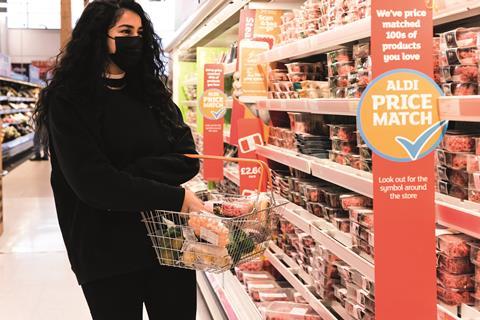 Top story
Sainsbury's has raised its full year profits expectations after posting growth in its first quarter despite "exceptionally tough comparatives".
The supermarket said first quarter sales had been ahead of expectations, with retail like for like sales up 1.6% in the 16 weeks to 26 June (ex fuel).
Total retail sales for the period were up 1.6% (ex fuel), representing two-year growth 10.3%
Sainsbury's said it had built on last year's strong momentum by growth grocery sales by 0.8% year-on-year despite exceptionally tough comparatives when grocery sales grew by 11.3%.
Grocery sales benefited from higher in-home consumption due to continued COVID-19 restrictions. In addition, it continued to outperform competitors and grow market share, reflecting improved value, more innovation and better customer service "as we make strong progress in putting food back at the heart of Sainsbury's".
Online grocery order numbers have reduced gradually from peak levels as more customers feel comfortable returning to shopping in stores but demand remains high. Sales were up 29% year-on-year during the quarter and up 142% on a two-year basis.
General Merchandise sales were 1.4% lower than last year's elevated levels (when they grew 5.6%) but remained ahead of expectations. Despite global supply challenges, Sainsbury's suggested this positive sales momentum was likely to continue for the remainder of the year.
As shoppers returned to stores, general merchandise within Sainsbury's supermarkets was up 11.2%, while Argos was down 3.7% (although up 6.7% on a two year basis).
Tu clothing has also recovered strongly. Sales were up 57.6% year-on-year and full price sales up 95% and market share gains on both a value and volume basis.
Sainsbury's cautioned it has further tough comparables ahead as restrictions continue to ease and customer behaviour normalises.
However, it now expects to report underlying profit before tax of at least £660m in the financial year to March 2022, up from previous guidance of £620m, with progress weighted towards the first half.
It is also using some of the profit benefit of the sales outperformance to accelerate its investment plans across the customer offer, particularly to further improve our value position.
Yesterday the supermarket announced an additional £50m investment in targeted price reductions focused on everyday essentials.
CEO Simon Roberts commented: ""We continue to make good progress against our plan to put food back at the heart of Sainsbury's and have good momentum within the business. Our colleagues are doing a brilliant job of giving great customer service and continuing to adapt as restrictions ease and shopping habits change. Over the coming months we expect to see customer shopping patterns normalise further and we are well set up to serve them however they want to shop.
"We are focused on offering our customers even better value and regularly creating new and exciting products for them to try. From today we are reducing prices by £50m on everyday products from strawberries and cherries to bacon and potatoes, helping customers make the most of this summer. I'm delighted that customers are responding to the changes we are making and that we are growing our market share.
"Our recent launch of Helping Everyone Eat Better will help customers find great tasting food that is good for them and also good for the planet, an important step on our journey to reduce our impact on the environment."
Sainsbury's shares have edged up 0.4% to 279.2p on the news.
Morning update
Ocado has signed a partnership to supply its online grocery technology to Spanish grocer Auchan Retail as it announced continued strong retail performance in the UK, even as Covid-19 restrictions ease.
Detailing its results for the 26 weeks to 30 May 2021, Ocado said group revenues were up 21.4% to £1.3bn, with growth across all business segments.
Retail revenues were up 19.8% in the six month period to £1.2bn, driven by strong new customer and order growth as Covid-19 restrictions ease.
With the easing of social distancing restrictions meaning fewer meals consumed at home, basket sizes in the second quarter have begun to move toward pre-Covid-19 levels, exiting the period 10% lower than the average for the half.
However, it said demand for online grocery remains strong and incremental capacity made available by both the accelerated ramp up of Bristol CFC and trends in basket size had grown Ocado Retail's active customers to 777,000 from 639,000 in the same period last year.
UK Solutions and Logistics revenues were up 13.1% to £357.3m, reflecting the ramp-up of new capacity.
While its international Solutions business recognised an increase in revenue contribution of £25m (up from £1.6m in the first half last year) with the go-live of two new CFCs for Kroger in the US.
Gross profit and other income grew strongly to £540.4m, with retail gross margin of 36.0%, consistent with its second half of 2020 as it benefited from higher order volumes, improved product mix, changes in sourcing arrangements, and cost savings.
EBITDA for the period more than trebled to £61m from £19.8m due to strong revenue growth and further operational efficiency improvements across UK fulfilment and delivery.
However, it posted pre-exceptional loss of £80.9m, up 1.5% from the £79.7m loss last year, largely as a result of £104m of depreciation and amortisation costs and £38m of financing costs.
At a headline level this was mitigated by exceptional income of £57.3m relating to insurance proceeds from the Andover CFC, bringing the statutory pre tax loss down to £23.6m.
For the full year, Ocado said it has been encouraged by the Q2 momemtum. However, it now expects £30m lower EBITDA contribution between the International Solutions, UK Solutions & Logistics and 'other' segments.
It said its Kindred Systems robot picking technology has "ramped up more slowly than originally forecast due to finalisation of new pipeline contracts a little later than originally planned", while it will invest an extra £15m to support growth of the solutions business in the UK and internationally.
Overall, taking into account the encouraging performance of Ocado Retail, with these other impacts Ocado is maintaining our full year outlook and do not expect a material change to consensus forecasts.
CEO Tim Steiner commented: "As we head towards a post Covid-19 future, it is increasingly clear that the landscape for grocery worldwide has changed, for good. Over the last eighteen months, we have shown that the Ocado model works even in the most challenging and fluid of environments.
"That ours is a proven model in online grocery has been again demonstrated by the strong performance of Ocado Retail, the historic core of the Ocado business, which has led the market in customer experience, increasing sales by 20% in the period, thanks to a significant increase in customer numbers, while continuing to show sustainable and industry-leading profitable growth.
"We continue to build strong partnerships with our clients and win new clients, based on our twenty year experience as a technology company and a food retailer, and these partnerships are the bedrock of our business. Our partners will continue to benefit from the full suite of options available from OSP as well as high levels of innovation and problem-solving which is at the heart of Ocado's DNA. Together, we are reshaping the grocery industry to the benefit of consumers around the world".
Meanwhile its growing international business has been further boosted by the agreement with Spain's Auchan Retail, one of the world's largest and best known grocery retailers.
Auchan has 180,000 employees, €32bn revenue, and operations across 13 countries and in Spain operates the Alcampo brand via a network of 310 stores (62 hypermarkets, and 248 supermarkets and convenience stores, of which 135 are franchises), with revenue totalling €4.5bn in 2020.
Ocado said that as Spanish customers continue to shift more of their spend online, the demand for competitively priced, high quality grocery ecommerce will continue to grow.
"This partnership will enable Alcampo to deliver a world-leading experience online to grocery customers across Spain," it said.
Under this agreement, Ocado and Alcampo will initially build a Customer Fulfilment Centre (CFC) to serve the Madrid region from 2024, with additional CFCs to be announced at future dates. Alcampo will also leverage Ocado's In-Store Fulfilment (ISF) software across its hypermarkets nationwide to enable more efficient picking from stores. The agreement will cover both Alcampo's food and non-food business.
The structure of fees agreed with Alcampo are similar to those agreed with other international Ocado Solutions partners. Alcampo will pay Ocado certain fees upfront and during the development phase, then ongoing fees linked to both sales achieved and installed capacity within the CFC and service criteria.
Ocado and Auchan Retail will also explore the potential to extend this partnership into other geographies.
Steiner commented: "The appetite for our unique end-to-end platform remains strong as retailers look to take advantage of the channel shift which is now redrawing the landscape of the global grocery market."
"Our partnership with Alcampo will bring the very best online grocery experience to customers in another major retail market, with proven and sustainable economics."
Elsewhere, Martson's has appointed Hayleigh Lupino as CFO with effect from 3 October 2021.
She will succeed Andrew Andrea as CFI who, in turn, takes over the role of CEO from Ralph Findlay at the end of the current financial year ending 2 October 2021.
Lupino is currently Marston's director of group finance and has over 18 years' experience within Marston's. She also serves on the Carlsberg Marston's Brewing Company board as a non-executive director.
She joined Marston's in 2003 and has helped transform its beer business over the last 10 years, including the acquisition of Thwaites beer business and Charles Wells Beer Business and the sale of Marston's Beer Company into the JV with Carlsberg UK in 2020.
Chairman William Rucker commented: ""I am delighted to announce Hayleigh's appointment and welcome her to the Marston's Board. Marston's is a people business and Hayleigh has unparalleled knowledge, understanding and experience of Marston's business, culture and values which, together with her clear financial prowess, will be a great asset to the senior leadership team.
"She has a proven track record of delivery and is highly regarded within Marston's which will stand her in good stead in her future role. I, together with my fellow directors, look forward to working with her closely in future."
On the markets this morning, the FTSE 100 is down 0.1% to 7,159.4pts so far.
Early risers include Total Produce, up 2.2% to 235p, Ocado, up 2% to 2,2024p, AG Barr, up 1.5% to 526p and Tesco, up 1.4% to 234.7p.
Fallers include Science in Sport, down 1.8% to 77.1p, Associated British Foods, down 1.8% to 2,289p and McBride, down 1.8% to 87.4p.
Yesterday in the City
The FTSE 100 started the week up 0.5% to 7,164.9pts.
Morrisons was the market's star performer – rising 11.6% to three year share price high of 267.5p as the market reacted to both the news a deal with a Fortress-led consortium has been agreed at 254p per share and expectations of further bids as news emerged Apollo was considering joining the battler alongside previously rejected bidder CD&R.
Tesco and Sainsbury's were boosted by the news and the uprating of the sector – with the former up 3.1% to 231.5p and the latter up 2.3% to 278.2p.
Other risers yesterday included SSP Group, up 5% to 298.2p, Marks & Spencer, up 2.9% to 157.1p, Domino's Pizza Group, up 2.6% to 411.8p, McBride, up 2.3% to 89p, Kerry Group, up 2.3% to €119.55, Premier foods, up 2.2% to 111p, Greencore, up 2.2% to 132.3p and WH Smith, up 2.1% to 1,709p.
The day's fallers included takeaway firms Deliveroo, down 3.2% to 306.2p and Just Eat Takeaway.com, down 1% to 6,638p.
Other fallers included Total Produce, down 1.5% to 230p, Devro, down 1.5% to 203p and Bakkavor, down 0.6% to 138p