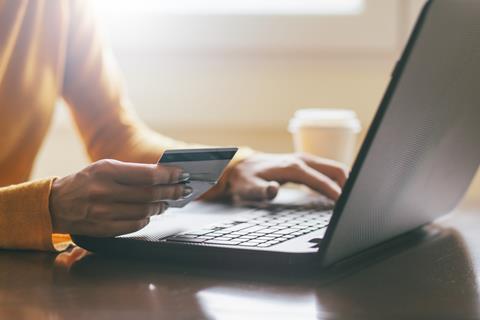 Top story
Shop prices have fallen by 2.2% this month as retailers desperately tried to entice consumers to spend money online as lockdown restrictions continued.
The decrease was further than the December fall of 1.8% and is the lowest deflation rate since May last year, according to the latest shop price index by the British Retail Consortium and Nielsen.
Non-food prices slid 3.6% in January, compared with a 3.2% fall in the prior month, while food inflation eased to 0.2% as supermarkets battled for market share.
The slowdown in food inflation from 0.4% in December was the lowest rate for the category since January 2017.
Fresh food prices fell for the second consecutive month in January, with deflation of 0.9%, and ambient food inflation slowed to 1.7% from 2.3%.
British Retail Consortium CEO Helen Dickinson said post-Christmas sales and the national lockdown pushed down prices, especially for clothing and DIY goods, to ease consumer's January blues.
"Meanwhile, food prices rose at their slowest rate since January 2017 with supermarkets continuing to fiercely compete to offer hard-pressed customers the best combination of price and quality," she added.
"Brexit-related red tape, rising global shipping costs and food commodity prices, as well as the weight of forced closures and restrictions for many retail businesses, means that pricing pressures are stacking up for retailers. With consumers' finances under increasing pressure and an intensely competitive environment firms will try to absorb the majority of costs.
"But with every business dealing with new processes and procedures government must act quickly to ensure the Northern Ireland Protocol is implemented in a pragmatic and workable way and issues on movements of goods and ecommerce are ironed out quickly to prevent inflation flowing through to customers."
Mike Watkins, head of retailer and business insight at Nielsen, said January was also a difficult month for retailers after the increased spending over the Christmas and New Year, with the impact of the return of lockdown added to the mix.
"Food retailers remain locked in a battle for market share and continue to cut prices and food price inflation is lower than this time last year," he added.
"Looking ahead, we can expect some turbulence in shop prices as the industry navigates through the impact of the EU trade deal, the increasing pressure on disposable incomes, and the uncertainty of when non-essential retail can fully reopen."
Morning update
It's much quieter on the markets in London this morning and the FTSE 100 has continued its sluggish week to open down 0.1% to 6.647.43pts as worries over coronavirus variants hold back recovery.
Greencore shrugged over yesterday's losses to open 4.2% higher to 117.9p, while other early risers included McBride, up 3.8% to 82.8p, Naked Wines, up 1.6% to 782p, and Sainsbury's, up 1.3% to 254.6p.
Fallers so far this morning include Nichols, Compass Group and SSP Group, down 3.4% to 290p, 3.3% to 1,335.5p and 2% to 308.4p respectively.
Yesterday in the City
The FTSE 100 kept its head above water to end the day up 0.2% to 6,654.01pts despite UK unemployment fears.
Beyond Meat soared by 26% to $200 after announcing a new plant-based joint venture with PepsiCo. It took the stocks to heights not seen since November when investors rushed for the exit after a poor third-quarter update.
Shares in Greencore ended in the red following a trading update revealing further revenues decline caused by the ongoing Covid restrictions. The shares closed down 2.8% to 113.2p.
Irn-Bru maker AG Barr rose 0.7% to 500p on the back of a profit upgrade as the business performed better than expected in its second half.
Consumer goods group PZ Cussons continued to benefit from higher demand for hand sanitiser brands such as Carex, with revenues up almost 15% in the first half of its financial year. Shares in the business increased 0.2% to 238.5p.
Real Good Food, which has witnessed a collapse in its stock recent years, experienced another awful day as shares plunged 17.7% to 3.5p as it warned of a 26% fall in revenues as a result of the pandemic.