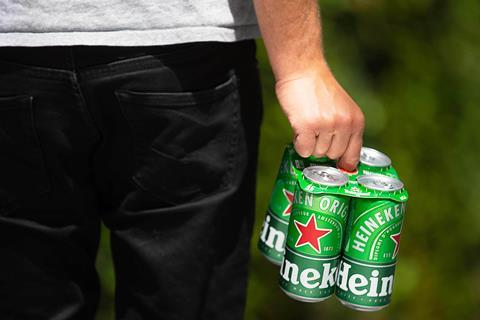 Top story
Heineken has reported a "solid" start to the year with profits growing despite trade in Europe continuing to be hit by lockdowns.
Beer volumes in the first quarter of 2021 were flat compared to last year as good growth in Africa, the Middle East and Eastern Europe was offset by a 10% fall in Europe. Heineken said organic revenues were 2.1% down on the first quarter of 2019 pre-Covid.
The drop in volumes in Europe – with the UK worst affected as the complete closures of pubs saw a 30% fall in volumes – was driven by a decline of around two-thirds in the on-trade as lockdowns continued to disproptionately affect the hospitality industry.
Off-trade sales in supermarkets – with Heinken, Strongbow and Birra Moretti outperforming the market in the UK – helped the Dutch brewer claw back some of the losses, with the premium portfolio most in demand and volume growth of the Heineken brand accelerating 12.1%.
Pubs and cafes began to reopen outdoors earlier this month in the UK, but Heineken said this morning that at the start of April, less than 30% of the on-trade in Europe was operation.
Net profits in the first quarter totalled €168m, compared with €94m a year ago and €299m in the same period of 2019, as the effect of lower on-trade volume in Europe was more than made up for by the performance in other regions around the world, such as Nigeria, South Africa and Russia.
CEO Dolf van den Brink said: "We had a solid start to the year, despite facing severe restrictions across many markets and the closure of the on-trade in Europe due to the pandemic. Overall beer volume was in line with last year, with strong growth in Africa, Middle East & Eastern Europe and Asia Pacific and modest growth in the Americas. The Heineken brand had a stellar performance, up 12.1%, with double-digit growth in more than 40 countries. I am proud of our employees' relentless resilience and agility in responding to the ongoing volatility.
"We are making great strides in the deployment of our EverGreen growth strategy on all fronts."
Heineken announced earlier this year it was axing 8,000 jobs around the world in a €2bn cost-cutting programme as it attempted to recover from the Covid pandemic. The group is also focusing on more sustainable brewing measure and expanding in more categories beyond beer, including ciders and hard seltzers.
Shares in the brewer opened 2.4% higher to €94.28.
Morning update
Coca-Cola European Partners has revealed it will change its name to Coca-Cola Europacific Partners following approval for its acquisition of Asia-Pacific Coke bottle Coca-Cola Amatil.
The company will continue to be listed on Euronext Amsterdam, the New York Stock Exchange, London Stock Exchange and on the Spanish Stock Exchanges, and will continue to trade under the symbol 'CCEP'.
Real estate investor Tritax Big Box REIT has bought the largest wine warehouse and distribution centre in Europe for £90m.
The 872,000 sq ft site in Avonmouth in the South West is let to Accolade Wines and supplies all the major supermarkets in the UK, accounting for about 20% of the country's wine supply, as well as European markets.
The facility has state-of-the-art bottling and box bag packaging lines and tanks, with the capacity to produce 1,200 bottles of wine every minute.
Tritax CEO Colin Godfrey said: "In line with our strategy, we continue to monitor the market closely for attractive acquisition opportunities. This is a key asset, let to one of the world's largest wine companies by volume, in a strong and increasingly important location for logistics in the UK.
"This state-of-the-art asset, acquired off-market, provides a valuable and long-term income stream. The tenant has committed heavily to this award-winning facility, which is the largest wine warehouse and distribution centre in Europe. Thanks to a combination of buying well, strong market fundamentals and opportunities for value enhancing asset management initiatives, we believe this building will deliver a very attractive return to our shareholders."
Supermarket Income REIT has purchased a Tesco supermarket in Colchester from Standard Life Investments for £63m.
Developed in 1993, and extensively refurbished in 2011, this prominent 10-acre site is located in the populous suburb of Hythe. The site comprises a 54,300 sq ft net sales area supermarket, a 16-pump petrol filling station and 570 parking spaces. The store has several online fulfilment distribution docks supporting Tesco's online grocery business across the region.
Ben Green, director of Atrato Capital, the investment adviser to Supermarket Income REIT, said: "This Tesco store is a great addition to our growing portfolio of omnichannel stores with an attractive, long, index-linked lease in excess of 19 years. The property has strong underlying fundamentals and forms a key part of the Tesco online fulfilment network."
The FTSE 100 shook off yesterday's large fall to open 0.5% higher to 6,893.98p.
Risers this morning include C&C Group, up 2.7% to 275.8p, Carrefour, up 2.7% to €15.50, and Glanbia, up 2.1% to €12.76.
McColl's Retail group, Bakkavor and Just Eat Takeaway were among the early fallers, down 4% to 30.7p, 3.8% to 124.1p, and 2.5% to 7,729p respectively.
Yesterday in the City
The FTSE 100 fell back further from its recent highs of more than 7,000pts as Covid concerns returned to hit the market. The 2% drop to 6,862.67pts marked the index's biggest fall for two months, with travel stocks the worst effected as India was added to the UK's red list.
Large falls for tobacco stocks also hurt London's blue-chip index. Shares in tobacco giants British America Tobacco and Imperial Brands nose dived on news coming from the US that the new administration may enforce a reduction on nicotine levels in cigarettes to non-addictive levels. BAT tumbled 7.4% to 2,699.5p and Imperial was down 7.1% to 1,469p.
Shares in Primark owner Associated British Foods also slumped 5.5% to 2,325.5p despite it reporting record sales upon its retail stores reopening last week. Profits sank almost 50% in the first half as revenues in the 24 weeks to 27 February fell 17% to £6.3bn at the group.
In Europe, Danone also fared badly after revealing a further drop in sales in its first-quarter figures. The French group saw shares down 2.1% to €59.07 for the day.
Prepared food supplier Bakkavor had a better day after it revealed encouraging signs of recovery in its first quarter. The stock rose 3.2% to 129p as a result.
Other risers yesterday included Naked Wine, up 4.4% to 872p and Hotel Chocolat, up 1.2% to 410p.