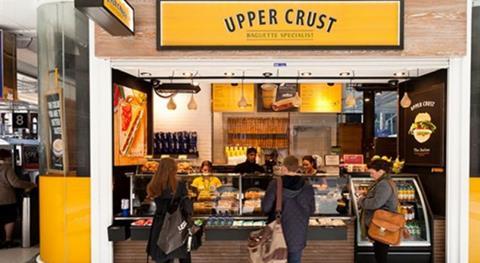 Top story
Upper Crust owner SSP Group is planning to raise £475m from shareholders in a rights issue to strengthen the balance sheet and prepare for a recovery from the coronavirus pandemic as lockdown restrictions begin to lift.
The group, which operates food concessions at airports and train stations around the world, has also secured an extension to its bank facilities, consisting of £373m of loans and a revolving credit facility of £150m.
SSP said the move would "significantly strengthen" its financial position and resilience, and would position the business for the next phase of the pandemic.
"These measures will protect the business if the global travel sector experiences a more prolonged recovery from the pandemic, whilst under SSP's base case scenario, they will strengthen the group's balance sheet and provide increased capacity for investment as the travel market recovers," the company said.
In the five-year period to 30 September 2019, SSP's revenues increased by 53% to £2.8bn.
With global travel coming to a halt during the Covid crisis, SSP has been hit particularly hard. Revenues collapsed by 95% in April and May last year, compared to 2019 levels, as airports and railway stations were abandoned by passengers.
Sales continue to be down by about 80% this year and the group said this morning it didn't expect like-for-like revenues to recover to 2019 levels until 2024 as air rail travel passenger numbers slowly recover from the pandemic.
SSP closed about 2,500 units and made more than 14,000 staff redundant to reduce operating costs by £584m in a bid to survive the pandemic.
Shares in SSP spiralled downwards by more than 70%, and, despite being given a boost by the development of vaccines, are still about 50% lower than pre-pandemic levels.
CEO Simon Smith said over the past year the group had experienced unprecedented disruption in the travel sector.
"Early and extensive action has enabled us to protect the business and put ourselves in the best possible position to emerge strongly as the market recovers," he added.
"Strengthening the balance sheet now will underpin the business if the recovery in the travel sector is slower than we anticipate and it gives us the capacity to invest in growth opportunities as we emerge from the pandemic. Our current expectation is that the early recovery will be led by domestic and leisure travel from which we are well-placed to benefit.
"We are ready to re-open rapidly, welcome back our teams, and provide our travelling customers with a great service when they return. Looking further ahead, the actions we're taking will allow us to capitalise on the recovery as well as future new business opportunities, enabling us to deliver long term sustainable growth for the benefit of all our stakeholders."
Shares fell 2.3% to 337.8p this morning as investors reacted to news of the rights issue.
Morning update
Dutch dairy company FrieslandCampina and the Arabian Food Industries have signed a joint venture agreement to focus on the export of cheese to Africa and the Middle East.
Arabian Food Industries is one of the biggest cheese manufacturers in Egypt, producing market leading brand Domty. Established in 1989, it now has a total turnover of more than €100m and makes white cheese, mozzarella, cream cheese, as well as fruit juices and bakery products.
FrieslandCampina's brands, Frico and Kroon, have been dominant market leaders in hard/semi-hard cheese in several North African countries for decades.
The cooperation with Domty would allow the FrieslandCampina to enter bigger, more affordable and faster-growing cheese categories and better serve consumers across all meal occasions, the Dutch group said.
Dustin Woodward, FrieslandCampina MD of consumer dairy in Africa, added: "We are very excited about the joint venture with Domty. Combining our joint expertise, capabilities and footprint will allow us to nourish more African families than ever before.
"Over the next few years we will bring exciting innovations that will create new cheese propositions that are more healthy, affordable and accessible to consumers across Africa and the Middle East."
Mohamed Damaty, vice CEO of Arabian Food Industries, said: "We have been seeking this venture as a company for long. We believe that our products can fit well into the African market and joining forces with FrieslandCampina will help us a lot to do so. We are optimistic about the venture and its ability to grow in the future."
FrieslandCampina will hold a 51% interest in the joint venture and Domty will take a 49% stake.
Performance nutrition brand Science in Sport has held revenues in line with 2019 levels at £50.4m despite the disruption caused by the pandemic.
A shift to online shopping offset losses elsewhere as ecommerce sales grew 39% year on year in 2020 and increased to 50% of total group revenunes.
Almost a third of revenues are generated in the Australian, Italian and US markets, with sales in the US growing 33% to £3.5m.
The company took a hit in the UK retail sector, falling 26% to £16.1m, as consumers reduced spending on energy gels, protein supplements and other nutrition products during the pandemic.
SiS said it held back some product innovation because of the pandemic, but added the 2021 new product pipeline was "extremely strong".
Losses for the year improved significantly to £2.3m, compared with £5.1m in 2019, as margins increased and overheads reduced.
The group returned to profitability at an underlying level, with EBITDA profits of £1.1m compared with a £200,000 loss in the prior year.
CEO Stephen Moon said: "Delivering a robust underlying EBITDA profit was a key goal for 2020, and this was achieved through a focus on developing our fundamental building blocks of long-term profitable growth."
He added: "The very strong momentum in our online business continues into 2021 with growth in all markets. We see recovery in international retail, and the US business is well ahead of last year. Revenue is on track for the first half, despite continued lockdown restrictions in many key markets. We are well-positioned to accelerate as restrictions are lifted.
"Our long-term and proven profitable growth strategy remains unchanged. We have demonstrated the business's resilience in 2020 and are continuing to invest for growth in the key strategic areas of online and technology. This year will see us roll out our premium brands to several key European and Asian markets.
"Whilst it is too early to reinstate market guidance, given the current Covid-19 lockdown, we are well funded and remain very optimistic about the long-term growth prospects for the group."
Shares in the group rose 3.5% to 54.9p this morning.
The FTSE 100 opened 0.3% down this morning to 6,780.77pts.
Early risers this morning included McColl's Retail Group, up 3.1% to 33p, Bakkavor Group, up 1.7% to 104.2p, Hilton Food Group, up 1.2% to 1,063p, and The Hut Group, up 1.2% to 684.1p.
Fallers include Stock Spirits Group, Hotel Chocolat Group and Compass Group, down 2.1% to 276p, 1.8% to 390.4p, and 1.8% to 1,567.3p respectively.
Yesterday in the City
The FTSE 100 climbed another 0.7% yesterday to 6,793.26pts.
Greggs jumped 2.4% to 2,264p as it moved back towards heights not seen since before the coronavirus pandemic disrupted its record run. The rise came despite the high street bakery chain posting its first-ever loss as sales fell 31%.
Investors weren't as kind to Bakkavor after the food-to-go and ready meal maker announced annual sales declined by 4.9% as Covid continued to prove a drag on the business. Shares slumped 3.6% to 101.8p as a result.
Cider maker C&C Group increased 0.7% to 296.5p after issuing a trading update.
Other risers yesterday include McColl's Retail Group, The Hut Group and Ocado, up 7.5% to 33.8p, 3.8% to 678.1p and 3.6% to 2,190p respectively.
Total Produce and Just Eat Takeaway were among the fallers, down 5.3% to 161p and 1.9% to 7,202p.