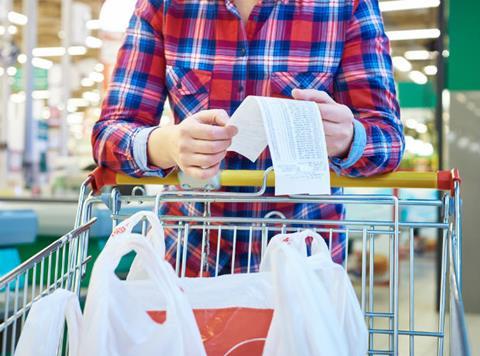 Top story
Food prices have fallen for a third month in a row as the supermarkets continue to fight it out to attract shoppers from rivals, according to new data.
Food deflation slowed to 0.2% in June, compared with 0.3% in the previous month, the latest BRC-NielsenIQ shop price index.
The rate is below the 12 and six-month average price changes of 0.5% and -0.1%, respectively.
Fresh food prices fell for the seventh consecutive month in June, although deflation slowed to 0.7% from 1% in May.
Ambient food inflation eased to 0.6% in June, down from 0.7% in May.
Overall prices in shops fell by 0.7% last month, a slowdown from May's 0.6%, as fashion retailers tried to entice shoppers after lockdown restrictions ended.
Non-food deflation accelerated to 1% in June, compared to a fall of 0.8% in May.
BRC chief executive Helen Dickinson said it was good news for consumers.
"Non-food prices, particularly for fashion, remained deflationary as businesses tried to prolong the recent pickup in consumer spend," she added.
"Food prices also fell, which is a testament to supermarkets battling to keep prices low for their customers.
"Meanwhile, retailers' costs are continuing to mount due to global food price increases, Brexit red-tape, Covid-related supply chain disruption, raw commodity shortages and increased shipping and petrol costs."
Dickinson warned the increasing cost burden on retailers could be passed onto the consumer, threatening price rises as the pressure mounts in the months ahead, especially with additional Brexit checks this autumn.
Mike Watkins, head of retailer and business insight at NielsenIQ, said: "The fact that shop prices remain in negative territory despite the recent rise in CPI is indicative of the competitive retail landscape in the UK and keeping prices low for as long as possible is good news for shoppers.
"However, with four in ten shoppers watching their spending more than they were before the pandemic, this suggests that many millions of households are going to see their budgets squeezed should prices start to rise."
Morning update
Cake Box has reported a strong year of growth despite the challenges of the coronavirus pandemic, which saw it shops shut for six weeks during the first national lockdown.
Revenues at the cake retail chain increased 16.9% to £21.9m in the year ended 31 March 2021 on the back of record franchisee sales. The franchise stores registered like-for-like sales growth of 14.7% in the 40-week comparable period in which they traded, compared with 5.1% in the prior year.
The chain had 157 franchise stores in operation at the year end after opening 24 new outlets in the year.
The business also logged 84% growth in online sales as it adpated to new ways of customer shopping throughout the crisis.
EBITDA at the group rose 14.6% to £4.9m and pre-tax profits jumped 11.8% to £4.2m.
Cake Box reported trading remained strong since the start of the new financial year.
The retailer also confirmed it was opening six more concessions in Asda following a successful trial run.
CEO Sukh Chamdal said: "Looking back to what we've achieved over the last 12 months, I am both incredibly proud of the Cake Box family and optimistic for the future. We have achieved record results during a year which included a global pandemic and the temporary closure of our entire store estate. We have ultimately emerged a bigger, better business.
"Despite continued uncertainty in the operating environment, our unique proposition for customers and new and existing franchisees remains highly attractive and we are confident of making continued progress in the years ahead.
"In June 2020, amidst the onset of the pandemic, I wrote that 'there will still be birthdays, marriages and numerous other occasions, large and small, to celebrate up and down the country' and our performance this year has clearly shown this to be the case As we cautiously emerge from the pandemic, I am thrilled that more customers than ever will be celebrating reunions with friends, family and colleagues over a slice of our delicious, egg-free cake."
Ingredients manufacturer Treatt has kicked off a search process to find a new CFO after Richard Hope informed the business he would retire in June 2022.
The company said the 12-month notice period would help it find the "best candidate possible" and would also ensure a "smooth and orderly" transition.
CEO Daemmon Reeve said Hope should be "immensely proud of his huge contribution" to Treatt.
"He has worked for the business for almost 20 years as CFO where his input has been central to Treatt's track record of growth. His experience and guidance have been invaluable to me during our journey of successful strategic change and cultural transformation. In addition, his stewardship of our growth investment programmes, both in the US and more recently in the UK, which has culminated in the opening of our new state of the art facility, has helped take Treatt to the next level.
"There is plenty of time for myself and all Richard's colleagues to thank him for his role in the business, and in the meantime we look forward to working with him to ensure a smooth transition to build on his strong legacy."
Chairman Tim Jones added: "The record of the team led by Daemmon and Richard in delivering growth, raising the company's profile, and investing for the future has been truly impressive. Richard has been a major contributor to that success and on behalf of the Board I would like to put on record our sincere appreciation and best wishes for his well-deserved retirement."
Hope said being the chief financial officer of Treatt for almost 20 years had been "the honour of my life".
He added: "I would like to thank Daemmon, Tim and the board for their support and wise counsel over many years. Above all, though, I would like to thank all the brilliant and inspirational colleagues across the group, both past and present, with whom I have had the pleasure to work. There is so much opportunity for Treatt and I look forward to being able to play my part in the team over the next year. It is a truly unique business with great people and great products and I know the business will continue to go from strength to strength."
The FTSE 100 dipped 0.1% to 7,082.40pts this morning.
Shares in Cake Box leapt 4.8% to 338.5p on the back of its record results this morning.
Treatt shares managed to keep their head above water following the announcement that Richard Hope, CFO of 20 years, was retiring next year. The stock is currently up 0.2% to 1,182.4p.
Early risers include Domino's Pizza Group, up 1.8% to 395.4p, PayPoint, up 1.2% to 586p, and AG Barr, up 1.1% to 525.6p.
Losers this morning include Total Produce, down 3% to 220.7p, Science in Sport, down 1.6% to 77.3p, and M&S, down 1.3% to 147.7p.
Yesterday in the City
The FTSE 100 edged 0.3% higher to 7,094.60pts yesterday.
Food and drink stocks on the rise yesterday included Just Eat Takeaway, up 3.3% to 6,834p, Naked Wines, up 2.4% to 772p, and Ocado, up 2.2% to 2,063p.
Total Produce fell 3.7% to 221.6p, WH Smith was down 3.1% to 1,617p and Virgin Wines was down 2.1% to 230p.