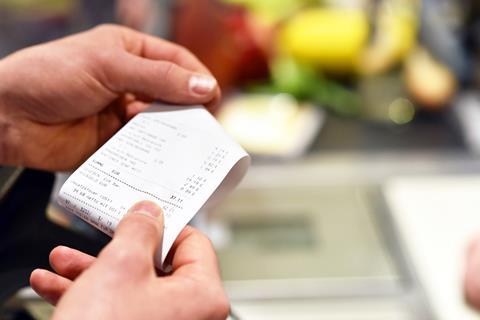 Top story
Supermarket prices have fallen back into deflation for the first time in over a year, just as the industry prepares for a potential price shock from the UK's exit from the EU.
The Grocer Price index for November, collated by Edge by Ascential from almost 62,000 SKUs, recorded price deflation of 0.8% last month after prices rose by 0.2% in October.
November's price drop is the first time supermarket prices have been in annual deflation since September last year and is the largest monthly deflationary level seen since December 2017.
The figures, which encompass the second lockdown period, represent a marked contrast to the effects of the first lockdown, when stockpiling and a sharp drop in promotions saw GPI inflation spike to 2% in April.
Of the big four supermarkets, only Tesco's prices remained in annual inflation at 0.7%.
Morrisons, which has instigated aggressive price cuts since the summer, had prices down 3.7% year on year, while Sainsbury's were down 0.5% and Asda's were flat.
Those categories in deflation in November included household (–1.8%), dairy (–1.2%) alcohol (–1.4%) and meat, fish & poultry (–0.9%).
See thegrocer.co.uk/finance for the full details on this month's GPI later this morning.
Morning update
US and European grocery giant Ahold Delhaize has announced it has closed a €1bn sustainability-linked revolving credit facility to refinance its existing 2015-dated €1bn facility.
AD said the facility is an "important milestone" that highlights how Ahold Delhaize "is reinforcing the alignment" of its funding strategy and its health and sustainability commitments.
Through this facility, the company has drawn a connection between its cost of borrowing and the achievement of ambitions including: food waste reduction measured by tons of food waste per million Euro food sales; carbon emission reduction; and promotion of healthier eating measured by percentage of own brand food sales from healthy products.
CFO Natalie Knight commented: "This is an important facility for Ahold Delhaize that ensures we maintain our financial flexibility. After having issued the first euro-denominated Sustainability Bond in the Retail industry in June 2019, we believe that linking this facility with our significant Healthy & Sustainable ambition will deliver a positive outcome for all stakeholders."
The new facility has a maturity of three years with two one-year extension options.
A syndicate of 16 relationship banks participate in the facility, with ABN AMRO and Société Générale acting as coordinators and sustainability coordinators on the facility.
Retail technology specialist Eagle Eye has announced a "leading speciality office and home products & services retailer" in North America has signed a three year agreement to use Eagle Eye's AIR platform for its Digital Wallet and promotional capabilities.
The US retailer, which has over 1,000 stores across the United States, has selected Eagle Eye to help it to digitally connect to customers.
This new win is Eagle Eye's second US client following the deal with Southeastern Grocers announced in December 2019. The program will initially be a pilot launch for a limited number of regions, with a full roll-out based on a successful first phase.
CEO Tim Mason commented: "We are delighted to welcome a well-established, leading speciality office and home products & services retailer onto the Eagle Eye AIR platform. This second US client and first direct win strengthens our position in North America and our pipeline continues to grow as retailers accelerate their digital transformation strategies."
On the markets this morning, the FTSE has plunged 0.9% to 6,538.8pts as concern over Brexit talks has hit shares today.
Early fallers include Bakkavor, down 4% to 80p, WH Smith, down 3.3% to 1,562p and SSP Group, down 3.2% to 311.8p
Risers so far today include McColl's, which has bounced back 6.5% to 25.6p and Ocado, back up 1.7% to 2,195p. Also on the up are Nichols, up 2.6% to 1,170p and Just Eat Takeaway.com, up 1.9% to 7,996p.
Yesterday in the City
The FTSE 100 ended Thursday up 0.5% to 6,599.7pts despite mounting City concerns over a no-deal Brexit.
The pound fell back by 0.7% against the dollar to $1.33 and by 1.1% against the euro to €1.10.
However, shares were more durable with most FTSE 100 grocery firms moving higher yesterday.
The exception was Ocado, which fell 7.2% to 2,159p despite upping its full year profits expectations as weaker growth in order numbers and worries over a mitigation in growth when normality returns to society in 2021 hit the shares.
Its retail partner Marks & Spencer was also down 4.4% to 136.8p on concerns over Ocado's future retail growth.
McColl's slumped 22.8% to just 24p after it warned profits would be lower than expected despite strong retail demand during 2020 as margins had come under pressure during the outbreak.
Other fallers included Nichols, down 7.7% to 1,140p, SSP Group, down 4.1% to 322.2p, FeverTree, down 3.3% to 2,351p, Just Eat Takeaway.com, down 3% to 7,844p, Greencore, down 2.6% to 116p and Pets at Home, down 1.6% to 388p.
Risers were led by forecourt giant Applegreen, which jumped
41.2% to 500p after news emerged its founding partners have teams with private equity player Blackstone to bid to take it back into private hands.
Other risers included Glanbia, up 3.8% to €10.52, DS Smith, up 3.8% to 372.1p, Hotel Chocolat, up 3.3% to 475p, Premier Foods, up 2.8% to 94.7p, Morrisons, up 2.6% to 181.7p, McBride, up 2.2% to 74.6p, Kerry Group, up 2.2% to 122p and B&M European Value Retail, up 2.2% to 489.5p.