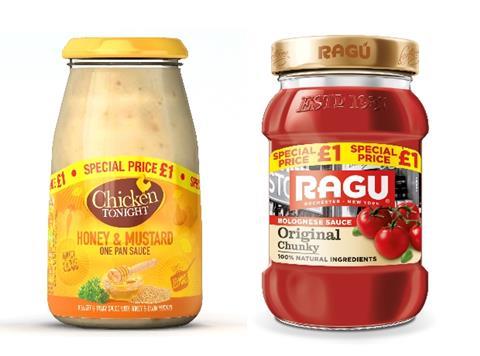 Top story
Chicken Tonight owner Symington's has hired advisors to explore sale options as the ambient food group has capitalised on increased consumer demand under Covid lockdowns that have amplified the effects of a successful turnaround.
Private equity owner ICG, which has backed the business since a £72m buyout in 2012, has appointed investment bank Houlihan Lokey to seek a potential exit, according to City sources.
The sale process is still at a very early stage, but interest from PE firms is expected to be solid, with a valuation between £80m and £100m, dealmaker sources said.
Kettle owner Valeo was highlighted as a natural buyer, while a resurgent Premier would likely be constrained by competition issues.
Symington's owns the Chicken Tonight, Ragu, Naked, Mug Shot, Twistd and The Hungry Elephant brands.
Morning update
In the US, Kraft Heinz has agreed to sell its nuts business to Hormel Foods in a cash transaction for $3.35bn.
The transaction includes most products sold under the Planters brand, including single variety and mixed nuts, trail mix, Nut-ritionproducts, Cheez Balls, and Cheez Curls, as well as Corn Nuts branded products.
The transaction also includes global intellectual property rights to the Planters brand, subject to existing third-party licenses in certain international jurisdictions, and to the Corn Nuts brand.
The proposed transaction is expected to close in the first half of 2021, subject to regulatory review and approval.
"This is another momentous step in our rapid transformation of Kraft Heinz," said Kraft Heinz CEO Miguel Patricio. "It will enable us to sharpen our focus on areas with greater growth prospects and competitive advantage for our powerhouse brands. Within our Real Food Snacking platform, this means more aggressively driving real fuel for kids through Lunchables and real meal alternatives like P3."
"This is a great example of using agile portfolio management to improve our growth trajectory," said Kraft Heinz CFO Paulo Basilio. "As we move forward, we plan to continue deleveraging as we explore accretive investments to accelerate our strategy."
The business being sold contributed approximately $1.1 billion to Kraft Heinz's net sales for fiscal year 2020, primarily in the U.S. segment.
Under the terms of the agreement, Kraft Heinz will sell its Corn Nuts production facility in Fresno, California and Planters production facilities in Arkansas and Virginia.
Meanwhile, Kraft Heinz announced yesterday that its fourth quarter net sales increased 6.2% versus the year-ago period to $6.9bn.
Organic Net Sales increased 6% driven by sustained growth momentum in retail, partially offset by ongoing weakness in foodservice and a negative 1.4 percentage point impact from exiting the McCafé licensing agreement.
Pricing increased 4.8 percentage points reflecting favourable trade expense timing versus the year-ago period, lower sales on promotion during holiday event periods relative to comparable prior year, primarily in the United States, as well as reduced promotional activity in capacity-constrained areas to better safeguard customer service.
Adjusted EBITDA increased 14.3 percent versus the year-ago period to $1.8bn, driven by pricing gains, productivity efficiencies, favorable mix, and volume growth relative to the prior year period.
Albeit, this growth was partially offset by higher supply chain costs, including COVID-19-related expenses, as well as increased incentive compensation and significant investments in marketing and sales.
Looking forward, the company continues to expect it will deliver 2021 financial performance ahead of its strategic plan.
Patricio said: "We set our multi-year transformation plan this time last year. We exceeded that plan in 2020. We are increasingly confident that we will again exceed that plan in 2021. We have started the new year with our new operating model fully in place. We have momentum at our back. We are well-prepared to meet the uncertainties of this dynamic environment, as well as the challenges facing the consumers we serve."
Elsewhere, PepsiCo posted net revenues growth of 8.8% in the fourth quarter to take full year growth to 4.8%.
Organic revenues growth rose to 5.7% in the fourth quarter, compared to 4.3% in the full year.
Broad-based growth including 8% organic growth in Europe and Quaker Foods North America, while PepsiCo Beverages NA grew by 5.5% and Frito-Lay NA was up 5%.
Earnings per share were up 5% in the quarter, but full year earnings per share dropped 2% to $5.12.
Chairman and CEO Ramon Laguarta said: "We ended the year on a strong note with our global beverage business having accelerated while our global snacks and food business remained resilient in the fourth quarter. Our results were indicative of the strength and resilience of our highly dedicated employees, diversified portfolio, agile supply chain and go-to-market systems and strong marketplace execution even in the face of difficult COVID-19 challenges."
"Moving forward, we remain committed to supporting our employees, customers and communities. In addition, we will continue to focus on winning in the marketplace and investing to build competitive advantages that will enable us to become an even Faster, Stronger and Better organization."
"For 2021, we are planning for our organic revenue and core constant currency EPS growth to be consistent with our long-term objectives. We have also announced a 5 percent increase in our annualized dividend, starting with the June 2021 dividend payment."
On the markets this morning, the FTSE 100 is down 0.4% to 6,502.7pts.
Risers include Bakkavor, up 2% to 87.7p, Nichols, up 1.6% to 1,240p and PZ Cussons, up 1.3% to 268.5p.
Fallers include WH Smith, down 3.2% to 1,524p, Marston's, down another 3.2% to 84.1p, SSP Group, down 2.4% to 273.4p and Compass Group, down 2% to 1,375.5p.
Yesterday in the City
The FTSE 100 edged up 0.1% to 6,528.7pts yesterday as the relative market stability this week continued.
Marston's fell 12.6% back to 86.8p after it announced Platinum Equity Advisors will not make an offer for the company.
Also down was travel specialist SSP Group, which fell back 11.7% to 280p yesterday.
Other fallers included Kerry Group, down 4.7% to 108p, WH Smith, down 3.6% to 1,575p, Nichols, down 2.4% to 1,220p, C&C Group, down 1.7% to 235p and Marks & Spencer, down 1.5% to 129.5p.
The day's risers included Naked Wines, up 5.9% to 773p, Coca-Cola HBC, up 4.7% to 2,365p after reported its annual results yesterday, DS Smith, up 3.1% to 381.9p, Britvic, up 2.7% to 814p, Pets at Home, up 2% to 414.6p and Ocado, up 1.9% to 2,559p.