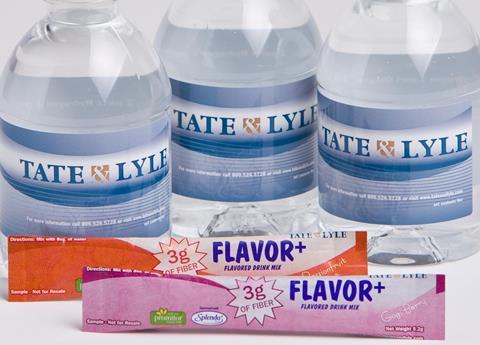 Top story
Tate & Lyle is to divest its sweeteners division after this morning announcing it has agreed a £1.2bn deal with private equity player KPS Capital Partners to sell a controlling stake in the business.
The deal, which will generate cash proceeds for Tate & Lyle of £900m and values its sweeteners business at £1.2bn, will see the creation of a joint venture between Tate & Lyle and KPS with each owning 50% of the new company.
The deal for Tate & Lyle's 'Primary Products' division will see a new company formed to become "a leader in plant-based products for the food and industrial markets" while Tate & Lyle will focus on growth opportunities in its food and beverage solutions business and faster growing speciality markets.
The new company will consist of the businesses' corn wet mills in the US, its acidulants plants in the US and Brazil and 50% shareholdings in Almidones Mexicanosand DuPont Tate & Lyle Bio-Products Company.
As a result of the deal, Tate & Lyle will pay out a special dividend of £500m to shareholders, while the balance of the cash will be retained to strengthen its balance sheet and provide the flexibility to invest in growth.
The deal sees the signing of a 20-year agreement between Tate & Lyle and the new company with regards to the food and beverage solutions products currently made in the new company's facilities.
Completion is expected in the first quarter of the 2022 calendar year, subject to shareholder and regulatory approvals.
Tate & Lyle said the split "re-positions Tate & Lyle as a global food and beverage solutions business" with the opportunity to benefit from growing consumer demand for healthier food and drink, accelerated by the pandemic.
It also substantially reduces T&L's exposure to commodities markets and bulk ingredients in North America.
In the five years following the disposal, T&L foresees organic revenue growth of mid single-digit per year and operating market expansion of at least 50 to 100 basis points.
CEO Nick Hampton commented: "Today's announcement represents the next phase in the evolution of Tate & Lyle. Our one strong company will become two stronger businesses, both in a position to pursue new and exciting growth opportunities in their respective markets.
"With our new focus and a step-up in R&D investment, innovation and solutions development, we will be able to significantly enhance how we serve our customers, and accelerate growth. Our deep scientific expertise, unique product portfolio and leading technical capabilities in sweetening, mouthfeel and fortification, position us very well to benefit from growing consumer demand for food and drink that is lower in sugar, calories and fat, and with added fibre. With the pandemic accelerating the trend towards healthier food, now is the right time to focus our business on capturing this growth.
"The proposed transaction represents an ambitious and bold step forward for Tate & Lyle. Driven by our purpose, all our people, expertise and investment will be dedicated to growing our global food and beverage solutions business and creating healthier food and drink. An exciting future lies ahead for Tate & Lyle."
Michael Psaros, co-founder and managing partner of KPS Capital Partners, added: "KPS believes that Primary Products is a superior investment opportunity and that there is a tremendous opportunity to materially increase revenues, productivity and profitability. We look forward to working with the existing Primary Products management team and its employees to build on the great platform they have established and drive future growth."
Tate & Lyle shares are up 2.7% to 782.8p so far this morning.
Morning update
Pub group Young's has agreed to sell most of its tenanted estate, the Ram Pub Company, to Punch Pubs and Co for £53m.
Young's will retain the remaining seven pubs for the long term.
The move is part of Young's strategy to withdraw from the tenanted model and focus solely on operating premium, individual, differentiated and predominantly freehold managed pubs and hotels.
Net proceeds from the sale will be used to strengthen the Company's balance sheet and provide additional capacity for investment in its managed estate
Completion of the Disposal is expected to occur 9 August 2021.
Patrick Dardis, chief executive of Young's, said: "Young's sole focus will now be on operating well-invested and premium managed pubs and hotels. We have a proven history of making attractive returns from investing in high-quality pubs and this disposal will provide us with additional firepower to upgrade our existing pubs and capitalise on attractive acquisition opportunities that may come to the market.
"During lockdown, we invested a total of £17M in improving the pubs in our managed estate and the purchase of two new pubs: Enderby House in Greenwich and Alban's Well in St Albans.
"We are delighted to be welcoming back our customers and are already seeing encouraging trading, despite some restrictions remaining. The Board is confident Young's will emerge from the pandemic in a stronger position and is excited about the future of the business."
Elsewhere Walmart-owned Indian online retail marketplace Flipkart has raised US$3.6bn in external funding as it continues to grow the country's digital commerce ecosystem.
Walmart said the fundraise demonstrated significant interest from global investors, including sovereign funds, private equity and crossovers in addition to Walmart.
The funding round was led by financial investors GIC, Canada Pension Plan Investment Board (CPP Investments), SoftBank Vision Fund 2 and Walmart, along with investments from sovereign funds DisruptAD, Qatar Investment Authority, Khazanah Nasional Berhad, and investors Tencent, Willoughby Capital, Antara Capital, Franklin Templeton and Tiger Global.
The investment values the Group at US$37.6bn post-money.
"Flipkart is a great business whose growth and potential mirrors that of India as a whole — that's why we invested in 2018 and why we continue to invest today," said Judith McKenna, President and CEO, Walmart International.
"Kalyan [Krishnamurthy] and the team have put the Indian customer at the centre of everything and they have continued to innovate in the categories and services Indian customers want most, creating new jobs and growth opportunities for Indian entrepreneurs and small businesses alongside them. The quality of the investor group and valuation announced today is further confirmation of global confidence in Flipkart and its mission to transform commerce in India."
On the markets this morning, the FTSE 100 has opened down 0.7% to 7,073pts.
Early risers include Bakkavor, up 3.7% to 135.8p, Glanbia, up 2% to €13.91 and Nichols, up 1.5% to 1,495p.
Fallers so far this morning include Total Produce, down 4.6% to 214.8p, Marston's, down 2.2% to 83.7p and Kerry Group, down 2% to €121.00.
This week in the City
A quieter week for scheduled news kicks off tomorrow with the BRC-KPMG Retail Sales for June.
The only UK-listed grocery firm with results in the diary is Finsbury Food Group, which will release its full year ales update on Wednesday.
In the US, PepsiCo post its interim 2021 earnings, while Conagra Brands posts its full year results tomorrow.