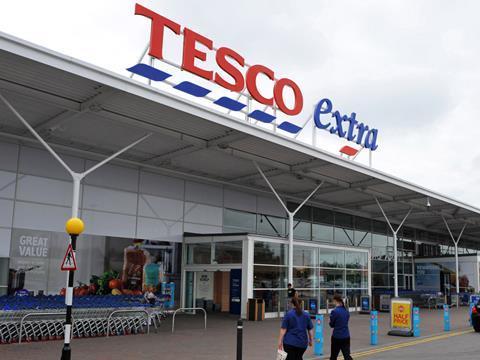 Top story
Tesco has grown its first quarter sales despite the unprecedented surge in demand during the first coronavirus lockdown period in the corresponding quarter last year.
Total retail like for like sales for the 13 weeks to 29 May were up 1% on a one-year basis to £13.4bn and by 8.1% compared to the same period two years ago.
UK and Republic of Ireland like for like sales were up 1.3% (and 8.7% on a two year basis), largely drive by strong year-on-year performance at Booker, wich was up 9.2% in the period.
UK like for like sales up were 0.5% (9.3% on a two year basis), with the ROI down 6.1% (though up 13% on a two-year basis).
Tesco said its continued strong UK performance was driven by the retained benefit of customers consuming more meals at home since Covid, which peaked in March and moderated in April/May as restrictions eased.
Online demand remains high at 1.3m orders per week with growth of 22.2% and two-year sales growth of 81.6%.
Tesco said it had seen a particularly strong contribution from GM and clothing, with sales up 10.3% year on year and now by 52.1% compared to 2019.
Booker, it said, has recovered strongly as hospitality sector reopens.
Catering LFL sales increased by 68.1% including a significant recovery in Best Food Logistics' sales. Its retail LFL sales declined by 4.3%, but prior year growth was an exceptionally strong 23.8%.
Central Europe sales fell back 1.6% on a like for like basis and are just 1.5% higher than 2019.
Tesco said this reflected was impacted by differing non-food sales restrictions and re-opening of non-essential retail. Non-food sales were restricted in Czech Republic, but stronger Slovakia and Hungary.
Tesco Bank sales declined 10.0% for the quarter, which includes growth later in the quarter as it start to lap COVID-19 and benefit from the full ownership of Tesco Underwriting in its results
CEO Ken Murphy commented: "We delivered a strong performance in the first quarter, even as we lapped the high demand of last year due to the pandemic. We have further strengthened our commitment to delivering consistent, reliable value and to rewarding loyalty, as we extended Clubcard Prices to all Express stores.
"Our colleagues continue to do a great job serving our customers, and I thank them for everything they're doing. We remain focused on delivering great value, increasing loyalty and further developing our digital platform so we can serve our customers when, how and where they want.
"Our profit guidance from April remains unchanged. While the market outlook remains uncertain, I'm pleased with the strong start we've made to the year and continue to be excited about the many opportunities we have to create value over the longer term."
Tesco shares have fallen 2% to 226.6p on the news.
Morning update
Retail sales volumes surprisingly declined by 1.4% between April and May 2021 following a sharp increase in April when retail restrictions were eased, according to The Office of National Statistics.
The largest contribution to the monthly decline in May 2021 came from food stores where sales volumes fell by 5.7%.
The ONS suggested that the easing of hospitality restrictions had had an impact on sales as people returned to eating and drinking at locations such as restaurants and bars.
Non-food stores reported a 2.3% increase in monthly sales volumes in May 2021 with household goods stores (for example, hardware and furniture stores) and 'other' non-food stores reporting the largest growth of 9.0% and 7.7% respectively.
The large increase in sales volumes in April, followed by a relatively small fall in May, has resulted in the volume of sales for the three months to May 2021 being 8.3% higher than in the previous three months; there was strong growth in automotive fuel sales and non-food retailers of 19.3% and 17.8% respectively.
Despite the monthly decline, over April and May combined, average total retail sales volumes were still 7.7% higher than in March 2021, and were 9.1% higher than in February 2020 before the impact of the coronavirus pandemic.
The proportion of retail sales conducted online remains substantially higher than before the pandemic, but in May all retail sectors, with the exception of food stores, reported a fall in their proportions of online sales as consumers returned to physical stores; the total proportion of sales online decreased to 28.5% in May 2021, down from 29.8% in April 2021.
In comparison with February 2020, the value of total online retail sales in May 2021 was 58.8% higher, whereas in-store sales were 1.3% lower.
Retail sales volumes in May 2021 were 24.6% higher than in May 2020, which was affected by the first national lockdown when the tightest restrictions were in place.
On the markets this morning, the FTSE 100 has fallen another 0.5% to 7,118.3pts.
Early fallers include Bakkavor, down 2.5% to 134.2p, Reckitt Benckiser, down 1.6% to 6,511p and Naked Wines, down 1.2% to 676.6p.
Risers include Kerry Group, up 3.7% to €109.90, McBride, up 3.3% to 88.8p and Stock Spirits Group, up 0.6% to 262.2p.
Yesterday in the City
The FTSE 100 ended its run of five consecutive days of risers, by falling back 0.4% yesterday to 7,153.4pts.
The day's fallers included Wynnstay, down 2.6% to 462.5p, Glanbia, down 2.5% to €13.94, Nichols, down 1.8% to 1,492.5p, DS Smith, down 1.3% to 434.1p and Kerry Group, down 0.9% to €106.03.
Risers yesterday included Morrisons, up 2.9% to 181.7p on broker suggestions that food price inflation over the summer could boost performance at the supermarkets and lead to Morrisons paying out a special dividend.
Other risers included Bakkavor, up 2.5% to 137.6p, WH Smith, up 1,9% to 1,763p, Associated British Foods, up 1.5% to 2,358p, Cranswick, up 1.4% to 4,092p and Deliveroo, up 1.3% to 259.9p.