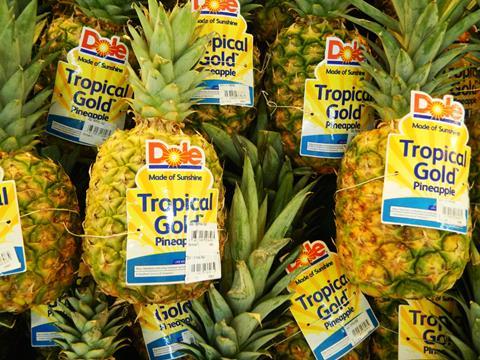 Top story
Fruit and veg supplier Total Produce has agreed to combine with Dole Food Company to created the largest fresh producer in the world with revenues of almost $10bn (£7.2bn).
The two unified businesses will undergo an IPO in the US under the name Dole plc to raise up to $700m in new capital to strengthen the group's balance sheet.
The combination is expected to deliver significant synergies of between $30m and $40m over the medium term thanks to sourcing and supply chain savings.
As a result of the increased footprint and brand strength of Dole plc, the new group expected to deepen market penetration, expand into attractive product categories and pursue acquisitions in the industry, according to documents filed on the London Stock Exchange this morning.
Dole plc will be incorporated in Ireland, with the global headquarters in Dublin and an Americas HQ in North Carolina, but the new group will no longer be listed in London or Ireland.
Total Produce previously acquired a a 45% stake in Dole Food Company for $300m back in 2018.
Total Produce chairman Carl McCann said the deal combined two highly complementary premium businesses to create the global leader in fresh produce.
"I am confident the combined business will open new avenues of value creation for shareholders and pursue innovation in healthy nutrition for our customers worldwide.
"Our intention to list the new company in the United States marks an exciting next step for Dole plc. The combined company will become the largest global player with over 170 years of history in fresh produce in both companies, a highly diversified portfolio, resilient earnings and a strong balance sheet that positions us well for accelerated growth. We look forward to beginning this next chapter and providing increased opportunity for our shareholders, dedicated employees, customers, suppliers and partners."
Dole plc will be approximately two times larger than its nearest competitor and have leadership positions in categories such as bananas, pineapples and fresh vegetables, as well as increased size in soft fruits and avocados and a growing presence in organic.
Morning update
Tobacco giant British American Tobacco has increased full-year profits by more than 10% to £10bn despite disruption caused by Covid and cigarette sales falling.
The group benefitted from cost savings of £660m in 2020 and higher prices fof cigarettes, despite a fall of 4.5% involumes.
Growth in new product areas such as vaping and oral pouches helped keep group revenues stable for the year at £25.8bn.
Revenues in new categories rose 15%, accelerating throughout the second half of the year, with 13.5 million consumers now using the groups non-combustible products, up by three milion in 2020.
CEO Jack Bowles said the group took the role of transforming itself seriously.
"We have a clear purpose to reduce the harm footprint of our business. We are uniquely positioned to encourage the switch to reduced risk products," he added.
"We operate worldwide, including the US, which represents 40% of the global industry's value. Our well-embedded consumer-centric, multi-category strategy is activated on a global scale, leveraging our insights on consumer satisfaction, innovation needs and taste preference. We are building the brands of the future – strong, global brands, specifically positioned in each target consumer segment.
"Last year we increased the number of consumers of our non-combustible products by 3m to 13.5m, doubling the rate of consumer adoption in the second half of 2020. We have excellent momentum in New Categories, with accelerating volume and value share gains."
Nestlé has reached an agreement to sell its regional spring water brands, purified water business and beverage delivery service in the US and Canada to One Rock Capital Partners in partnership with Metropoulos & Co. for $4.3bn (£3.1bn).
The Swiss giant's international premium brands, including Perrier, S.Pellegrino and Acqua Panna are not a part of the deal.
The sale includes North American brands such as Poland Spring, Deer Park, Ozarka and Arrowhead, among others, which had combined revenues in 2019 of CHF 3.4bn (£2.7bn).
The agreement follows Nestlé's announcement last year that it would conduct a strategic review of parts of the North American waters division and sharpen the focus of its global water portfolio.
CEO Mark Schneider said: "We continue to transform our global waters business to best position it for long-term profitable growth. This sale enables us to create a more focused business around our international premium brands, local natural mineral waters and high-quality healthy hydration products. We will also boost our innovation and business development efforts to capture emerging consumer trends, such as functional water."
Probiotic chocolate producer Ohso Chocolate has been acquired by S-Ventures, which invests in brands in the natural and organic consumer space.
The deal for 75% of the company is worth around £300,000 at a price of 9p a share.
S-Ventures has also offered Ohso founders Andrew Marten and Liz Hallet the chance to exchange their combined 25% stake in the business into shares in the investment firm.
Ohso Chocolate is a probiotic chocolate company and has an established direct-to-consumer subscription model and relationships with retail partners.
Under the umbrella of S-Ventures, Ohso Chocolate will look to develop the brand's product range, continue to grow its existing product lines and consider partnering opportunities with other major brands to utilise its technology. The existing Ohso Chocolate team will remain in place.
S-Ventures chairman David Mitchell said "We are delighted to have acquired our stake in Ohso Chocolate and we very much look forward to working with Andrew and the team. The product has achieved great results and progress but together we believe we can grow faster and exploit opportunities more effectively in the healthy probiotic space."
Imperial Brands has appointed Lukas Paravicini, chief financial officer of agricultural commodities and brokerage group ED&F Man Holdings, to its board as CFO, starting in August this year.
Paravicini succeeds Oliver Tant, who will step down from the board upon the appointment and leave the business following a handover.
CEO Stefan Bomhard said: "I am delighted to welcome Lukas to the business. He is a disciplined, results-oriented leader with a proven track record in international consumer goods companies. As well as his impeccable finance credentials, Lukas has considerable operational experience, as well as expertise in driving transformational change including in global shared services in large international organisations. These qualities will be invaluable to Imperial as we implement our new strategy.
"I would like to thank Oliver for his support since I joined Imperial and for his contribution to the business during his seven-year tenure."
Sales at European supermarket group Ahold Delhaize soared by 18% in its fourth quarter to €19.6bn as Covid continued to benefit food retailers, giving a total increase for 2020 of 14.2% to €75bn.
However, Covid costs of €680m to make stores safe and support charities, saw profits for the year fall by 16.6% to €2.2bn.
New consumer online sales grew 84.2% in the final quarter and by 129% in the US. The group said it expected online sales to grow by another 30% in 2021.
CEO Frans Muller said: "In 2020, the effects of COVID-19 and social unrest deeply impacted the communities we serve, and created unprecedented challenges for the Ahold Delhaize brands.
"Despite these challenges, the hundreds of thousands of associates across all our brands, distribution centers, and support offices demonstrated courage and care in protecting the safety of our stores and distribution centers, while providing great customer service and community support. I would like to once again thank each and every one of them for their tremendous efforts in 2020."
Yesterday in the City
The FTSE 100 gave up some ground after a strong start to the week on Monday to close down 0.1% to 6,748.86pts.
Irish food group Kerry suffered a 2.5% fall in the share price to €105.10 after posting a 4% drop in 2020 revenues.
A number of firms that benefitted from Monday's Covid vaccine boost fell back yesterday, with SSP Group slipping 6% to 229.8p, WH Smith was down 2.3% to 1,699p, and Primark owner Associated British Foods fell 1.8% to 2,307p.
Risers included B&M European Value Retail, up 1.3% to 590p, Coca-Cola European Partners, up 1.5% to €43.73, and Cranswick, up 1.1% to 3,546p.