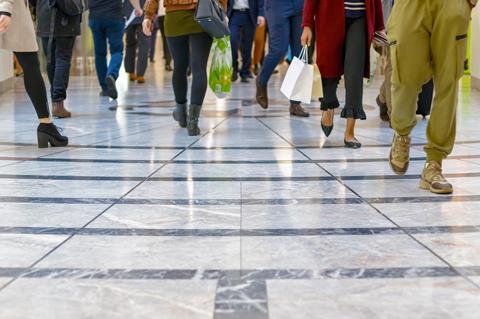 Top story
The UK retail industry saw the green shoots of recovery in March as sales jumped by more than 40% year-on-year after a COVID-induced collapse a year ago.
According to BDO's High Street Sales Tracker, total like-for-like sales, combined in-store and online, increased by +42.5% in March, though from a base of -17.9% for the equivalent month last year.
However, BDO warned that the spike in the overall like-for-like result is less likely to reflect a significant increase in profits than how retail shuttered and discretionary spend was curtailed during the same month last year.
During the first week of March, total like-for-like sales increased for only the second time in 2021 by 4.5% from a base of +0.6% for the same week last year.
Sales growth then accelerated as the March 2020 hit sales last year, with the second week of the month seeing total like-for-like sales rise by 17.3% from a negative base of 11.1% last year, the third week up 55% from a base of -37.4% and the final week up 131.5% from a base of -63.4% last year.
All three sectors recorded positive total like-for-like sales in March, as they rallied from a disastrous March 2020 and consumer confidence cautiously grew as the UK faced the end of lockdown.
Lifestyle total like-for-like sales rose by 14.7% in March, offsetting a poor base of -11.6% for the equivalent month last year. This result marks the first positive one for total lifestyle since November 2020, pushed into the black by inflated results in the final week of the month.
Fashion total like-for-like sales grew by 57.5% this month from a base of -25.9% for March last year, which was the first positive result for fashion since February 2020.
Homeware continued its sustained positivity and improved by 112.6% in March, though from a base of -9.7% for the same month last year.
The acceleration of online retail continued during the month, as total non-store like-for-like sales grew by 157.2% from a base of 13.7% last year. This was the second best result on record, as non-store like-for-like sales continued to ride a wave of higher online spending in the year-to-date.
Sophie Michael, head of retail and wholesale at BDO, commented: "While this is a positive result, these March figures are set against a highly disruptive March 2020. While the first lockdown took effect in the final week of March last year, discretionary spend decreased rapidly from February as uncertainty and concerns over COVID-19 spread across the country.
"Sales have improved, without a doubt, as retailers have found ways to adapt to lockdown. From virtual assistants, to live video sales appointments, retailers have found technological solutions to drive sales, instead of simply shutting down like they did last year. However, as last March's result was so disastrous, these results simply look better on paper as they're set against such a poor base.
"As retailers reopen next week, we'll likely see a short term surge in sales thanks to pent up demand, an uptick of consumer confidence and shoppers simply being ready to leave their homes after four long months of lockdown.
"It remains to be seen how sustainable this initial rush will be as the next six weeks is unlikely to be an accurate prediction of retail activity over the next six to twelve months. Nevertheless, the reopening of the economy with all non-essential retailers able to open their doors will provide a much awaited and welcome boost to bricks and mortar retailers."
Morning update
Retail footfall has begun to recover ahead of next week's re-opening of non-essential shops, according to the latest BRC-Sensormatic IQ footfall monitor.
With the UK still in lockdown, Total UK Footfall decreased by 68.7% in March year-on-year, but that represented a 4.9 percentage point improvement from February.
Footfall on High Streets declined by 64.6%, but this compares favourably against the 3-month average decline of 67.9%.
Retail Parks saw footfall decrease by 36.8%, which was 2.3 percentage points down on February and marginally above the 3-month average decline of 38.8%.
Shopping Centre footfall declined by 73.2%, which again compared favourably against the 3-month average decline of 76.2%.
BRC CEO Helen Dickinson commented: "Footfall crept up on high streets and shopping centres as warmer weather coincided with the end of the Government's 'stay at home' requirements. The earlier Easter date also gave consumers a reason to do a little extra food shopping, with strong demand for chocolate and Easter Eggs leading to extra store visits. Consumers appear to be more confident about visiting shops, showing that the safety measures put in place are clearly helping to make shoppers feel more comfortable visiting and returning to stores.
"Non-food retail stores will have lost £30bn in foregone sales over the three lockdowns. It is essential they are able to trade effectively from April 12, and remain open. Savings have been building up over lockdown, and the economic recovery relies on retailers being able to unlock the pent-up demand in the economy. Government should do all it can to support consumer confidence both ahead of, and during opening."
Andy Sumpter, retail consultant EMEA for Sensormatic Solutions, added: "As the nation looks ahead to the roadmap for unlocking, and with non-essential retail given the green light for reopening on 12 April, we may have started to see the green shoots of retail's recovery beginning. While non-essential stores remained closed, we saw an incremental improvement in March footfall against February's shopper counts, fuelled by growing consumer confidence, the promise of greater freedom to come and the relaxation of the Stay At Home guidance."
"But, the real test comes as retail reopens later this month – and whether indeed that reopening is, as hoped, irreversible. After a year of yoyoing in and out of lockdown, retailers will be hoping for stability and, once again, will be counting on the continued support of shoppers if any sort of bounce back is to be sustained. Having invested heavily to ensure their stores remain as safe as possible for shoppers to return, the onus is now on the consumer to vote with their feet and 'use or lose' the shops they previously frequented."
On the markets this morning, the FTSE 100 has eased back 0.3% to 6,922.9pts.
Risers so far this morning include Hilton Food Group, up 2.5% to 1,226p, Marston's, up 2.2% to 102.2p and Compass Group, up 1.6% to 1,606p.
The day's fallers include Deliveroo, down 3% to 273.7p, Hotel Chocolat, down 2.9% to 417.8p and British American Tobacco, down 2.4% to 2,789.5p.
Yesterday in the City
The FTSE 100 continued its strong run, ending the day up 0.8% at 6,942.2pts and closing in on 7,000pts for the first time since February 2020.
Hilton Food Group was on the up again after its strong annual results posted on Wednesday, rising 4% to 1,196p.
Other risers included Naked Wines, up 3.7% to 793p, Hotel Chocolat, up 3.6% to 430p, McBride, up 3.5% to 94.4p, Diageo, up 3.1% to 3,187p, British American Tobacco, up 3% to 2,858.5p, FeverTree, up 3% to 2,277p, Imperial Brands, up 2.9% to 1,560.5p, and Domino's Pizza Group, up 2.6% to 351.8p.
Despite the impending retail re-opening, the day's fallers included two travel specialists, with WH Smith down 3.3% to 1,839p, and SSP Group down 1.9% to 339.3p.
Other fallers included Nichols, down 1.8% to 1,375p, DS Smith, down 1.5% to 414.3p, Deliveroo, down 1.4% back to 282p and McColl's Retail Group, down 1.1% to 31p.