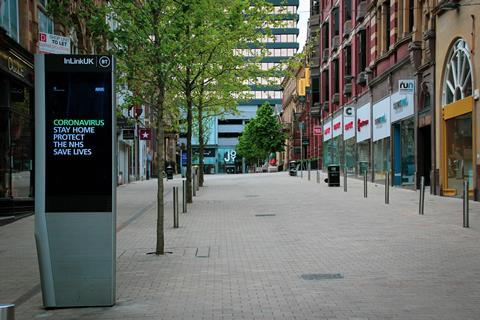 Top story
UK retailers recorded their worst January on record and the worst month for the high street since June as a national lockdown shuttered shops across the country.
According to BDO's High Street Sales Tracker, total like-for-like sales, combined in-store and online, declined by 10% in January, albeit from a strong base of 7.0% during the corresponding month last year.
This marketed the poorer post-Christmas figure since BDO started recording total like-for-like sales in 2017.
As the year began under a strict regional tier system, the first week of January saw total like-for-like sales decrease by -10.7% compared to +13.4% for the same week last year.
Then as the third national lockdown came into effect mid-week, the second week of the month saw total like-for-like sales decline by 11.2% from base of 4.8% last year. Total like-for-like sales continued to shrink by -19.7% and -5.9% and the last week of January saw total like-for-like sales drop by -9.4%.
Non-store sales, however, soared to their best result on record in January, with sales up 133%.
This boost in online activity prevented sales from falling to the depths of the first national lockdown, though January's result still marked the worst monthly total like-for-like result since June's of -14.4%.
Both the lifestyle and fashion sectors declined this month, while homeware recorded its ninth consecutive positive result.
Lifestyle total like-for-like sales contracted by -16.7% in January, marking the worst since June last year and the second consecutive month of negative total like-for-like sales for the sector.
Fashion total like-for-like sales also declined this month, falling -12.1%, which makes eleven consecutive months of negative total like-for-like sales for the sector.
Homeware saw sustained positivity, however, as total like-for-like sales climbed by 6.7% in January from a base of 5.4% for the equivalent month last year.
Sophie Michael, Head of Retail and Wholesale at BDO, commented: "You would normally see positive growth at the start of the year thanks to the post-Christmas sales, but this year retailers experienced a bleak January after a very lacklustre Christmas.
"Recent administrations point to a squeeze on the middle market. With unemployment set to rise further, the hit to discretionary spend will likely push shoppers towards value retailers and ever-growing online retail platforms, putting further pressure on the midmarket.
"The future for retailers is currently clouded by uncertainty with significant challenges ahead. Retailers have the additional problem of predicting how and when consumers will return, and at what level of spending. Added to this, consumers are already displaying potentially lasting new shopping habits and varying product preferences, across all age groups. These challenges together with the need to provide a COVID secure environment are no small feat given the mounting pressures they face.
"Providing a road map out of lockdown is a tall order, but one that retailers desperately need so they can begin to plan for a sustainable future."
Morning update
In this week's edition of The Grocer, read about concerns over the debt profile of Asda should the Issa brothers and TDR Captial takeover win competition approval and what next for Valeo Foods after reports the group is up for sale?
Check out thegrocer.co.uk/finance later this morning for full details.
On the markets this morning, the FTSE 100 has edged up 0.1% to 6,510.3pts so far this morning.
Early risers include Glanbia, up 3.8% to €10.30, Marston's, up 2.2% to 98.6p and Compass Group, up 1.7% to 1,433.5p.
Fallers so far this morning include Bakkavor, down 3.6% to 83.3p, Nichols, down 1.2% to 1,210p and Pets at Home, down 1.2% to 407.4p.
Yesterday in the City
The FTSE 100 closed yesterday down a handful of points, falling 0.1% to 6,503.7pts.
Unilever was one of the FTSE 100's major fallers, dropping 6.2% to 4,067p – its lowest level since last March – after its annual results disappointed the City with total sales failing to hit expectations and profits hit by extra COVID costs and higher than expected restructuring costs over the next two years.
Other fallers included Hotel Chocolat, down 5.4% to 336p, PayPoint, down 4.1% to 635p, Glanbia, down 4.1% to €9.93, Naked Wines, down 3.6% to 733p, Just Eat Takeaway.com, down 3.2% to 7,930p and Pets at Home, down 2.3% to 412.4p.
The day's risers included Compass Group, which regained 4.5% to 1,409.5p after a pre-AGM update suggested it had improved profitability during the current stage of the COVID crisis despite the hits to its catering sales.
Other risers included Science in Sport, up 5.3% to 47.4p, Bakkavor, up 2.4% to 86.4p, McBride, up 1.3% to 81p, PZ Cussons, up 1.2% to 262p, DS Smith, up 1% to 380.3p and Associated British Foods, up 0.9% to 2,266p.