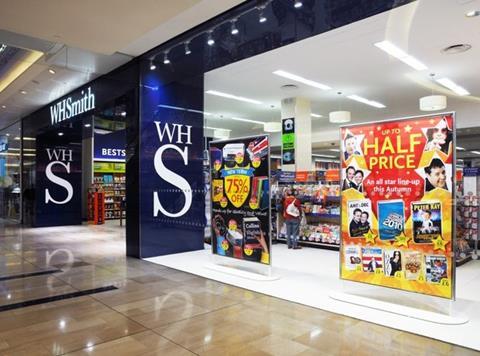 Top story
WH Smith has performed better than expected over Christmas as its high street stores operated at close to 2019 levels despite the ongoing Covid restrictions.
December high street sales were down just 8% on the same period in 2019, with the majority of its stores remaining open in lockdown in line with government guidance classing newsagents as essential retailers.
Its seasonal and new 'work from home' ranges proved popular with consumers.
The online business also continued to deliver "significant" year-on-year growth over Christmas, including a strong performance by Funkypigeon.com.
However, the beleaguered travel side of the group experienced little improvement, with sales in December at just 36% of 2019 levels.
Overall revenues in December reached 67% of those generated a year ago, with sales in the 20 weeks to 16 January 2021 at 59% of 2019 levels.
WH Smith said it expected to burn through about £15m-£20m a month between January and March if the current conditions continue. However, cash generation for November and December was ahead of plan and the group had access to £340m at the end of 2020.
CEO Carl Cowling said: "Covid-19 continues to have a significant impact on the WH Smith Group, however we are pleased with our performance over the Christmas period which was better than anticipated.
"I am extremely grateful to all our colleagues around the world and, in particular, our store teams who have worked exceptionally hard throughout what has been a very challenging period.
"We remain well placed to navigate our way through this ongoing period of uncertainty and benefit from the recovery of our key markets in due course."
Following the announcement of a third lockdown, WH Smith is currently trading from the majority of its high street stores, including more than 200 outlets with Post Offices and more than 200 UK travel sitess, including about130 hospital stores serving NHS workers.
Revenues on the high street have dropped off in January from the December peak to trade at 70% of 2019 levels.
Shares in the retailer jumper 6.5% to 1,656p this morning on the positive trading update.
Morning update
Revenues and profitability at logistics group Wincanton have continued to improve in its third quarter thanks to new contract wins and booming consumer demand for online shopping.
The group, which took a hit in 2020 as the early stages of the Covid outbreak disrupted business, reported a return to growth in the quarter following a period of recovery and stabilisation.
It said, in a trading update, it now expected profits for the year to be materially ahead of expectations.
Revenues increased by more than 10% in the three-month period compared to the prior year, with growth in all the group's four core divisions.
The largest increase was in the digital and eFulfilment sector where revenues jumped 40% as customers continued to switch to shopping from home.
Revenues in the public and industrial sector were boosted by strong volumes in construction and the increased utilisation of the group's shared transport network.
The group's performance also benefitted from work starting on a series of recent contract wins. In the public sector, these include a mandate to provide logistics services at a number of Inland Border Clearance Centres and a contract for the storage, order fulfilment and customer delivery of testing kits to priority locations across the UK.
Further significant new business in digital and eFulfilment for Waitrose and Dobbies will commence before year end.
At this stage, the current lockdown is not expected to have a significant impact on the group's trading performance.
CEO James Wroath said: "I would like to thank my colleagues for their incredible efforts in delivering a hugely successful Q3 and Christmas period, despite the ongoing challenges of Covid-19. The strong performance of our underlying business and the new contracts we are implementing in our strategic growth markets are clear evidence that we are delivering on our strategy even in the difficult current climate."
Shares in Wincanton rocketed 9.6% to 298p as markets opened this morning.
Inflation in the UK rose in December despite Covid restrictions forcing non-essential shops to close.
The increase in the Consumer Prices Index to 0.6%, up from 0.3% in November, was fueled by a pre-Christmas travel rush as people tried to beat new stay-at-home curbs in time for Christmas.
Clothes prices also contributed to the overall increase, which was offset slightly by falling food prices, in particular for meat and veg as supermarkets competed fiercely for Christmas shoppers.
ONS deputy national statistician for economic statistics Jonathan Athow said: "Clothing prices put upward pressure on inflation in December, despite some evidence of continued discounting.
"Transport costs, including air, sea and coach fares, as well as petrol prices, rose as some travel restrictions eased during parts of the month.
The FTSE 100 nudged up 0.2% to 6,727.19pts as investors awaited the end of the Trump era with the inauguration of President Joe Biden later today.
Early risers in food and drink included Glanbia, up 4.3% to €10.33, Marston's, up 2.1% to 81p, and B&M European Value Retail, up 1.8% to 505.6p.
Devro gave up some of its gains in recent days to fall 2.4% to 164p, with Britvic and Unilever also in the red.
Yesterday in the City
The FTSE 100 ended another day in the red, falling 0.1% to 6,713pts, as fears over coronavirus continued to dampen investor sentiment.
Premier Foods experienced a mini sell-off despite upgrading its profit expectations for the year on the back of increased consumer demand for its brands. Sales also jumped 9% in the 13 weeks to 26 December. Shares, which rocketed in 2020, fell 4.8% to 102.8p.
Hotel Chocolat increased 0.8% to 372.9p after revealing a strong Christmas performance despite battling lockdown restrictions.
Elsewhere, Vimto maker Nichols jumped 8.1% to 1,340p, Devro rose another 5% to 168p after a strong trading update on Monday, and Diageo increased 1% to 2,926.5p.
Along with Premier Foods, other losers included McBride, Britvic and WH Smith, falling 4.3% to 79.4p, 4.2% to 755p and 4.1% to 1,555p.