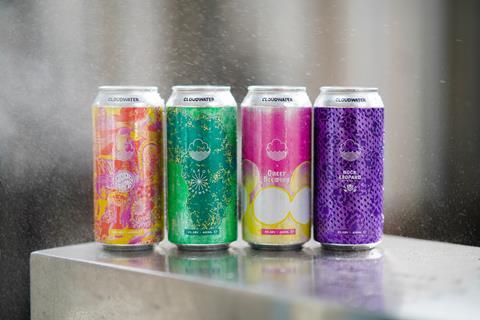 Cult craft brewery Cloudwater is to make its supermarket debut in Tesco.
The Manchester-based brewery – which for many years avoided mass market retail – will hit the supermarket's shelves this month with a quartet of beers in a collaborative four-pack with minority-owned breweries called 'Cloudwater & Friends', comprising four single-hopped IPAs brewed at BrewDog's brewery in Ellon, Scotland (rsp: £10).
The beers are: Embracing Otherness, a 6% IPA dry hopped with Simcoe, brewed with Eko Brewery, One Way Or Another a 6% IPA dry hopped with Mosaic, brewed with Rock Leopard Brewing, Our Love Fills The Air, a 6% IPA dry hopped with Citra, brewed with Queer Brewing, and Free Your Mind, a 0.5% alcohol-free IPA dry hopped with Talus, brewed with Good Karma Beer Co.
Neither Cloudwater nor BrewDog will take any profit from the sale of Cloudwater & Friends, with proceeds going directly to the collaborator breweries, "giving them a significant opportunity to invest in their growth", wrote Cloudwater's marketing & engagement manager Connor Murphy on the brand's website.
He added it "allows us to use the pulling power of our reputation to provide an incredible platform to four businesses owned by under-represented folks who have not had access to the same opportunities as many others in our industry".
"The significance of a product that so wholeheartedly champions the queer community from within taking up a prominent position on supermarket shelves cannot be understated. And of utmost importance, this is a chance for the only two black-owned breweries that we're aware of in the UK, as well as an alcohol-free brewery with Indian roots that champions mindfulness, to level up and help lead the industry towards a more diverse and inclusive future."
It will also launch a quartet of new Cloudwater beers exclusively into Tesco: a Pale Ale (3.7%), a DDH Pale (5%), a Session IPA (4.5%) and an IPA (6%), which will also be brewed through the tie-up with BrewDog (rsp: £3-£3.50).
The brand said it had "received a multitude of offers" from supermarkets over past years but none had "felt right" so far. "Given that the role of supermarkets in gaining access to a wider consumer base is regularly debated here in the UK, we felt there had to be a particularly compelling reason for us to develop our ambition and make our beer available through this route to market, far beyond any potential benefits for our own business," wrote Murphy.
Contracting out production of the supermarket beers to BrewDog meant "our work here in Manchester will be able to take a sharper focus once again on the kind of innovation, style development and risk-taking that we are well known for, and that helped develop the phenomenal appetite we see for bold, modern craft beer".
Its bid to increase representation for minorities in the beer world with Cloudwater & Friends was lauded on social media.
However, some voices suggested the brand's wider move into Tesco would come as a blow to independent bottleshops, for whom Cloudwater has long been a staple, and that it meant Cloudwater would have less control over keeping beer chilled down the supply chain.
"Cloudwater always said they'd never not use cold chain (as quality of beer is paramount) to mass distribution, only Tesco has just 50% cold chain, so lots of beers are just shelved," said one drinks industry source.