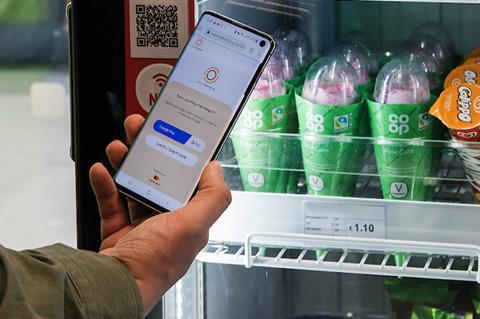 Co-op has partnered with Unilever to launch what is claimed to be Europe's only consumer-facing smart ice cream vending machine.
The machine – which has been installed in Co-op's Battersea Bridge Road store in London – is opened by customers tapping their phone on a near-field communication tag on the door, or scanning a QR code. This prompts shoppers to confirm their choice of payment method, and once selected the door unlocks.
A combination of cameras and sensors within the Wall's branded freezer identify which products have been removed by the customer. The shopper is charged once they close the freezer door.
"With warmer, summer months now just around the corner, we are delighted to team up with Unilever to bring this smart vending machine to our store for shoppers to pop in for ices," said Rebecca Oliver-Mooney, Co-op head of category for dairy and frozen.
"We continue to explore innovative ways to provide access to our products quickly, easily and more conveniently, helping to delight and inspire our shoppers," she added.
Co-op plans to have more than 20 of the machines in selected stores in coming months, and is considering their placement at outdoor events.
"Collaborating on this project started with the goal of making ice cream more accessible for shoppers and then testing and learning at pace," said Unilever customer business manager Neil Mirtle. "We look forward to partnering with Co-op on the further rollout."
The smart freezer stocks a range of ices including Co-op's Fairtrade Choc Stick; Magnum Vegan Stick; Wall's Twister; Solero Exotic Lolly; Calippo Orange; and Ben & Jerry's Peace Pop.