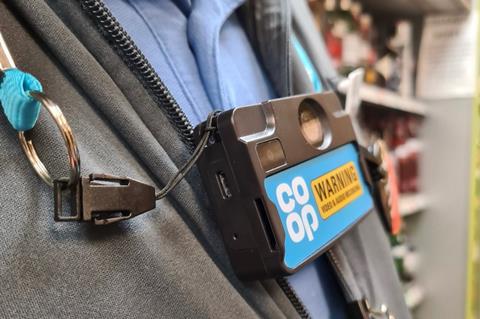 The Co-op is asking MPs to back three amendments to the government's Police, Crime, Sentencing and Courts Bill that would provide greater protection for frontline shopworkers.
The changes are set to be debated in parliament today.
If backed, the Bill will include new offences that mean someone assaulting, threatening and abusing a retail worker will be liable.
The lobbying continues after the government rejected an amendment to the Bill on 24 June. It would have introduced tougher penalties for those attacking retail workers.
The government claimed existing legislation already sufficiently protected shopworkers and that it was employers, not the justice system, that weren't supporting victims enough.
In the first quarter of 2021, Co-op saw almost 400 incidents where weapons were used against shopworkers, with 56% of those involving sharp implements such as a syringe, knife or bottle.
In 2020, the convenience retailer saw a 76% increase in recorded antisocial behaviour and verbal abuse compared to 2019, with more than 100 incidents every day. Since 2016, there has been a 35-fold increase in this type of incident.
Co-op also saw a near 10% uplift in violent incidents in 2020 compared with 2019, which now means assaults and attacks on its frontline shopworkers have increased by more than 650% over the same five-year period.
It has invested more than £140m in the latest technology to keep colleagues safer and deter violence and abuse. This has included communication headsets for all frontline colleagues, SmartWater spray for security officers to deploy in the most extreme incidents, fog cannons in kiosk areas and body-worn cameras which can send real-time audio and visual footage to a security operation centre.
In Scotland, the Protection of Workers (Retail and Age-restricted Goods and Services) Act became law in February.
"No one should have to go to work and face these unprecedented levels of violence, abuse and antisocial behaviour," said Co-op Food CEO Jo Whitfield. "Frontline workers have been coughed on, spat at and threatened with knives and syringes – it is not acceptable and should not be part of the job.
"We welcomed the publication of the Home Affairs Select Committee Report on retail violence – it too calls for a new criminal offence which would send a powerful and long overdue message that assaults on retail workers will not be tolerated, and today there is a clear opportunity for MPs to protect shopworkers in their communities by backing the amendment to the government's Crime (PCSC) Bill."
Co-op campaigns and public affairs director Paul Gerrard said: "Frontline workers have been unsung heroes throughout the pandemic, and yet there is a minority of people who think it OK to assault, abuse and maim them.
"It is great to see the appetite across the political spectrum to support these new clauses, which would provide the protection frontline shopworkers need and deserve."