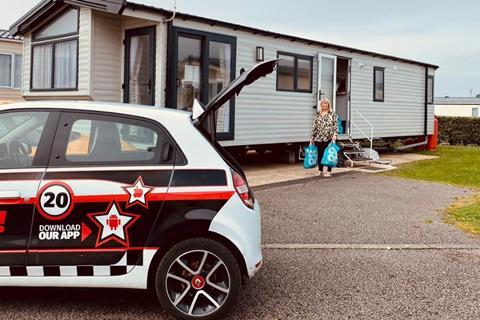 Rapid last-mile grocery delivery service Zoom 1hr is to launch a £500,000 crowdfunding raise to "become the UK's number one hyper-local, sub-one hour delivery service".
The company – which is focused on rural towns underserved by delivery platforms – currently operates across the West Midlands and Wales, with around 350 restaurants and retailers listed on its app.
It also offers third party delivery services, in November partnering with Co-op to offer customers around 4,500 SKUs via the supermarket's own app and delivered from 50 Co-op stores. The service is expected to cover 250 Co-op stores across the UK next year.
Zoom 1hr – not to be confused with Ocado's rapid delivery service Zoom – has since delivered 25,000 orders on behalf of the Co-op. In total, Zoom 1hr has delivered 200,000 orders since launching last year, and boasts 70,000 app downloads. Sales have grown by more than 300% in the past year, and its headcount has increased from 26 to 202.
The company is seeking crowdfunding via the Seedrs platform, with a "likely second, much larger raise towards the end of the year" founder and co-CEO Kevin Williams told The Grocer.
"We chose crowdfunding because this process gives us the perfect opportunity to raise a significant amount of cash, from a wide community of smaller investors quickly," he added. "We are aware of the amount of time and energy fundraising can take and at the moment we would rather spend that time and energy focusing on our current performance."
The investment raised will be ploughed into expansion of the service into new areas, including additional vehicles and growth of the company's partner acquisition teams. Zoom 1hr will also invest in web and app development and "develop innovative processes to generate new delivery moments to differentiate Zoom from the competition". Marketing will also get a "cash injection" to support growth.