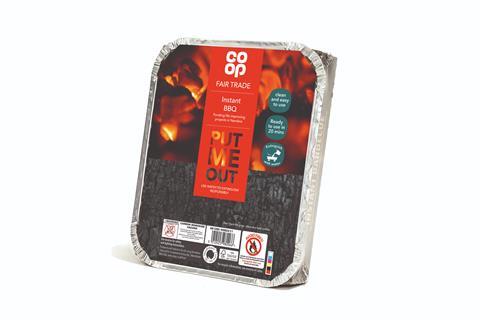 The Co-op is launching a campaign targeted at promoting safer use of instant barbecues as its new range hits shelves.
The 'Put Me Out' safety drive features "hard-hitting" on-pack messaging that reinforces to customers how to use and dispose of the devices responsibly.
Six-step safety instructions can be found on the barbecue base, including its small Co-op Fair Trade Instant BBQ and the larger Co-op Fair Trade Party BBQ.
The campaign will also be supported with new point-of-sale material in Co-op stores, along with safety advice on in-store radio, till screens and across digital channels and social media.
"We're anticipating high demand for our barbecues from the spring, particularly now as campsites are open and people are able to mingle outdoors," said Co-op buying director Adele Balmforth.
"Whilst the majority of consumers enjoy instant barbecues safely as a cost-effective way to enjoy outdoor dining during the warmer months, we know that one fire caused by such a barbecue is one too many."
It comes as the National Fire Chiefs Council voiced concern over the number of instant barbecue-related fires, both in the home and in outdoor spaces that can lead to wildfires.
The fires that took place at Froward Point in Devon, Wareham Forest in Dorset and Darwen Moor in Lancashire are examples of this. It caused devastation to natural habitats and needed vast fire service resources to get them under control.
"As a responsible retailer, we understand the importance of protecting the UK's acres of natural wood and moorland and also want to take steps to prevent misuse on balconies and in the home.
"Our new on-pack messaging follows a year's worth of consumer insight to understand the type of labelling which will gain cut-through with the general public and we're pleased to be working alongside our fire prevention partners to help educate customers on how to use and enjoy them safely."
NFCC lead for wildfires Paul Hedley said: "We support Co-op's move – adding clear warnings along with simple messaging on how to dispose of these barbecues is an effective way to prevent fires.
"Most people manage to enjoy instant barbecues with no issues but the worrying upward trend in wildfires caused by these devices cannot be ignored and action has to be taken."
Greater Manchester Fire and Rescue Service area manager and head of prevention Paul Duggan said: "The memories of the moorland fires in 2018 remain fresh in the mind of everyone involved, from our firefighters who worked incredibly hard to put the fires out, to the residents who were forced from their homes.
"Our message is strong and clear – never have a barbecue or campfire on the moors or start a fire deliberately. Many people think it's just the flame from a barbecue that sets the moorland on fire, but it's actually the heat from the instant barbecue that often sets peat and dry moorland alight."
In addition to the new front-of-pack tactics, additional safety messaging will be added to the barbecue cardboard collar and lighting paper.
The 2021 barbecue range is on sale now across all of Co-op's 2,600 stores.