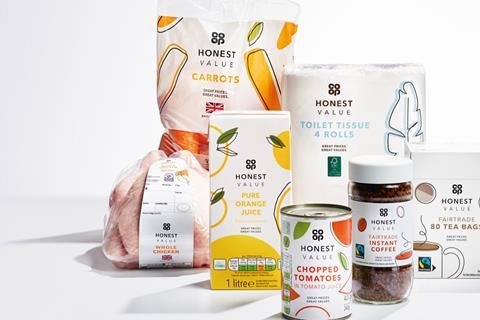 The Co-op has carried out a major extension of its Honest Value own brand range.
The convenience retailer has added a further 33 products to the existing 58 lines, which debuted in November.
The new additions include protein, produce, dairy, frozen and impulse lines, with key launches including 100% British chicken thighs, and Red Tractor certified fruit & vegetables and free-range eggs.
Other products include Fairtrade tea, coffee and hot chocolate, as well as ready meals, soft drinks and household goods.
"At Co-op we believe that everyone should have access to good-quality food at reasonable prices, and our Honest Value range really does deliver on this belief," said Co-op customer director Ali Jones.
"We're thrilled to announce the expansion of Honest Value, both in terms of range and availability. The products we launched in November are also now in more stores, and there are over a thousand stores that have 30 or more lines available to purchase. This move is just one of the many ways in which we'll help our members and customers save money in 2021.
"Honest Value is proudly Co-op and the products in the brand are true to our sourcing, ethical, and policy standards. The range has great prices, with the benefit of our great values.
"This means that the eggs are free-range, our protein is 100% British, our paper products are FSC certified, the tea, coffee and hot chocolate are Fairtrade and our meat is Red Tractor certified. There are no artificial colourings, flavourings or preservatives, and our washing-up liquid is Cruelty Free International approved."
The expansion will be supported by a marketing campaign consisting of out-of-home and digital out-of-home executions placed around local Co-op stores, as well as video on demand and radio.