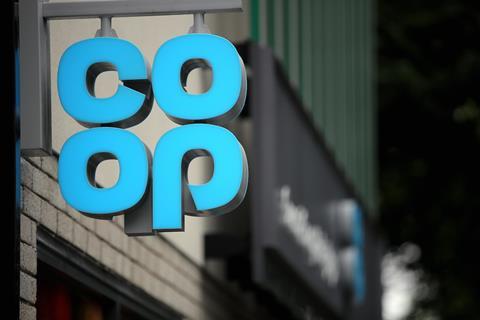 Co-op will not be following the lead of the major supermarkets in handing back around £66.5m in business rates relief it received last year, but stopped claiming the government support as of last month.
The society confirmed today it would pay back £15.5m, relating to monies it received from the government's furlough scheme, but defended its position on rates relief by differentiating itself from the major grocery retailers – who collectively handed back over £2bn last year.
It claimed that although its 3,400 food stores were able to remain open throughout the pandemic, it has incurred a disproportionate increase in costs associated with doing so compared to larger supermarket businesses.
Co-op Food CEO Jo Whitfield told The Grocer 80% of its stores were under 3,000 sq ft and needed bespoke Covid security measures rather than the more one-size-fits-all approach the supermarkets could take. There were also extra costs involved to set up local community networks to support vulnerable customers.
The retailer also cited the impact of the pandemic on other parts of its business such as funeralcare, insurance and legal services as reasons for retaining the government support.
Results for the year to 2 January, published today, show costs directly associated with the pandemic were £84m.
"The Co-op has played a vital and unique role in feeding and caring for the nation through the Covid-19 pandemic and will continue to do so as the vaccine programme is further rolled out. We were grateful for the government support that allowed us to manage our businesses through the pandemic, particularly our funeralcare business, which has been working with bereaved families in extraordinarily difficult circumstances, helping them mark the passing of loved ones at a time of national grief," said Co-op Group chair Allan Leighton.
"The pandemic turned our plans upside down and, while our revenues went up marginally, our costs rose disproportionately. We welcomed money from the government on the basis it was not a loan and we would not need to pay it back – and we took business decisions accordingly. I want to thank all of our Co-op colleagues who have made such a difference, day in, day out, over the past year and acknowledge the debt we all owe to them."
Co-op also pointed out it has donated over £12m of funds to charities and community causes as well as a further £15m shared with 4,500 local causes from its Local Community Fund. It also helped FareShare distribute around five million meals.
The society said today total sales were up by £600m to £11.5bn while its food sales grew 3.5% to £7.8bn. Excluding change in accounting policy for funeral plans, profit before tax was up 37.3% to £92m.
Food sales were up 6.9% on a like for-like basis, while its Nisa wholesale arm grew from £1.4bn to £1.6bn.
"In 2020 we lived through a perfect storm, with every part of our lives turned upside down – socially and economically, mentally and physically. Along the way we discovered much about our society, some of it brilliant and inspiring, and some of it quite ugly thanks to the unfairness and inequality Covid-19 has revealed and exacerbated," said Co-op Group CEO Steve Murrells.
"During the past few years, we've created a business that is truly focused on delivering clear value and benefits for our members, customers and their communities. All that work proved to be essential in giving us the ability to respond to the immediate and sustained demands which the pandemic brought with it. Our vision, co-operating for a fairer world, was our guiding light throughout, and our response to Covid-19 demonstrated the power of co-operative enterprise and the relevance of co-operative values."