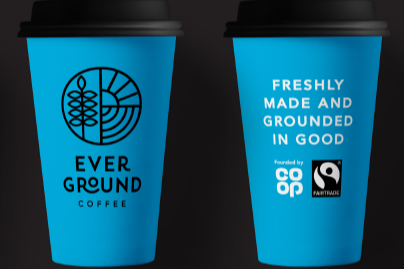 The Co-op is making its Ever Ground takeaway coffee offer available to Nisa retailers.
The rollout follows a trial period in nine Co-op stores. Retailers will be able to choose from four different options depending on which suits their store best in terms of size and purchase frequency. These are counter-top units, a store within a store-style kiosk, built-in barista and vending machine.
Each option will serve 100% Fairtrade products including coffee, hot chocolate, sugar and Co-op 99 tea.
"With its unique Fairtrade proposition, distinctive branding and good profit margins, Ever Ground has fantastic potential for Nisa partners' businesses," said Nisa trading director Ayaz Alam.
"What's more, it is ethically sourced, made with Fairtrade coffee beans and with recyclable cups made from recycled materials.
"Our partners have many different types of stores and so Ever Ground has different formats available, ensuring there is a solution to fit the proposition of every store.
"It's brilliant that Nisa partners can now offer a Fairtrade option at great value, so their customers can feel even better knowing they are helping to protect people and planet. It's a real point of difference for the independent convenience sector."