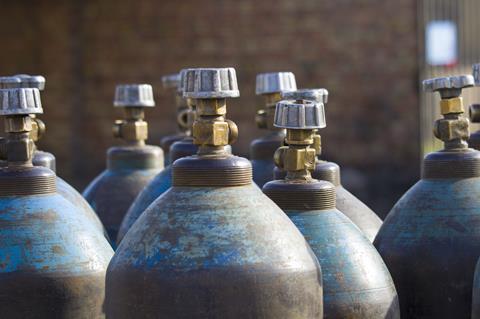 A deal has been struck between CO2 suppliers and the UK's main manufacturer of the gas to continue production until January at least, the government has confirmed.
The agreement, brokered by the Department for Business, Energy & Industrial Strategy, will see US chemical giant CF Industries paid a pre-agreed price to continue production of CO2 gas. It follows a temporary government bailout for CF lasting three weeks, agreed on 21 September, to restart production at its Billingham plant in Teeside.
With the agreement set to end tomorrow, some industry insiders had expressed concerns last week at another cliff-edge scenario, with the continuation of soaring energy prices placing supplies of CO2 gas under threat yet again.
CF had cited the impact of energy crisis as the main driver behind its decision to halt production of ammonia – of which CO2 gas is a byproduct – in mid-September.
However, the deal with CF would ensure UK businesses "have access to a sustainable supply of CO2 – an essential component of the national economy", BEIS said. "This will enable it to continue operating while global gas prices remain high."
About 60% of the UK's industrial CO2 needs are normally met by the supplier. The gas has many uses in the food supply chain, ranging from its use in carbonated drink and beer production, to modified atmosphere packaging and to stun animals – particularly poultry – before slaughter.
The move was welcomed by the British Poultry Council, with CEO Richard Griffiths hailing the "tireless work" by poultry processors "to mitigate the issues brought on by the recent CO2 episode".
The announcement of a deal provided "some respite for sectors like our own", he added. However, Griffiths also warned "we must now start thinking longer-term and look to solutions to build resilience into our supply chains".
British Soft Drinks Association director Gavin Partington agreed with Griffiths by urging "longer term interventions to ensure the CO2 market is more resilient and stable".
However, the agreement "provides some certainty of supply over the next few months", he added.
But while CO2 was "only a small percentage of total cost for most soft drinks producers, the significantly higher prices for supply only add to the economic pressures already facing manufacturers, including the shortage of HGV drivers for distribution", Partington pointed out.
"Today's agreement means that critical industries can have confidence in their supplies of CO2 over the coming months without further taxpayer support," said business secretary Kwasi Kwarteng.
"The government acted quickly to provide CF Fertilisers with the support it needed to kick-start production and give us enough breathing space to agree a longer-term, more sustainable solution," he added.
At the same time as the deal was announced, BEIS said major commercial CO2 producer Ensus had reopened its Wilton plant last week following temporary closure for planned maintenance – further securing supplies. The Wilton plant can produce up to 40% of the UK's CO2 requirements.