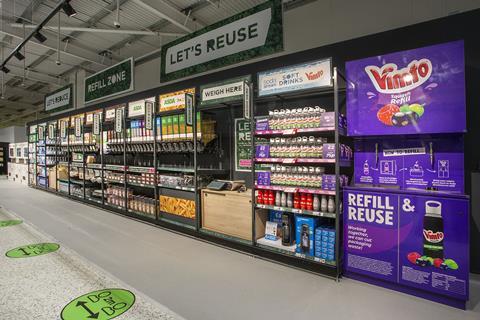 More than 50 new products have joined the refill trial at Asda's flagship sustainability store in Leeds.
Brands including Coca-Cola, Yorkshire Tea, Napolina, Tilda, Mars and Kellogg's are included in the list of new products the supermarket said was helping customers to reduce, reuse or recycle plastic packaging, amid plans for a wider rollout across its stores.
The lineup includes pre-filled one-litre glass bottles of Coca-Cola Original and Zero Sugar, which can be returned to the store when empty and deposited into a reverse vending machine.
Customers get 20p off their shopping for each deposit, while Coca-Cola cleans and reuses each bottle.
Asda's move also includes an increased range of cereals including Kellogg's Special K, Bran Flakes and Crunchy Nut, Nestle's Shredded Wheat Bitesize, and Asda own-label Corn Flakes and Rice Snaps.
It said customers now had a choice of 76 different refillable products at the store, which opened in October last year.
Last month Asda announced a major expansion of the refill trial, including a rollout of the scheme to four more stores and a raft of new supplier partnerships.
It will include Asda's biggest refill store to date, opening in October in York and boasting 18 bays of dispensers and over 70 branded and own-label products in refillable format.
The refill proposition is part of the supermarket's commitment to remove 3 billion pieces of plastic from own-brand products by 2025 and introduce over 40 refillable products by 2025.
"We have always said that working in partnership with other like-minded businesses will be vital if we are to persuade people to shop more sustainably," said Asda director of commercial sustainability Susan Thomas.
"We are very pleased to secure the backing of some of the UK's most recognisable consumer brands, which means we can offer customers even more of their favourite products in refillable format."