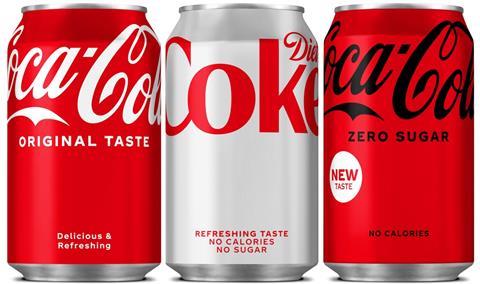 Coca-Cola has posted a 5% rise in first quarter net revenues as its performance improved in key markets where vaccine availability increased and economies are opening up.
Net revenues were up 5% to $9bn compared to a year ago, with organic revenues up 6%.
This sales uplift was driven primarily by volume, with concentrate sales up 5% and price-mix growth of 1%.
The company said volume trends remained closely linked to consumer mobility, driven by vaccination rates in different markets and related improvements in away-from-home channels.
Through the first quarter, volume trends steadily improved each month, driven by recovery in markets where coronavirus-related uncertainty lessened.
Therefore, March volume was back to 2019 levels, with growth in at-home channels being offset by pressure in away-from-home channels. However, Coke warned that the global recover "remains asynchronous around the world".
It saw strong solid growth in trademark Coca-Cola, sparkling flavors and the nutrition, juice, dairy and plant-based beverages category, which was offset to an extent by pressure in the hydration category during the quarter.
Sparkling soft drinks grew 4% as solid growth in China, India and Latin America was partially offset by pressure in the fountain business in North America and away-from-home channels in Europe due to the coronavirus pandemic.
Nutrition, juice, dairy and plant-based beverages grew 3%.
However, hydration, sports, coffee and tea declined 11%, with hydration down 12%, driven by a broad-based decline across all geographic operating segments and tea down 6% due to declines in North America and Asia Pacific.
Coffee declined 21%, driven by coronavirus-related pressure on Costa retail stores.
"We remain focused on emerging stronger and executing against our growth accelerators during the recovery phase. We are pleased with the progress we are making," said James Quincey, Chairman and CEO of The Coca-Cola Company. "We are encouraged by improvements in our business, especially in markets where vaccine availability is increasing and economies are opening up, and we remain confident in our full year guidance."
Operating margin, was up to 30.2% versus 27.7% in the prior year, primarily driven by effective cost management, partially offset by currency headwinds.
Coca-Cola also said it is focussed strengthening bottling partnerships and bottler alignment as the system enters the recovery phase.
line with its objective, it announced plans to list Coca-Cola Beverages Africa (CCBA) as a publicly traded bottler and intends to sell a portion of its holdings in CCBA via an initial public offering.
Shares will be listed in Amsterdam and Johannesburg, with the IPO intended to take place within the next 18 months.
"The Coca-Cola Company sees Africa as a key growth market and views a separate listing of CCBA as an opportunity to deliver a broad, supportive, long-term investor base for the ongoing development of the business," said Bruno Pietracci, president of the Africa operating unit of The Coca-Cola Company.
William Ryder, equity analyst at Hargreaves Lansdown said the results remained "mixed" despite the top line growth as it lost market share due to restrictions on bar and restaurant sales.
"Cost control measures introduced during the pandemic have meant that now revenue is starting to bubble up profits are following… Coca-Cola is one of the world's strongest brands and we expect the recovery to continue as and when the world returns to normal."