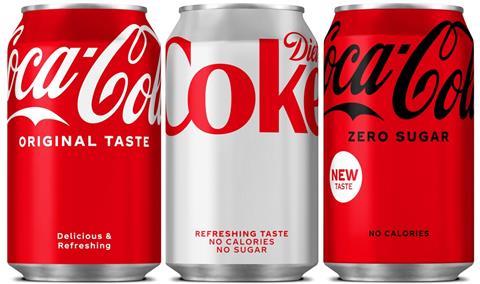 Soft drinks giant Coca-Cola has upped its full year guidance as sales roared back in its second quarter as coronavirus restrictions have eased across the globe.
The Coca-Cola Company reported this morning that net revenues soared by 42% to $10.1bn in the three months to the end of June, with organic revenues up by 37%.
Sales growth was made up of 26% growth in concentrate volume sales and 11% growth in price/mix.
Coca-Cola said the performance, which tracked ahead of wider economic recovery trends, was driven by the ongoing recovery in markets where coronavirus-related uncertainty is abating, along with the benefit from cycling revenue declines from the impact of the coronavirus pandemic last year.
The company saw away-from-home channels rebound as restrictions eased in certain markets, leading to second quarter revenues ahead of its 2019 levels.
It gained value share in total nonalcoholic ready-to-drink beverages during the period, driven by a share gain in both at-home and away-from-home channels
Chairman and CEO James Quincey said: "Our results in the second quarter show how our business is rebounding faster than the overall economic recovery, led by our accelerated transformation. As a result, we are encouraged and, despite the asynchronous nature of the recovery, we are raising our full year guidance."
For the full year, the company now expects to deliver organic revenue growth of 12% to 14% – up from previous guidance of "high single digits".
Additionally, it now expects to deliver comparable earnings per share growth of between 13% to 15% versus prior guidance of "high single digits to low double digits".
During the second quarter, Coke's operating margin was 29.8% versus 27.7% in the prior year, with this expansion driven by favourable channel and package mix where coronavirus-related uncertainty is abating, partially offset by a significant increase in marketing expenses versus the prior year.
On a regional basis, organic revenues were up 21% in Europe, Middle East & Africa, 22% in Latin American, 15% in North America and 20% in Asia Pacific.
Category wise, sparkling soft drinks grew 14%, led by strong growth in the United States, India and Brazil. Trademark Coca-Cola grew 12%, resulting in volume ahead of the 2019 level, led by Europe, Middle East & Africa and Latin America.
Nutrition, juice, dairy and plant-based beverages grew 25%, while hydration, sports, coffee and tea also grew 25%.
Coffee itself grew 78%, primarily driven by the reopening of Costa retail stores in the UK.
Quincey added: "We are executing against our growth plans and our system is aligned. We are better equipped than ever to win in this growing, vibrant industry and to accelerate value creation for our stakeholders."
Laura Hoy, Equity Analyst at Hargreaves Lansdown, commented: "The guidance upgrade is encouraging, but we're taking the big numbers from this quarter's update with a grain of salt. Coke is back to where it was before the pandemic. Now we'll be watching for whether or not the group can bubble to the top of the pack by holding on to at-home gains as away-from-home growth picks up speed."
Coca-Cola shares were up 1.4% to $56.57 on the news.