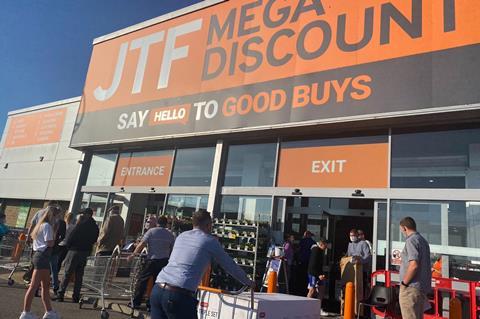 JTF Mega Discount Warehouse faces the prospect of legal action from staff made redundant in the collapse of the discount chain this week.
About 500 workers were made redundant with immediate effect on Tuesday this week, following the closure of all 12 of the chain's shops between the end of May and 16 July. Staff had been told the closures were temporary and placed on furlough, until being notified by email this week they were redundant and would not be returning to work as expected.
Now a law firm is investigating whether staff have a claim against the business on the basis they were made redundant without going through a consultation process.
A spokeswoman for Simpson Millar said the firm had been contacted by a "handful" of staff and was "in the early stages of investigations to enable appropriate legal action to be brought to secure what is known as a protective award on their behalf for the company's failure to properly consult staff regarding the mass redundancies".
The firm has also set up an online form for other employees to check whether they may have a claim.
"While some companies are struggling because of the pandemic, they still have a duty under current employment law legislation to carry out a proper consultation with staff at risk of redundancies," said Simpson Millar head of employment law Damian Kelly.
JTF operated on a membership basis and sold a wide range of products from garden furniture to food and drink, in shops based in the Midlands and north of England.
JTF chairman Arthur Harris, who bought the chain in January last year, told The Grocer the redundancies were "the only real course of action" after an unnamed buyer pulled out at the last minute, and following challenging trading conditions in the pandemic.
A JTF spokesman said the business had issued a notice of intention to appoint an administrator, protecting it for 14 days while it still sought a buyer.
Commenting on the legal bid by former staff, Harris said: "Any company that has to close quickly breaks some employment rules. You can't do otherwise."