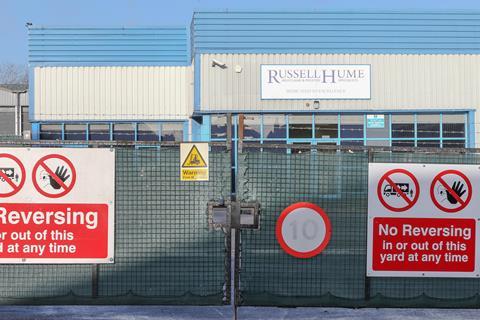 The FSA spent almost £2m of taxpayers money on its failed investigation into alleged food safety breaches at defunct meat wholesaler Russell Hume, The Grocer can reveal.
In a paper published by the regulator's business committee last week, FSA CEO Emily Miles said the investigation it launched in January 2018 – after identifying "serious non-compliance with food hygiene regulations" across the business – had collapsed due to a "technical legal error" in the way the case had been conducted by the fledgling National Food crime Unit.
Citing the NFCU's previous status as an intelligence gathering unit rather than a crime investigation unit as a cause of the error, she added the watchdog had "decided not to pursue any further action against the directors of Russell Hume" following legal advice.
The FSA told The Grocer that its estimated costs for the investigation, based on staffing hours dedicated to the operation and associated costs, totalled a figure in the region of £1.8m.
Despite stressing it "stood by the proportionate action we took when serious and widespread food safety problems were found at Russell Hume", a spokesman said it had "no plans to reopen this investigation".
The Russell Hume scandal was sparked by a spate of enforcement actions by the FSA across the processor's six sites across England, amid what then-FSA CEO Jason Feeney described as "a systemic and widespread problem" linked to inadequate food safety management systems and concerns over labelling. However, Russell Hume's directors have always denied any wrongdoing.
The FSA's business committee document confirmed some 400 tonnes of meat were disposed of due to the relabelling concerns. Its enforcement actions ultimately led to a loss of confidence in Russell Hume from its customers, a collapse into administration on 19 February 2018 with the loss of more than 300 jobs, and eventual liquidation.
"The FSA has made the difficult decision to take no further action against the people who were under investigation in relation to fraud at Russell Hume," its spokesman told The Grocer this week.
"We stand by the proportionate action we took when serious and widespread food safety problems were found at Russell Hume in 2018. This involved stopping production at their sites and disposing of a large amount of meat that was out of date and had been mis-labelled," he added.
"We've recently identified a technical legal error in the way the FSA's National Food Crime Unit investigation was conducted in its early stages. This means that we believe it is no longer in taxpayers' interests to continue with this investigation."