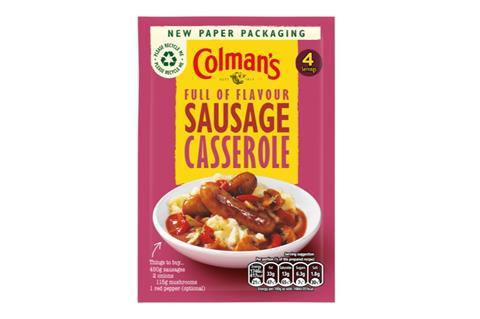 Colman's is switching its Meal Makers sachets into to fully recyclable, paper-based packs.
The Unilever-owned brand has switched its Sausage Casserole flavour from packets made from plastic, aluminium and paper to new packs that use a barrier paper and fit within On-Pack Recycling Label guidelines.
The rest of its range will transition into the new packs over the course of the year.
Colman's said the new packs would save over 240 tonnes of material being sent to landfill once the rollout was complete. It wanted to give consumers the option to easily add flavour to their meals in a "more environmentally friendly" way, it said.
Unilever foods marketing director Fikerte Woldegiorgis said Colman's was "delighted" to become the first big brand in the category to switch to fully recyclable paper packaging.
"At Colman's, we're big and bold when it comes to our flavours, and we're keen to make equally bold steps when it came to our sustainability commitments," Woldegiorgis added.
The move comes as part of Unilever's wider global packaging commitments, which include targets to halve its use of virgin plastic and ensure all packaging is reusable, recyclable or compostable by 2025.