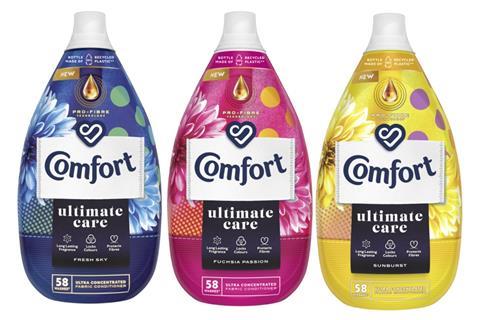 Comfort is relaunching its entire range to "reinforce its position as a clothes care expert".
The Unilever-owned brand is rolling out updated pack designs and a new formulation across its Comfort Ultimate Care range (rsp £2-£6).
It will also launch a £5.8m ATL investment campaign this month with "the ambition of accelerating Comfort's position within the clothes care market".
The campaign would educate consumers on the importance of garment care, said Comfort.
"Our research reveals there is a clear gap in shopper knowledge when it comes to the benefits rinse conditioners offer," said Unilever homecare brand experience director Nadine Slyper.
Slyper said the rebooted Comfort Ultimate Care range would protect clothes from damage, helping them last longer, as well as delivering "fragrance and softness".
She added the educational campaign would help build consumer loyalty.
Comfort said reducing its carbon footprint was also a priority for the relaunch, with its new concentrated formulation allowing for "smaller, more efficient bottles" and fewer vehicles on the road.
All packaging was now fully recyclable and made from "100% post-consumer recycled plastic", added Comfort.