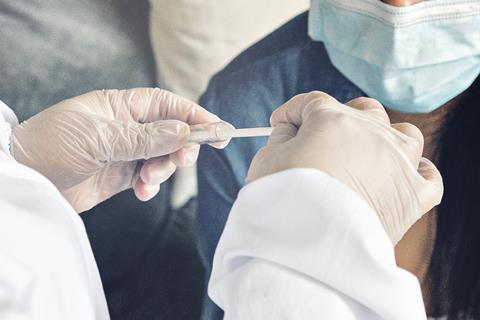 The government has urged food and drink companies to sign up to to its mass Covid testing programme, saying it is vital in order to allow the UK's food supply to "keep running" amid the pandemic.
A letter from Defra, seen by The Grocer, calls on companies to come forward to receive hundreds of thousands of free testing kits for staff, in a programme that will run until the end of March.
Major food companies including Moy Park and Primula were revealed to have already signed up, although it also emerged the tests will not be offered to any companies with less than 50 employees.
The Grocer exclusively revealed last week ministers had agreed to provide up to six weeks' worth of free tests for food companies, following a trial led by Tate & Lyle Sugars at its factory in East London, which demonstrated how mass testing could pick up cases of workers carrying Covid displaying no symptoms.
The letter from Defra states: "Defra would like to invite businesses in the food sector with more than 50 employees to register for the provision of government-funded lateral flow technology (LFT/LFD) to test asymptomatic workers.
"These free test kits will be available until 31 March 2021.
"The food sector is a critical industry that we have to keep running and where workers cannot work from home. Therefore, we are inviting employers to establish Asymptomatic Testing Sites (ATSs) in workplaces, which will enable employees and contractors to access LFDs and receive rapid point of care Covid-19 results."
Primula MD, Paul Lewney, joined health secretary Matt Hancock and other ministers in urging companies to come forward to take part in the programme.
"I am delighted Primula has been chosen as a pilot site for lateral flow testing," he said.
"Our colleagues have worked tirelessly and we really appreciate their commitment throughout the pandemic to ensure we can continue to play our part in helping to feed the nation. By implementing this mass testing programme, they are able to continue their work in the knowledge they are keeping both themselves and their families safe.
"It is vital we do everything we can to understand more about the virus and help control the spread of Covid-19 and it is an honour Primula can play a role in that."
Read more:
Kirsty Wilkins, HR and performance director at Moy Park, added: "We are proud to be playing our part to help tackle the spread of coronavirus.
"Participation in the scheme runs in tandem with the rigorous safety protocols we have in place such as thermal temperature scanning, enhanced cleaning and hygiene regimes, Perspex screens, additional PPE and social distancing measures."
The programme is initally being aimed at food factories and distribution centres but industry leaders hope it will also be rolled out to supermarket staff.
Last week Tate & Lyle's senior VP Gerald Mason said the testing programme was a chance for the industry to "take a small step ahead of the virus".
Joining the government's appeal for more companies to come forward over the weekend, he said: "Mass testing has really helped us get one step ahead of the virus by identifying colleagues who were infectious but showed no symptoms. This has been especially welcome over the last few weeks at our East London factories as the levels of virus in the local area have been extremely high. Our colleagues have welcomed it as it means they are much safer in our workplace, and our factories are better placed to continue to feed the nation."
Defra's letter to companies includes a list of approved protocols companies will have to meet to run the scheme, as well as a training guide.
But it says thousands of smaller companies will have to join local authority mass testing programmes set up for the general public because it will "not be viable" for them to run the tests for their workers.
"We recognise establishing an ATS site may not be feasible or viable for smaller businesses or premises, and that this model is less suitable for mobile employees working in the field away from a fixed location," says the letter.
"The government is developing options in this space, but in the meantime, we encourage businesses with fewer than 50 employees to contact their local authority in the first instance to explore the possibility of using the growing number of community testing facilities."
Concerns have been raised about the effectiveness of lateral flow tests but Hancock claimed they had been "hugely successful".
"I encourage employers and workers to take this offer up to help protect essential services and businesses," he said.