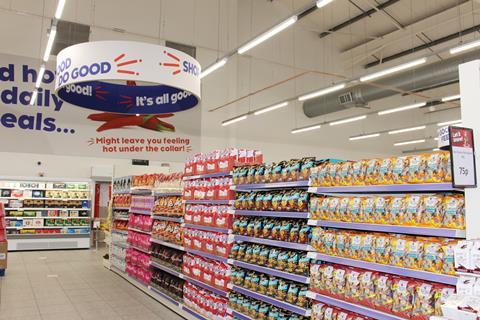 Company Shop redistributed 80 million items last year, up 5% from 2019 levels.
The group's annual sustainability report revealed it saved members over £64m on their food bill.
Due to the pandemic, key workers, as well as those on means-tested benefits, were added to the group's network and were able to purchase the surplus stock.
Company Shop, which was acquired by Biffa in February, opened five new stores last year, which has taken its estate of superstores, community shops and satellite stores to 23.
The group also redistributed 5.7 million non-food items including household, clothing and homeware lines.
Company Shop paid over £20m back to industry partners for their surplus stock last year. This brings the total financial return delivered by the group over the past decade to £139m.
"The last year has been an extraordinary year for everyone, and despite the many challenges that came with it, I am immensely proud of what we have achieved working closely with our industry partners, colleagues, and the communities we are so proud to serve," said Company Shop group MD Steph McGinty.
"We have continued to invest throughout our business, including significantly scaling up our national capacity with more stores and a second distribution centre. We have further developed our industry-leading capabilities and continued our pioneering efforts to educate and inspire our members and the industry about the economic, environmental and social value that can be generated through intelligent surplus management.
"We are also incredibly proud of the record numbers of individuals and families we have reached, through Company Shop and Community Shop, at a time when they have needed our provision more than ever."