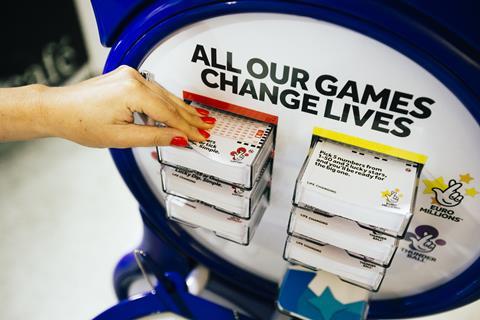 Nearly half of convenience retailers (44%) say the National Lottery is more important than ever to their business, with only six months left until the Gambling Commission announces whether Camelot will hold on to the licence for a fourth term.
The bid process launched in August last year, with Sisal, Allwyn, Sugal & Damani and Camelot currently in contention. Others rumoured to be applying are Richard Branson's Virgin Group, and Health Lottery operator Northern & Shell.
Despite the competitive nature of the race, a survey of 250 convenience retailers compiled exclusively for The Grocer shows just 36.4% were aware of the process and that a new operator could take over.
The survey showed strong approval ratings for Camelot's management of the lottery. Asked to rate their satisfaction out of 10, the average score was 8.2.
According to the research, over a third of convenience retailers are unsure about the prospect of a new licence holder taking over, with 11.2% saying they're worried about change.
Concerns were also raised that a new operator may not understand convenience stores well or would focus more on online gambling.
"Currently, the National Lottery does have an online presence but I've heard that some of the bidders want to do a lot more online and from a high street point of view, and from the point of view of community-based retailing, we need to protect bricks and mortar," said Jason Birks, deputy VP at the National Federation of Retail Newsagents (NFRN).
"Those in government need to not only view online as the 'trendy' thing to do but bear in mind that people still like to visit bricks and mortar retailing."
The survey did not prove all positive for Camelot. Almost a fifth of retailers said they felt optimistic towards the possibility of a new operator taking over the licence, with a prime reason being a need for change.
Over 5% said also they wanted better support for their business, with 4.8% saying products and prizes need to change too.
"I don't think Camelot deserve another licence as for the last few years they have been very average with limited innovation, mediocre support for retailers with too much red tape," said one retailer. "A new licensee should create a fresh approach and more energy."
Lumina Intelligence senior Insights Manager Katie Prowse added: "The overwhelming majority of retailers were unsure or indifferent to the possibility of a new operator taking over the National Lottery license with a large proportion citing that the change makes no difference or that it doesn't matter highlighting the difficulties in changes to habits and ingrained behaviours.
"Camelot Group has run the lottery since its inception in 1994 and has faced challenges more recently due to the increased pressure from gambling regulators, online and digital games and gabling as well as increased costs. Retailers do risk changes to costs and operational proceedings in the event of a new lottery runner and it is expected that attention will rise across the year with the pitch due for 2023."