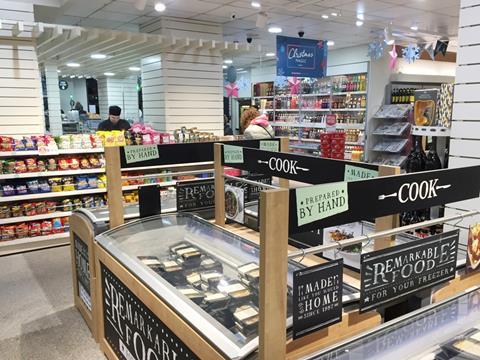 Frozen food manufacturer and retailer Cook has added 150 new stores to its concession division in the last 12 months.
The concessions portfolio now stands at 770.
The majority of new concessions have been within the convenience sector including Budgens, Spar and Nisa stores as well as Co-op societies.
In addition, a new 'large format' concession with 10 or more freezers has been trailed with Channel Islands Co-op and is "performing well", according to Cook MD Edward Perry.
Cook has also continued to roll out its freezers across Dobbies garden centres, and now supplies 45 sites.
Sales from concessions were up 20% in the last year and now make up two-fifths of Cook's total sales.
Perry told The Grocer its turnover was on track to hit £100m this year due to a "record summer" brought about by the staycation trend and the continued demand for home deliveries. Cook had a turnover of £71.8m for the year to 31 March 2020 according to its most recent accounts filed at Companies House.
"Customers have changed the way they shop with us and that feels permanent. More through luck than judgement, our shops provide the ideal infrastructure to build a substantial home delivery business. As ever, our primary focus remains our culture, as that is our only competitive advantage," he explained.
Cook is set to open a fourth kitchen in January 2021 after securing a 70,000 sq ft warehouse opposite its Sittingbourne head office. This follows the opening of its third kitchen in February 2020.