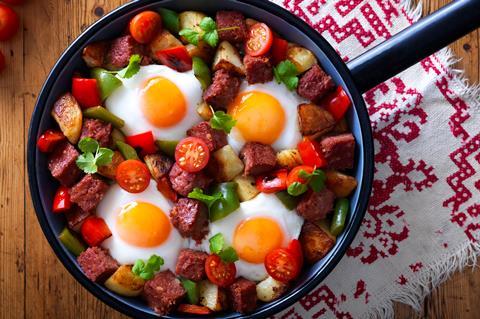 Old-school corned beef has staged a resurgence among millennials and younger shoppers.
Sales of the canned meat staple grew £9.8m to £83.3m over the past year, exclusive data reveals, with growth high among shoppers aged 28 to 44 [Kantar 52 w/e 21 March 2021].
"A lot of that growth is from more shoppers buying into the category who aren't normally buying canned cold meat," said Kantar consumer insight director Tesni Steele Jones. Despite corned beef's core fanbase remaining older shoppers, there had been "strong growth in younger shoppers" entering the sector, she added.
It comes amid a massive surge in demand for the wider canned meat category, which grew £24.1m to £155.4m over the past year [Kantar].
While shoppers aged 65-plus contributed nearly £5m in spend in corned beef, at a growth rate of 14%, they were closely followed by shoppers aged 35 to 44, who bought 33% more corned beef this year, and shoppers aged 28 to 34, who bought 25% more – adding a combined £3.1m.
Ambient giant Princes said corned beef hash was the most searched for recipe on its website in 2020, with searches up 50% on 2019. In total there were around two million search terms that included 'corned beef' as a phrase, said the brand, citing Google Analytics data.
"Lockdown has driven a trend towards nostalgia and comfort food, and we see lots of engagement with our recipes on social media, which reflect that our products really tick that box for people," said Dean Towey, commercial director for food at Princes.
Younger shoppers were seeking "modern twists on the classic corned beef hash recipe", opting for trend-led ingredients such as sweet potato to rustle up dishes including corned beef pasties, corned beef burgers and BBQ corned beef tacos, he suggested.
As well as driving new shoppers to its website, Towey said the brand had turned "the new younger shopper" on to corned beef with activity across a range of platforms, including a partnership with Mail Online, a cross-brand partnership with '£1 chef' and influencer Miguel Barclay, and using Instagram as a hub for recipes.
It's not just huge canned brands like Princes seeing growth. Helen Browning's, which sells an upmarket vacuum-packed corned beef for £4.99, said its sales were up more than 600% over the year to February 2021.
During the first lockdown last March, sales of its corned beef, which has a two-star Great Taste Award, "started flying off the shelves", said Helen Browning's marketing and operations director Claire Bailey.
She said it was being snapped up by corned beef "traditionalists" who wanted to try an organic version but also the younger generation who were "keen to try a wonderful food with a story that supports high-welfare meat and sustainability".